THE ART of a VIRTUAL HAPPENING
Wherever you are in the world, come to our Oct. 15, 2020, Emerging Artists Show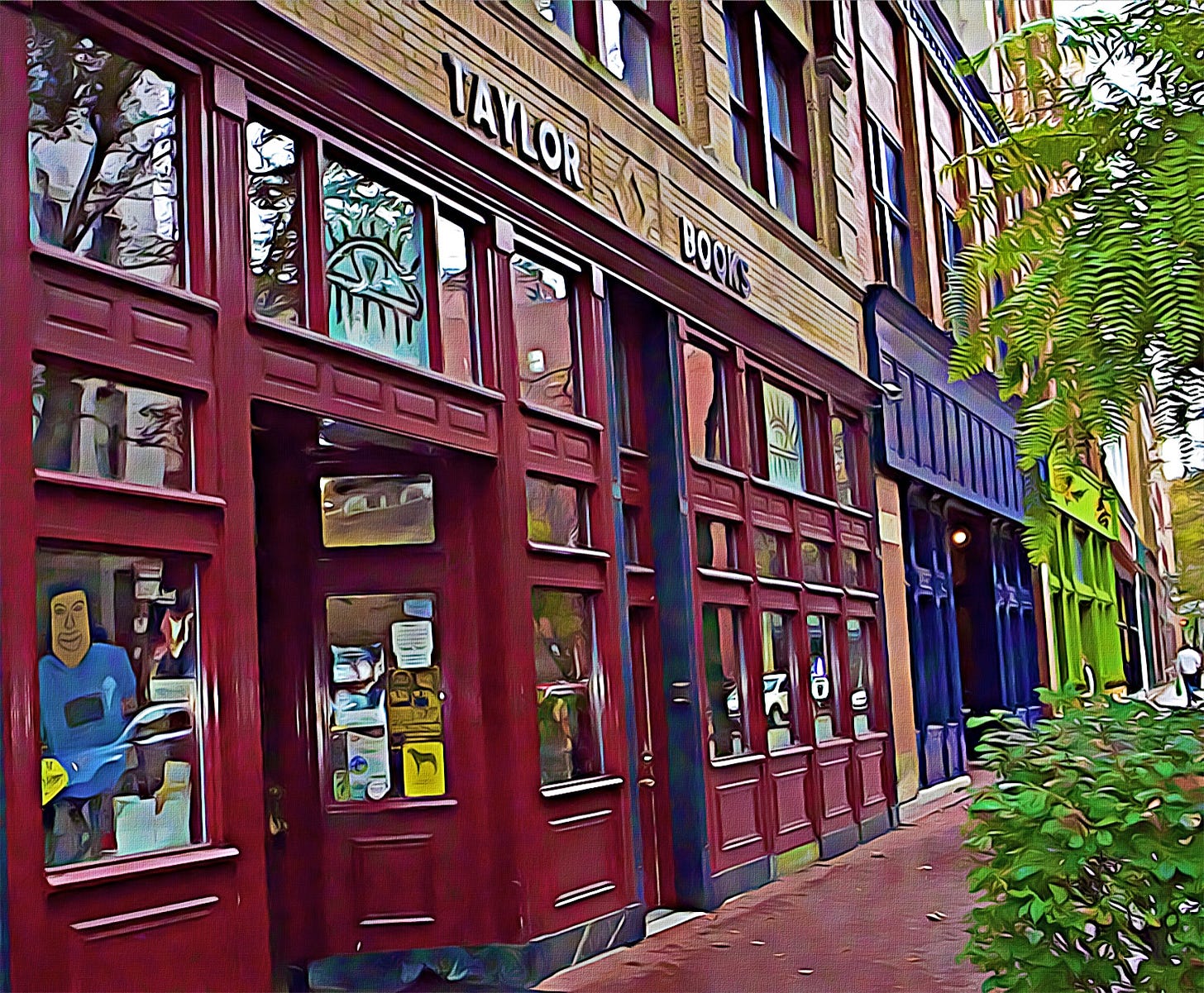 Artwork by the 2020 Emerging Artists of Tamarack Foundation for the Arts will be showcased at Taylor Books in West Virginia's capital city Oct. 15, 2020. But the opening will be virtual.
---
How do you throw an art happening in a time of quarantine and pandemic? Here's how:
Install art by five up-and-coming West Virginia artists at Taylor Books art gallery in Charleston, WV.
Invite beloved performer/actress and West Virginia native Ann Magnuson to introduce the event.
Throw open the doors—virtually—on a most unconventional ZOOM gathering from 6:30 to 8:30 p.m., on Thursday, Oct. 15.
In other words, 'Prepare for a Party, Not a Meeting,' as Tamarack Foundation for the Arts (TFA) celebrates and showcases the work of its five 2020 Emerging Artist Fellows: Jessie McClanahan; Psychoflauge, Jes Reger Davis, Jaci Rice, and Nevada Tribble.
RSVP/register for the event at this weblink: TamarackFoundation.org/EAFShow
---
Video by TFA Design Team member Bobby Lee Messer of 

Messer Media.
Zooming In
"We'll be playing with the whole notion of a ZOOM gathering," says TFA executive director Renee Margocee. "Some 'rooms' will include the artists, live, and available for chatting. Others will feature video visits with the art itself. Others will include background about this year's group of some of West Virginia's finest emerging artists."
Each year, TFA looks out across the hills and valleys, the towns and hollers, of West Virginia, and chooses five artists to showcase in that year, while also helping them to build sustainable businesses around their creative passions, says Margocee.
"We put no limits on the definition of an 'emerging artist' in West Virginia. They may be of any age and do any style of work. They just must be exceptional at what they do, whether with a brush, scissors, video screen, or whichever way they create art."
---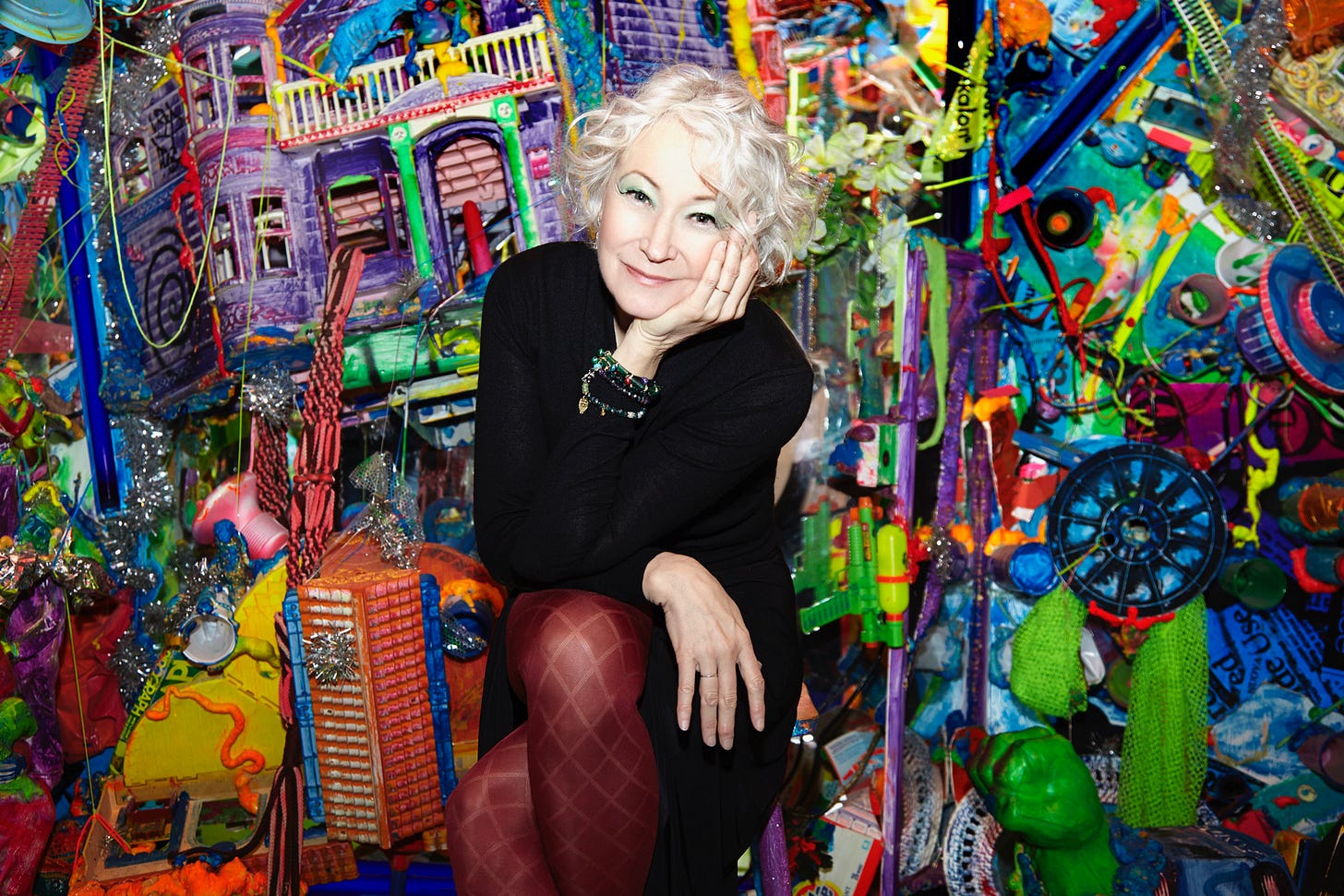 Ann Magnuson
, a native of Charleston WV, will introduce the Oct. 15, 2020, Emerging Artists show. | photo by Steven Love Menendez; hair & make up: Virna Smiraldi
---
TFA 'Master Artist' of 2021 Announcement
Below are profiles of this year's class of Emerging Artists. In the weeks ahead, TFA will announce how to apply to become a 2021 Emerging Artist Fellow. And watch for a special announcement of the quite remarkable artist chosen as the 2021 West Virginia Master Artist, another TFA program, which celebrates lifelong achievement in the arts. Stay in touch with those announcements through our website: tamarackfoundation.org and by subscribing to this free newsletter at: tamarackforthearts.substack.com.
Media interested in doing stories about the artists or interviews with them or Renee Margocee, should e-mail: info@tamarackforthearts.com or phone TFA Design Team member Douglas John Imbrogno at 304.638.9784.
---
Help Grow Creativity in WV
Help us to empower more artists and creatives in the Mountain State of West Virginia through programs like the Emerging Artist Fellowship. If you are able, donate at: bit.ly/DonateTFA
---
2020 Emerging Artist Profiles
JESSIE McCLANAHAN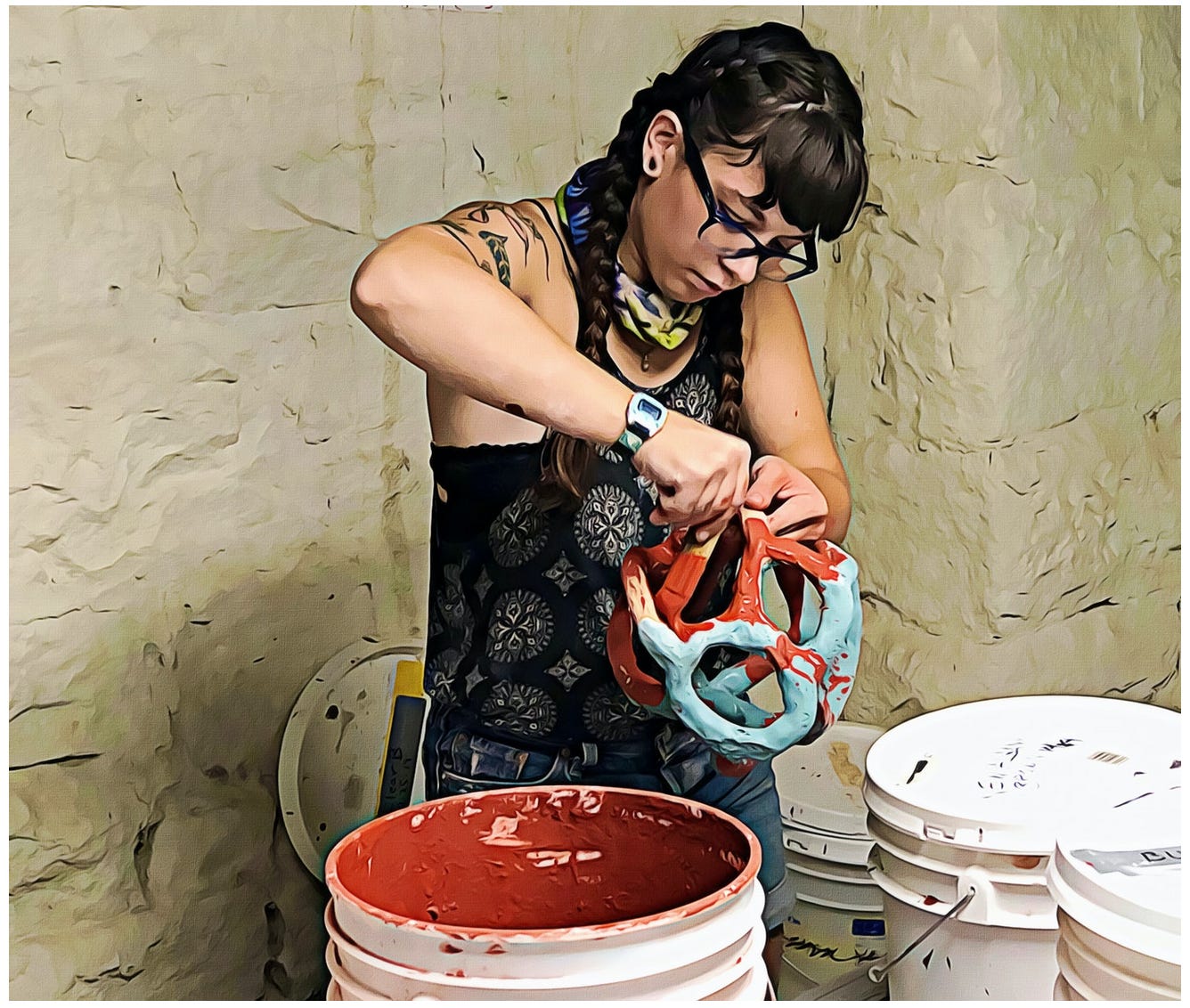 Jessie McClanahan at work in the basement studio of Taylor Books in Charleston WV | TFA Design Team photo
This accomplished ceramic artist earned her bachelor's degree from West Virginia State University. Prior to the pandemic, the Charleston, WV, native worked as a potter's assistant outside Asheville, North Carolina, while pursuing a masters degree in ceramics. She has shown in galleries throughout West Virginia and has worked for Arrowmont School of Arts and Crafts, Apartment Earth Art Gallery, and The Contemporary American Theater Festival. Her work is heavily influenced by her upbringing in the rolling hills of Appalachia.
Online Work and Profile:
TFA Video/Q&A
www.jessicacodellmccla.wixsite.com/
www.jcmceramics/
www.instagram.com/jcm.ceramics/
JES REGER DAVIS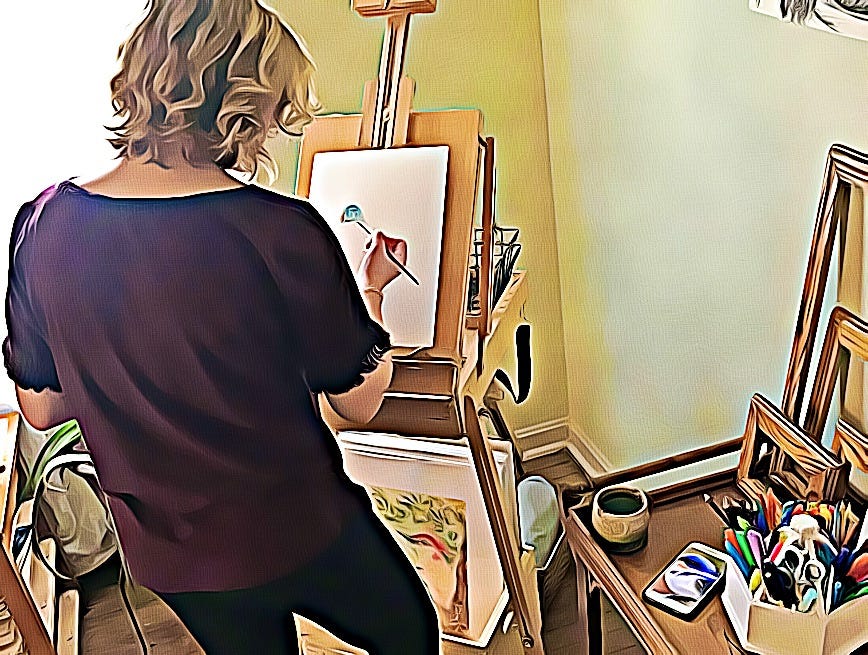 Jes at work in her Wheeling studio. | TFA Design Team photo

A Wheeling WV native, Jes is a watercolorist, teaching artist, and observer who finds inspiration amid the hills of West Virginia. She earned her Bachelor of Science in Interdisciplinary Studies concentrated in Visual Arts and Creative Writing from West Liberty University in 2014. She teaches art classes to adults and children at the Stifel Fine Arts Center in Wheeling, as well as
offering private watercolor and drawing lessons from her home studio, The Painter's Nest.
Online Work and Profile:
TFA Video/Q&A
www.facebook.com/jesregerwatercolors/
www.instagram.com/jesreger_watercolor/
JACI RICE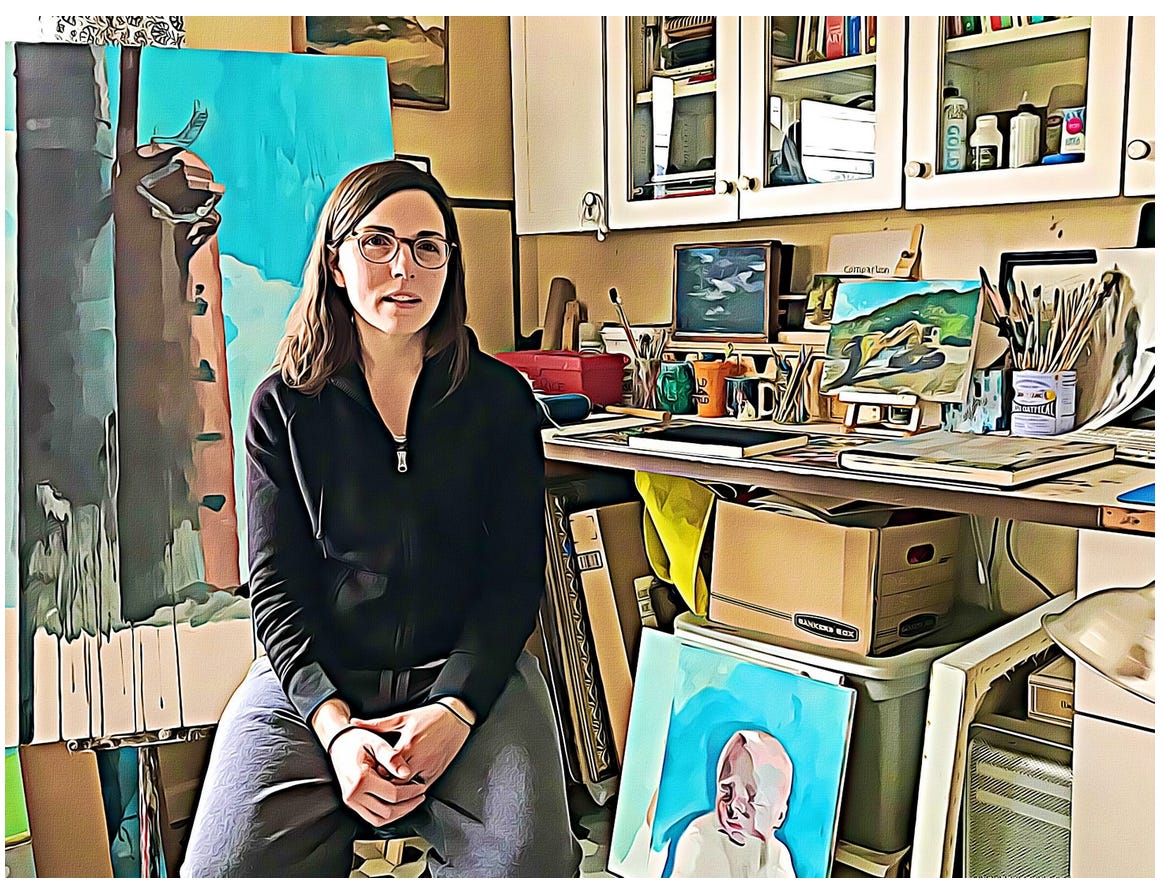 Weirton WV artist Jaci Rice in her studio. | TFA Design Team photo

Jaci currently lives in the steel mill town of Weirton, W.Va. She earned a BFA in Painting/Drawing at Tyler School of Art (Temple University) in Philadelphia. Her primary artistic medium is acrylic on panel. As a transplant to the Ohio Valley region, she feels she has been "afforded an opportunity to see the area's beauty with eyes not accustomed to it." She is inspired by the Weirton area's dramatic sky and landscapes intermingled with ghostly and active industrial spaces. She exhibits this work under the hashtag #rustbeltbeauty.
Online Work and Profile:
TFA Video/Q&A
www.instagram.com/jacirice/
www.jacirice.com/

PSYCHOFLAUGE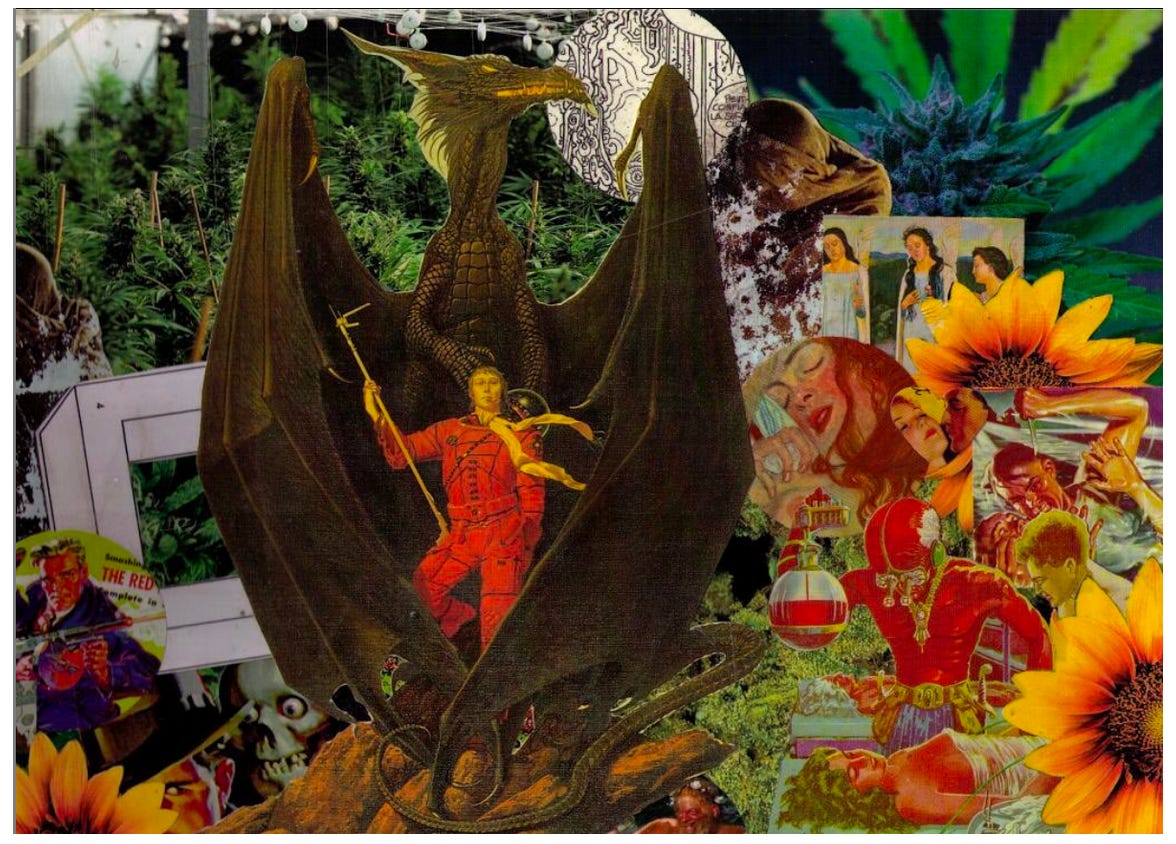 #collageofthe day by Psychoflauge | Instagram, July 8, 2020

Psychoflauge lives on a farm in Webster County. He creates intensely visual, multi-layered collages, both on canvas and real-world objects, and via editing classic videotape imagery set to soundtracks.  By cutting up explicit images and reassembling images he creates new understandings. His analog collages are applied to everything from canvas to furniture. He searches for material to use to further his obsession with cut-and-paste. He creates his own mythology and publishes his work under the pseudonym Psychoflauge.
Online Work and Profile:
TFA Video/Q&A
www.Psychoflauge.com/
www.instagram.com/psychoflauge/

NEVADA TRIBBLE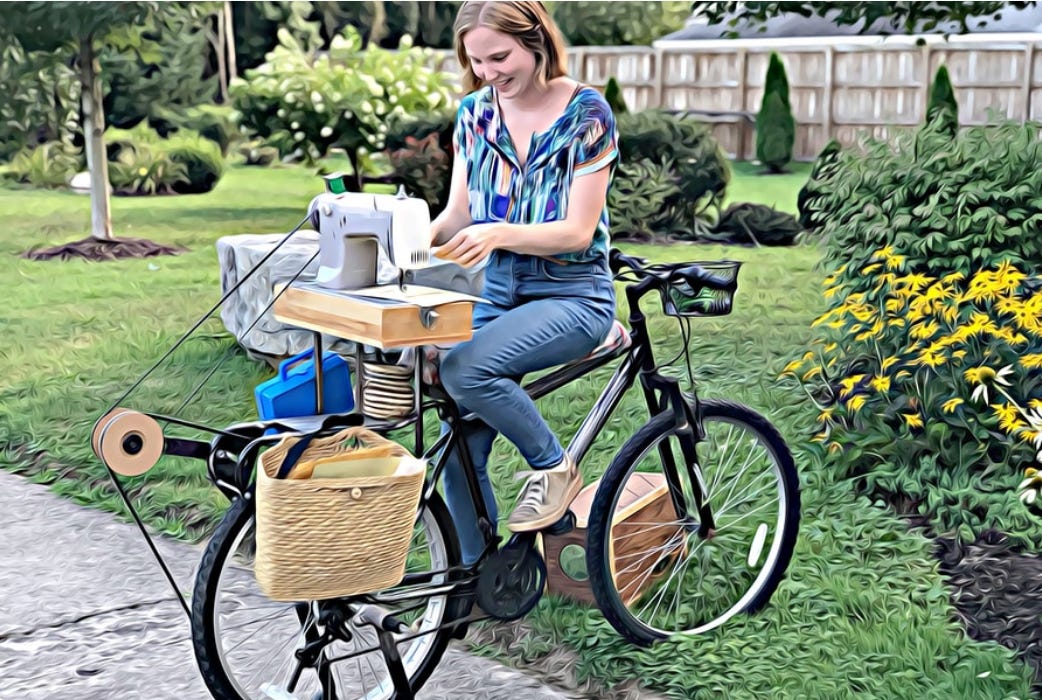 Nevada Tribble, making art on her bicycle-powered sewing machine in Elkins WV | TFA Design Team photo

Nevada is an Elkins WV native and recent graduate of Shepherd University in Shepherdstown, WV. She works with themes of landscape, place, and community. Fiber arts are her primary media, in particular handmade paper and sewing. She uses handmade paper as a sculptural medium, while also utilizing the sewing machine to draw with thread. She built a bicycle-powered sewing machine as a tool for drawing from life outdoors, and a way of taking her art out on wheels into the community.
Online Work and Profile:
TFA Video/Q&A
www.nevadatribble.com/
www.instagram.com/nevada.wv/
Pass It Forward
We hope to see you at our Oct. 15, 2020, virtual exhibit. Forward this free newsletter to artists and those who appreciate the arts who may be interested. If the newsletter was forwarded to you, subscribe at: tamarackforthearts.substack.com. We generally publish 2 issues monthly, plus special themed issues.
Share comments below, call us at 304.926.3770, or e-mail me directly at renee@tamarackfoundation.org. For media inquires about stories on TFA Fellows or other topics, contact TFA team member Douglas John Imbrogno at info@tamarackfortherts.com.
Be well. Stay Safe. Wear masks. Make art!
Renee Margocee | Executive Director | Tamarack for the Arts