The Cut-and-Paste Symphonies of Psychoflauge
A Portrait of the Collage Artist with Scissors & Video Screen | July 28, 2020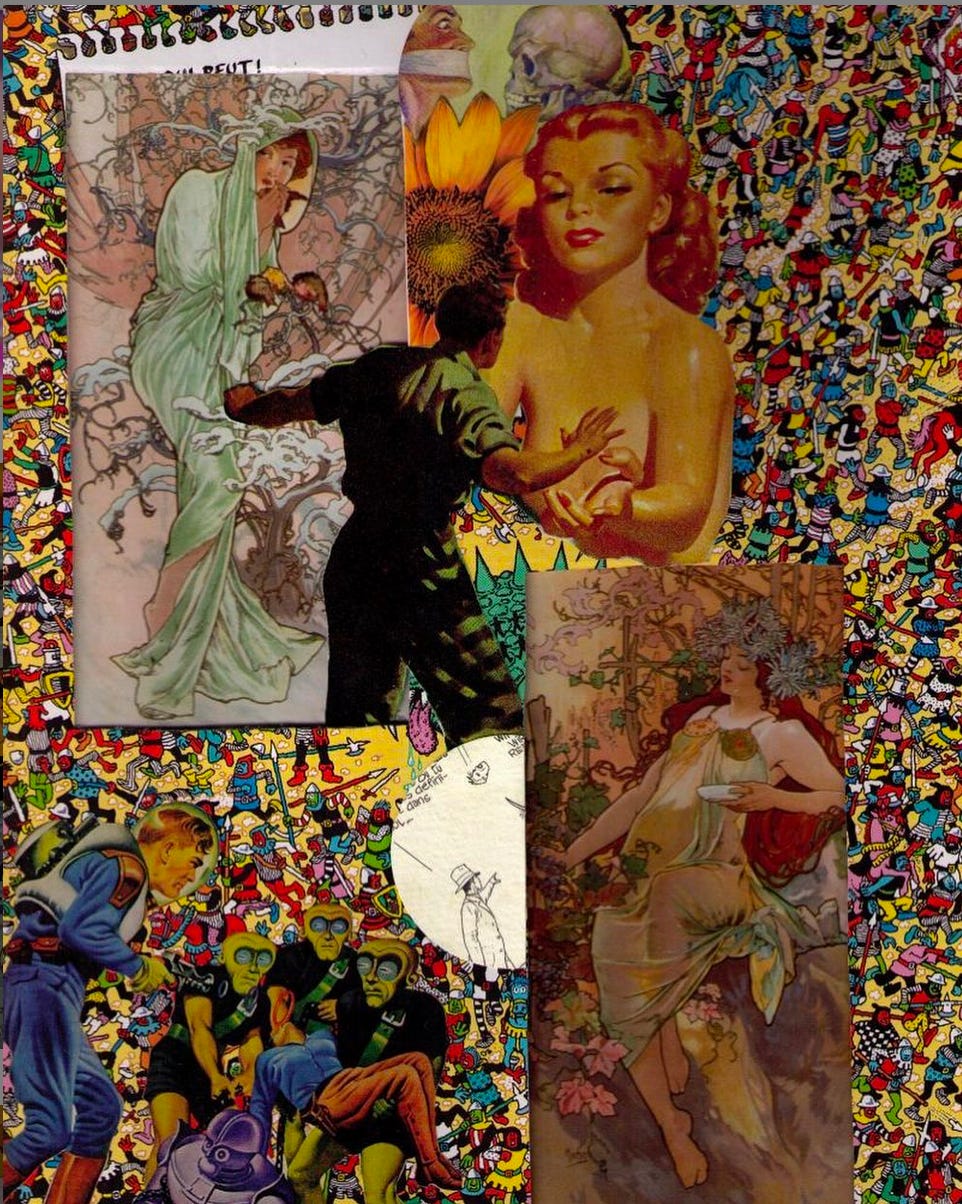 "Yesterday" by Psychoflauge
---
Greetings. In this issue of the TFA newsletter, we offer a multimedia portrait of Psychoflauge, the third of five artists in our 2020 class of Emerging Artist Fellows. We put no limits on an 'Emerging Artist.' They may be of any age and do any style of work in the cities and towns, the hollers and hills of West Virginia. They just must be passionately good at what they do, whether with a brush, scissors, videoscreen or whatever tools they use to make art.
Psychoflauge lives on a Webster County farm. He creates bravura visual and symphonic metaphors by layering and juxtaposing both paper and video imagery. By cutting up and reassembling images, he creates "implicit understanding," as he puts it. His analog collages are applied to everything from canvas to furniture. He searches for material to use to further his obsession with cut-and-paste. On screen, he explores what he calls "the recursive nature of reality," using video imagery. He effectively creates his own mythology. He publishes all his work under the pseudonym Psychoflauge, uninterested in broadcasting his physical identity when presenting his creativity to the world.
VIDEO by Braiden Maddox. | NOTE: If forwarded this TFA newsletter, subscribe for free at: tamarackforthearts.substack.com. |  Renee Margocee, TFA executive director
---
Video profile of Psychoflauge by TFA Design Team member Braiden Maddox of
Lady Mountain Films
.
---
Q&A With the Artist
1.
How has the pandemic and quarantine affected your work and creative output as an artist?
PSYCHOFLAUGE: I've just been out here, fam. You know, doing me, being the best incarnation of myself. Every day, I work towards becoming the person I want to spend the rest of my life with—and everything else will sort itself out. I'm not getting any commissions from musicians, but the musicians are not gigging and art galleries are super-cautious to prevent themselves from becoming hot spots. And there's nothing wrong with this. It's not right, but it ain't wrong. I'm still making art, just small art. And expanding my craft with my video synthesis projects. What I have is a fountain, the art flows from my fingertips. It's going to take more than a global pandemic to dry up this well.
---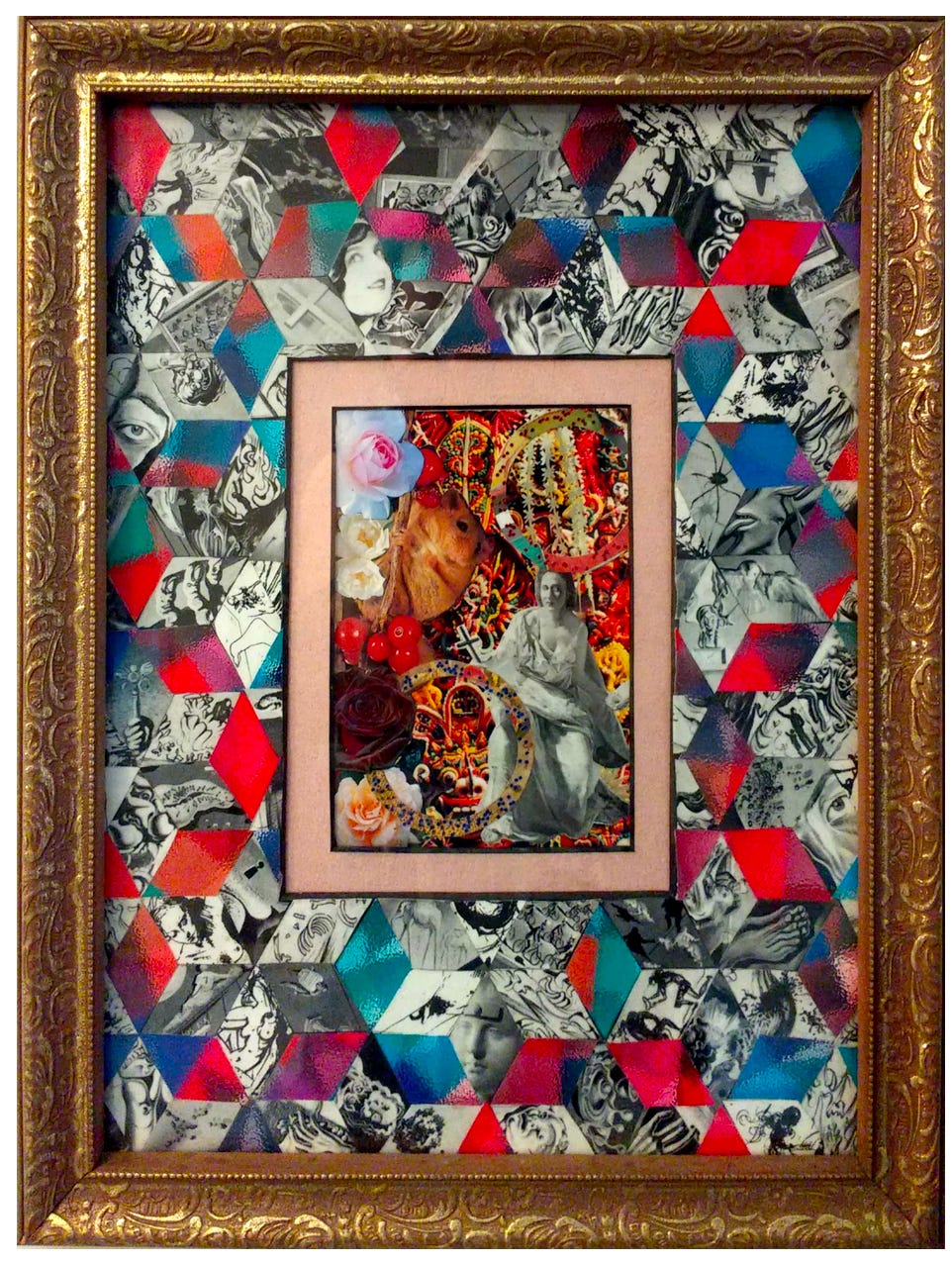 "Ana Theman Encounters Divinity" by Psychoflauge.
---
2.
What has been the financial impact of the pandemic on the business aspect of your art production?
PSYCHOFLAUGE: I ain't selling jack. Don't get many opportunities these days to get my target market audience in front of the art. I have not really made the transition from selling art in person to managing a successful online shop. All of this is still very new to me. I spent the majority of my life giving all the art I ever made away for free. I was about to pounce on Charleston Art Walks this year, but, alas, you don't win them all. It's okay, though. What's life without a little adversity?
---
If Corona ever ungrounds America, I'd like to resume the pursuit of sharing my art with other people in pleasant and social environments.
---
"Divide G," by Psychoflauge. Music by Sergio Grossi.
---
3.
What are you looking forward to in the year ahead?
PSYCHOFLAUGE: The new "Dune" movie.  The next "Way of Kings" book.  The LZX Chromagnon is supposed to be released sometime this year, so that will kind of be a big deal for us analog nerds. My birthday. If live music comes back, I look forward to doing live visual sets again. I hear the gum I like is coming back into popularity, so there's at least that to look forward to. I'm looking forward to exhibiting my Princess Diana artwork at Taylor Books this October. If Corona ever ungrounds America, I'd like to resume the pursuit of sharing my art with other people in pleasant and social environments. I've never donated hair to children with cancer who need wigs. So, I am looking forward to letting my hair grow longer, so I can knock that off my bucket list.
---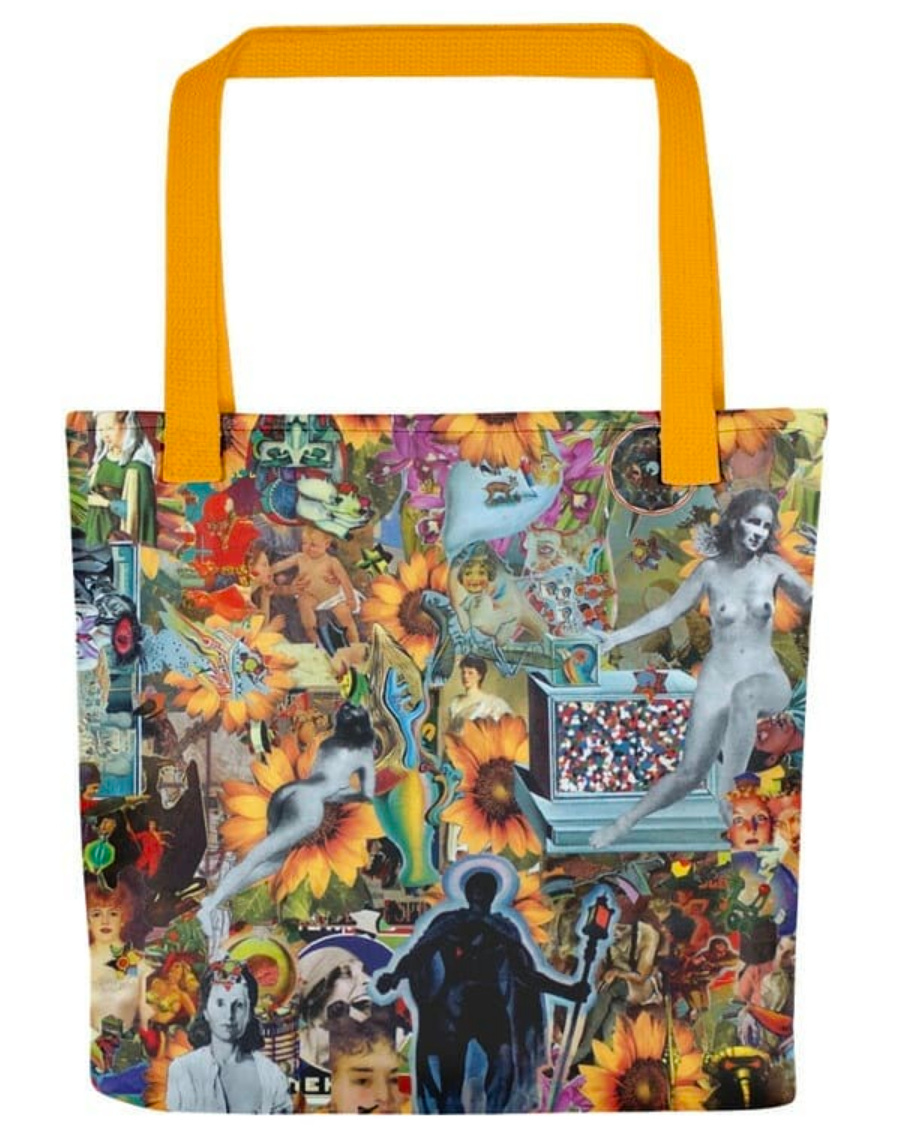 Ana Theman, Sun God, Time Travel Extraordinaire | Tote bags and prints | Website exclusives | Limited supply.
---
4.
Do you think of who your audience is? If so, how might you describe that audience? 
PSYCHOFLAUGE: The sort of person you might or might not want to meet in the parking lot of a Phish concert. The people who tell themselves stories as they lay down to go to sleep. Anyone who's ever belly-dived into a puddle, or the type of sick deviant who likes to crack open a nice book and read for pleasure. Anyone with a Mullet and anyone without a Mullet. The people I am trying to reach generally are alive now, and hopefully will become alive in the future—I can't yet do anything about the people in the past except to include them in the current work. I'm not trying to exclude or gatekeep anyone outside of my audience. Whether you can appreciate good art instantaneously or it takes you a lifetime of struggle to hone your cultural taste buds, I think it'd be cherry if you ate a slice of my pie. The denizens of this rock are my target market audience and I wouldn't want it any other way.
---
Art, and the application of culture in general, is so vast that the exploration is never ending.

 
---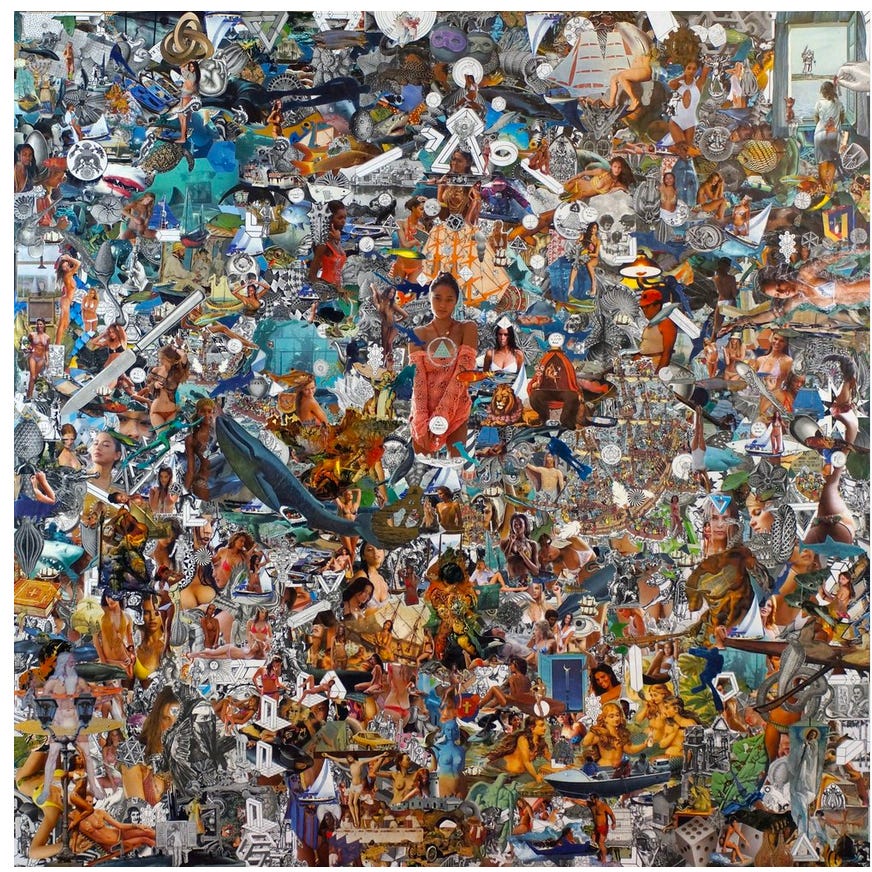 ---
5.
If you could name an artist or creative person who you would love to appreciate or come to know your artwork, who might that someone (or someones) be?
PSYCHOFLAUGE: I think the very nature of my art speaks volumes to the amount of artists and creatives that I already appreciate. I appreciate these creatives so much, I just can't help myself. I have to rob their coffers. I'm here to plunder that which I love.  Maybe someone to acknowledge my work? Oh, I absolutely would be beyond jubilee if Robert Williams acknowledged my existence. I should use this to say I'd want a famous curator to "discover" me. But let's be honest here—Robert Williams is, like, if Salvador Dali and Frank Zappa fused into one seriously down-to-earth fella. This guy was buds with R. Crumb, if that's even possible, and he loves rat rods. The guy is legendary. The technicality and mastery of his brush work really gets me going. He makes me want to pick up a paintbrush and I don't even know how to paint. I have this personal rule that I try my very hardest to not use living artists' work in my collages, if I can help it. The whole dead artist team-up thing has its perks, but I want to pilfer his body of work. It's wacky, zany, and he employs this visual and mental sleight-of-hand that gives me mental horripilation.
---
6. 
As a working artist, who creates and sells his artwork and has a profile as a TFA Emerging Artist in West Virginia, what words of encouragement, practical advice or hard-won insights might you have to fledgling artists—wondering whether it's possible to turn their pleasure for art into a more serious life commitment?
PSYCHOFLAUGE: There are two sides to this coin. Yes, pursuing the dream is worth it, but it becomes work. That's kind of silly, I guess. Unless you're independently wealthy, you're going to be working in this life doing something either you love or you don't. It's really easy to get burned out, too, so be like Bill Murray in "What About Bob" and just "baby steps." Baby steps to the door, baby steps to the elevator. And even if you're not trying to go pro, there's nothing stopping all those out there from pursuing exhibiting art or exploring ways to profit. Art, and the application of culture in general, is so vast that the exploration is never ending.
---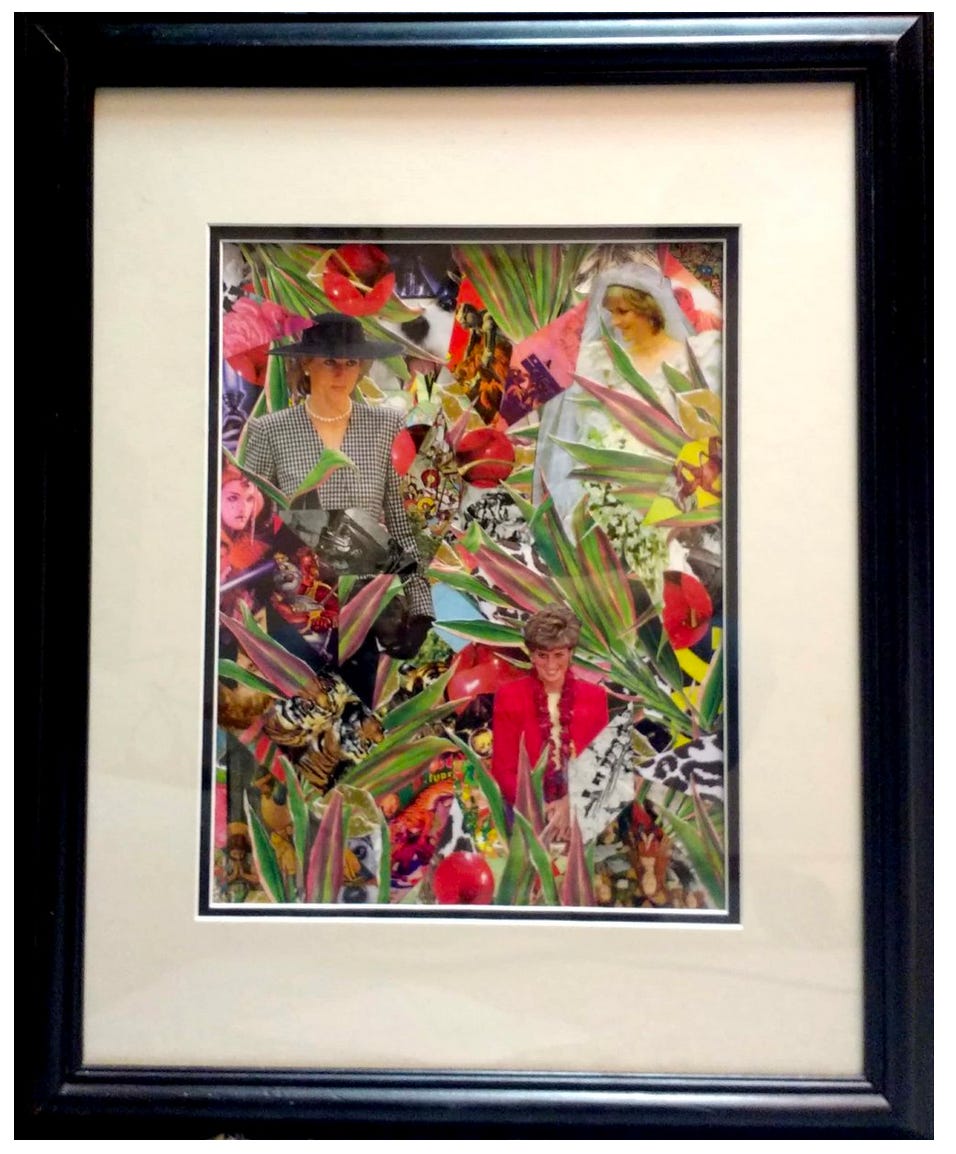 "Diwia, Omnitvaga, Deyew" by Psychoflauge.
---
We all die in the end anyways. Might as well make a little art here and there, yeah?
---
Ever since cavemen watched the flickering light from their fires animate the drawings on the walls of their caves, we as humans have been getting goofy with the art. Our art is an expression of our journeys. And it's so easy for us as consumers to take end-products in all their excellence and get this sense of inadequacy in our own abilities—or not make available time to pursue you know what it is that really makes us feel alive. Take Tolkien, for example— modern fantasy plays at his feet. The guy wrote his own fan-fiction to explain to his nerd friends the languages he was creating.  Have you read "The Silmarillion" yet? The guy sees his best friends get blown up in foxholes, and he pursues his art his whole life. And so should you. Face adversity head on. We all die in the end anyways. Might as well make a little art here and there, yeah?
---
7.
Ask yourself a question about art, the creative process or the business side of art or what it's like making a go of it as an artist— then answer it.
____
What's it like making a go of it as an artist?
PSYCHOFLAUGE: I hate it. It's awful, it's barely only just slightly more tolerable than anything else this planet has to offer.  I completely understand why Taika Waititi grew completely disenchanted with art exhibitions. Don't get me wrong, I'd rather be doing this than literally anything else. I could have gone into the Air Force and played "Top Gun." But I'd rather cut pictures of planes out than fly them. I could have been in the movies, they could have made a big star out of me. This is the nature of the human condition—we suffer. We might as well find something we love doing while suffering. Can you hear me? You and I live on an organic spaceship, traveling sixty-seven thousand miles an hour through it. I get sad, too, sometimes. Life isn't fair. I read good books and listen to the music. I think it's silly that that banana sold for $120,000 dollars and people disagree around me that my art isn't worth $2 per square inch. What's it like making a "go" of it? It's awful and I hate it and I wouldn't trade it for anything else this life has to offer.
---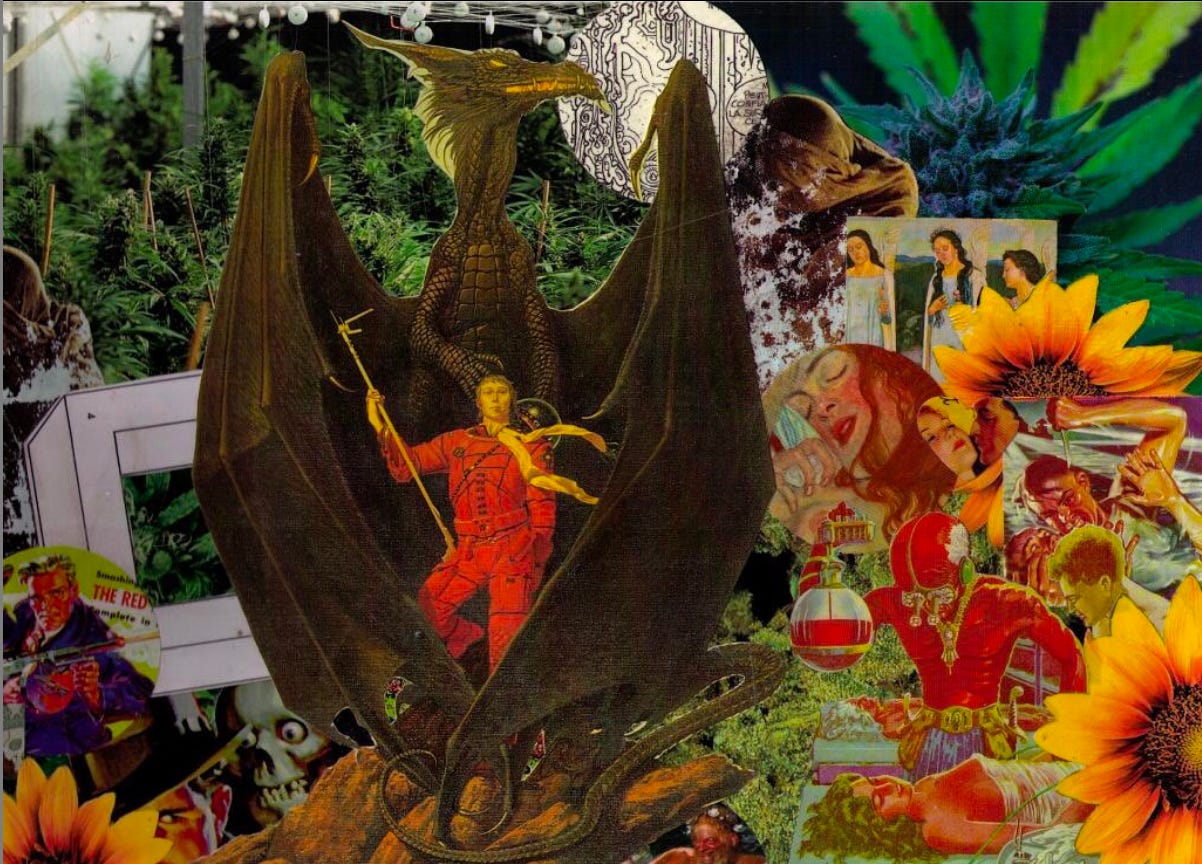 #collageofthe day | Instagram, July 8, 2020
---
SEE MORE WORK BY PSYCHOFLAUGE:
---
MORE 2020 EMERGING ARTIST PROFILES:
---
TFA LINKS OF INTEREST to ARTISTS
---
Spread the Word
Forward this free newsletter to artists and those who appreciate the arts. If the newsletter was forwarded to you, subscribe at: tamarackforthearts.substack.com. We generally publish 2 issues monthly, plus special themed issues.
Share comments below, call us at 304.926.3770, or e-mail me directly at renee@tamarackfoundation.org. For media inquires about stories on TFA Fellows or other topics, contact TFA team member Douglas John Imbrogno at douglaseye@gmail.com or call 304.638.9784.
Be well. Stay Safe. Wear masks. Make art.
Renee Margocee | Executive Director | Tamarack for the Arts