APPALACHIAN EVOLUTION
Jessie McClanahan's ceramic artistry draws from life in the hills | sep10.2020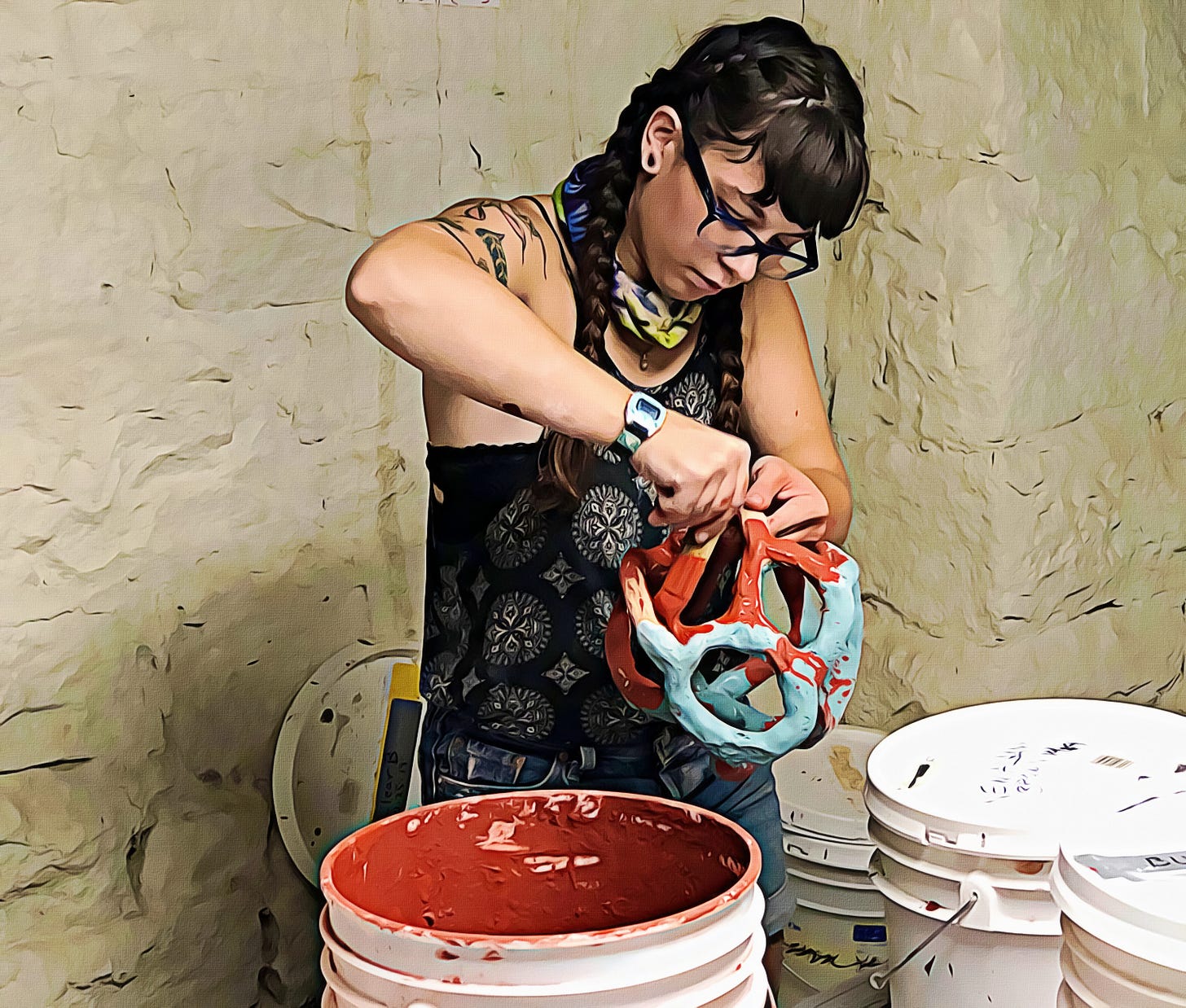 Jessie McClanahan at work in the basement studio of Taylor Books in Charleston WV |
TFA Design Team photo
---
Greetings. Here is our multimedia portrait of Jessie McClanahan, our fourth of five artists we're profiling in the 2020 class of Emerging Artist Fellows of Tamarack Foundation for the Arts. We put no limits on an 'Emerging Artist.' They may be of any age and do any style of work. They just must be passionately good at what they do.
Jessie, who calls Charleston, WV home, specializes in ceramics. She earned her bachelor's degree from West Virginia State University. Pre-pandemic, she was working as a potter's assistant near Asheville, North Carolina, before pursuing a masters degree in ceramics. She has shown in galleries across West Virginia, and has worked for Arrowmont School of Arts and Crafts, Apartment Earth Art Gallery, and The Contemporary American Theater Festival. Her work is heavily influenced by her upbringing in the hills of Appalachia. She finds inspiration from not only the traditions of Appalachia, but from its unprecedented beauty, as well.
NOTE: If forwarded this newsletter, subscribe for free at: tamarackforthearts.substack.com. | 
---
Q&A With the Artist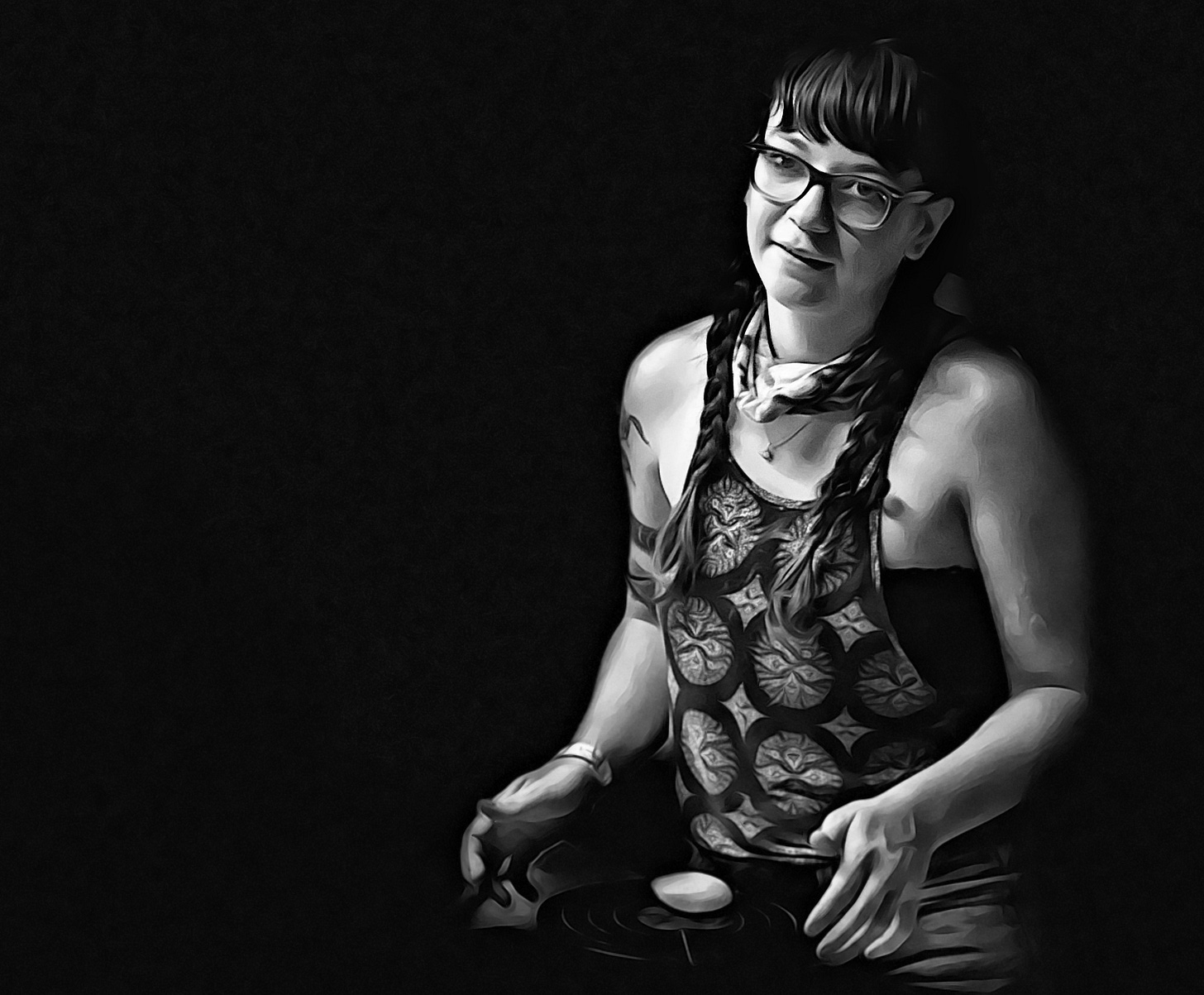 "A large part of my practice revolves around place and the memories of Appalachia."~ Jessie McClanahan. |
TFA Design Team photo
1.
How has the pandemic and quarantine affected your work and creative output as an artist?
JESSIE McCLANAHAN: Oh man, how has it not affected every aspect of my artistic practice, or life for that matter? This pandemic has, in candid honesty, really done a number on me. I went from doing a ceramics assistantship in North Carolina, to moving home and rebuilding my studio practice from the ground up, almost overnight. It has also caused the cancellation of every major conference that I planned on being at and complicated the process of applying to various residencies and graduate schools. This pandemic has also complicated my travel plans.
A large part of my practice involves traveling and taking part in community activities such as conferences. With not being able to meet together as a group, I have had to do a lot of restructuring.
---
Video by TFA Design Team member Braiden Maddox of
Lady Mountain Films
.
2.
What has been the financial impact of the pandemic on the business aspect of your art production?
JM: I've taken a bit of a hit financially this year due to Covid. I typically sell most of my work at craft schools, galleries, and conventions. All of these venues have been greatly impacted by the crisis. There are galleries that I typically have my work in that are still not open right now.
---
3.
What are you looking forward to in the year ahead?
JM: There are a few things that I'm really excited for this year. The first is that I'm really happy to be home and to have time to really re-focus my energies on my goals and restructuring my priorities. This pandemic—with all of its negative side effects—has forced me to take time and think really heavily about what I'm doing. It's forcing me to live more in the present than the future.
I'm also really excited to see how my work evolves over the next year. I've been doing a lot of experimentation this year. There are some things I plan on developing more and others that I'm not necessarily as keen on exploring more.
---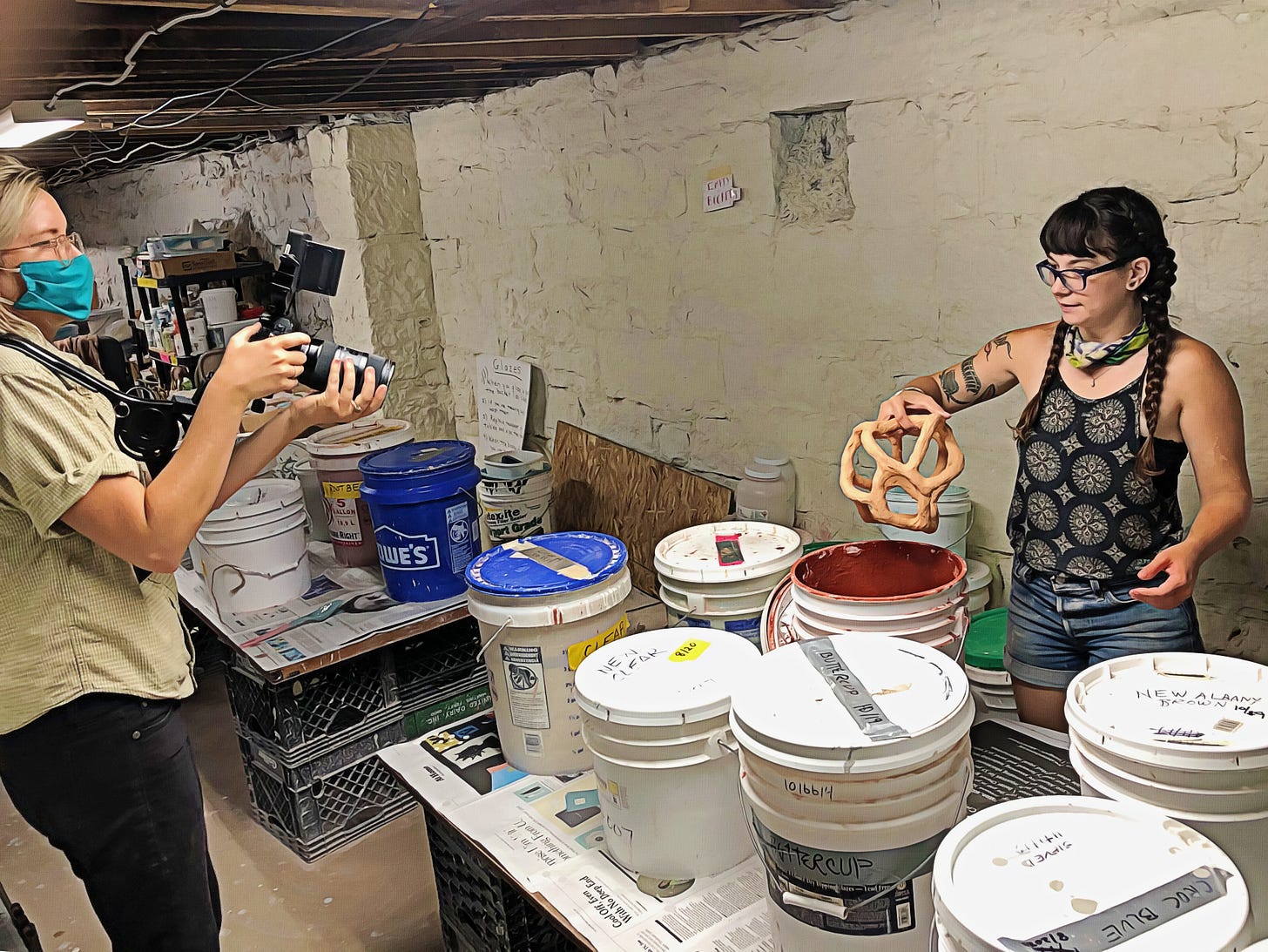 Braiden Maddox captures Jessie as she prepares to paint one of her pieces. |
TFA Design Team photo
4.
Do you think of who your audience is? If so, how might you describe that audience?
I think about my audience a good bit, actually, especially after this business intensive workshop that Tamarack Foundation for the Arts hosted for us Fellows. I feel like my audience is for all people who enjoy the arts, and respect craftsmanship. I make a large variety of work that ranges from sculptural work, that fits into the contemporary art scene, to pottery that makes art accessible and fun.
I do think that the uniting aspect of my art that brings all of my customer bases together is a love and respect for nature and Appalachia. A large part of my practice revolves around place and the memories of Appalachia.
---
5.
If you could name an artist or creative person whom you would love to have appreciate or come to know your work, who might that be?
One of my favorite ceramic artists right now is Richard James. He's a ceramics artist that uses found objects in his figurative work. I'd love to have him recognize my work.
---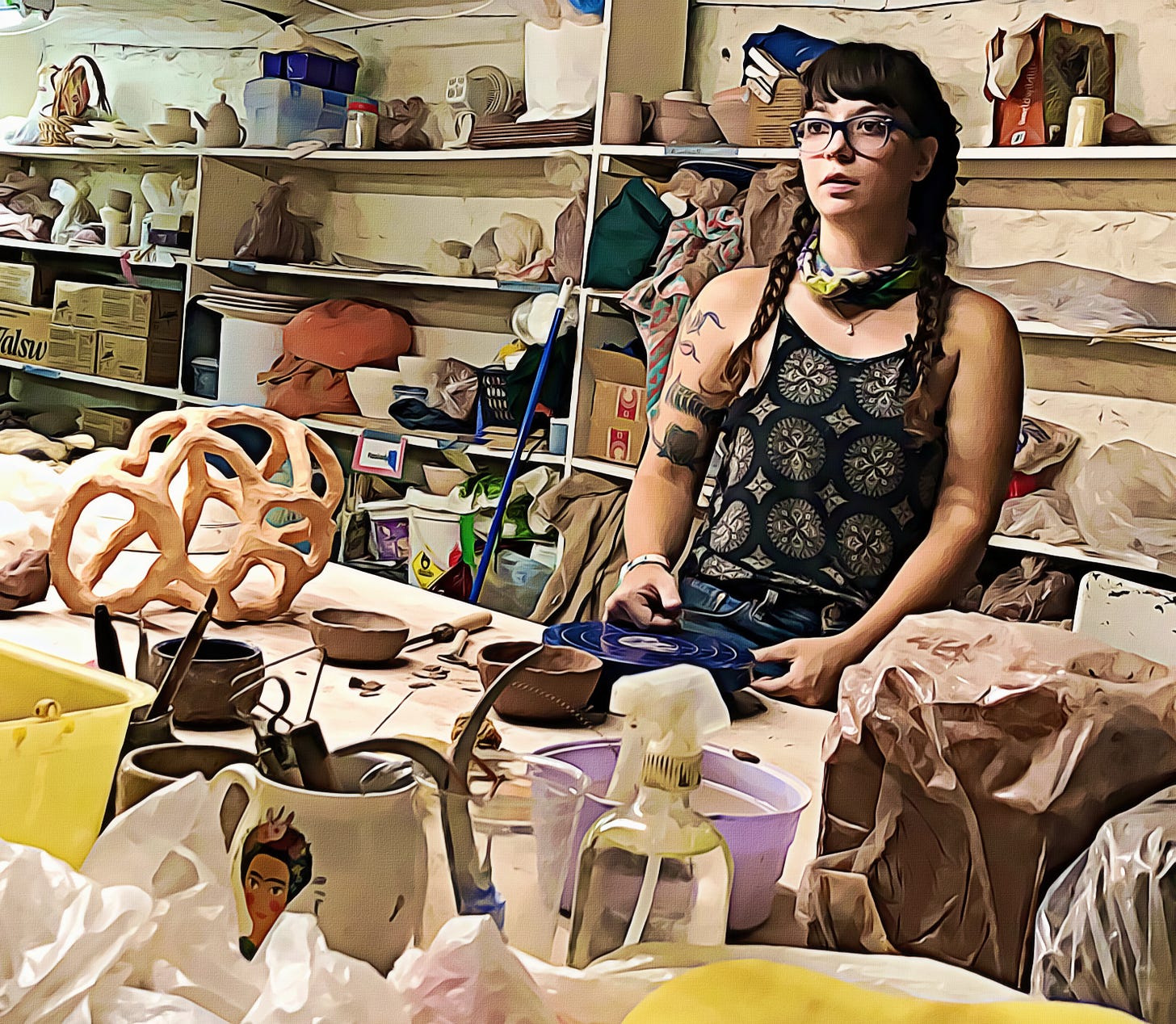 Surrounded by the tools of her trade in the basement studio of Taylor Books in Charleston WV. |
TFA Design Team photo
6. 
What words of encouragement, advice or hard-won insights might you have for fledgling artists—wondering whether it's possible to turn pleasure for art into a more serious life commitment?
The only words of encouragement I have are this: just make it work. It's a little bit of a cliche, and I'm sure it's something everyone has heard. That's different than really internalizing it, though. If being a creative is something you're committed to, and building a career off of it, you should internalize the essence of that phrase. It's a hard profession to be in sometimes; I'm not going to sugar coat it. With that being said though, it's worth pursuing. There's not a day that goes by that I'm not happy to be an artist.
---
7.
Ask yourself a question about art, the creative process or the business side of art— then answer it.
——
What is your process for creating work?
In my practice, I allow my pieces to evolve naturally and take on their own forms while I build them. I'm inspired by the forms of nature and how nothing is exactly the same. There are minor differences. I try to recreate this in my work.
---
RELATED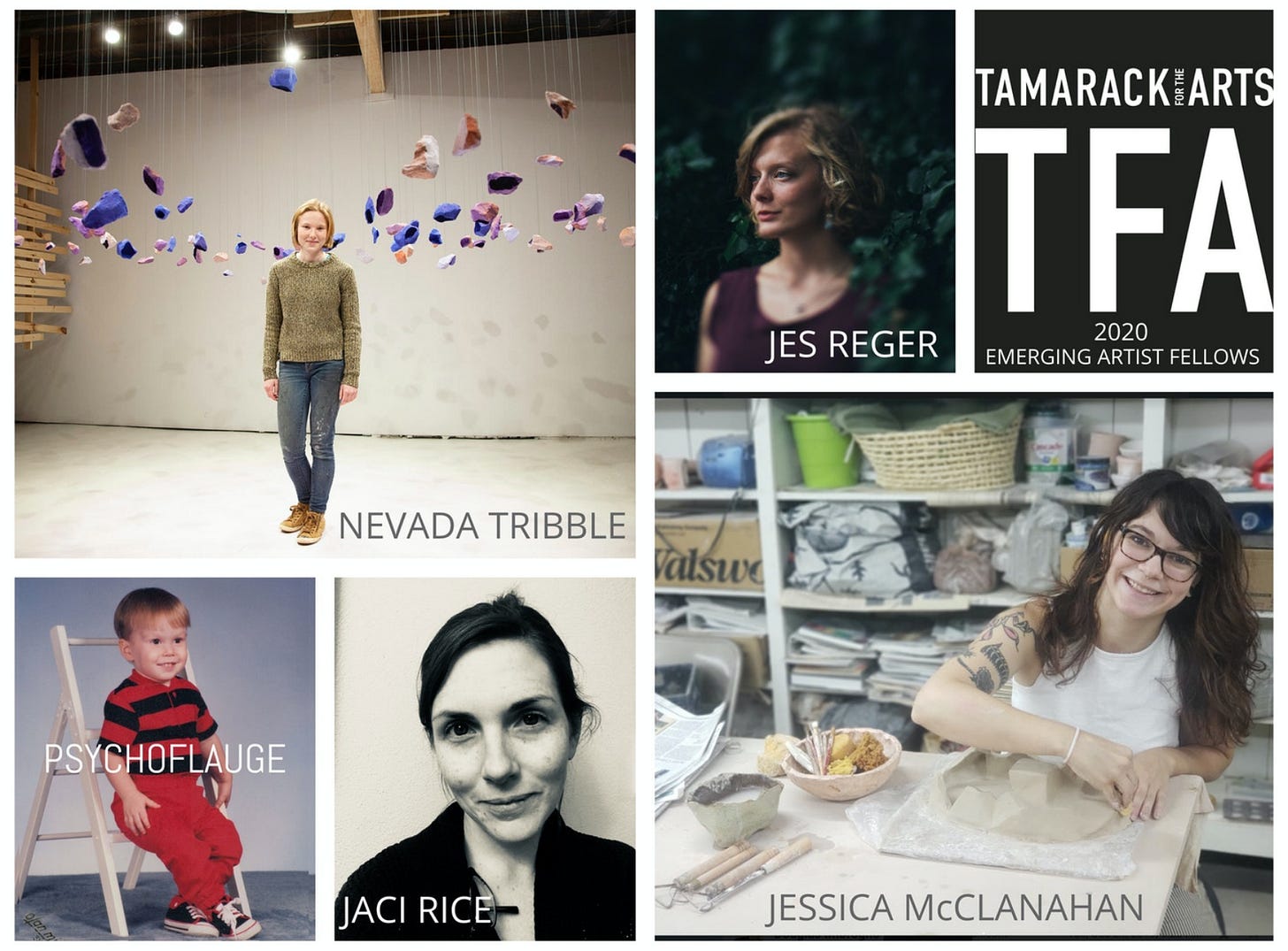 Here are the previous three multimedia profiles of the 2020 TFA Emerging Artist Fellows:
---
Spread the Word
Forward this free newsletter to artists and those who appreciate the arts. If the newsletter was forwarded to you, subscribe at: tamarackforthearts.substack.com. We generally publish 2 issues monthly, plus special themed issues.
Share comments below, call us at 304.926.3770, or e-mail me directly at renee@tamarackfoundation.org. For media inquires about stories on TFA Fellows or other topics, contact TFA team member Douglas John Imbrogno at info@tamarackfortherts.com.
Be well. Stay Safe. Wear masks. Make art!
Renee Margocee | Executive Director | Tamarack for the Arts