Profiling Emerging Artists in WV
Plus a New Look for the Tamarack for the Arts Newsletter | feb 3, 2020
GREETINGS. If you received this in your e-mail box, it means you're a past subscriber to the newsletter of the Tamarack Foundation for the Arts. We've launched a new look for our newsletter, testing out a switch from the Mailchimp platform to Substack.com. We're the same folks, just with a different look! We'll be adding new features in 2020, including video and podcast interviews.
My name is Renee Margocee, and I am executive director of Tamarack Foundation for the Arts (or TFA, as we'll be referring to it in shorthand). A devotion to showcasing artists and encouraging their creative and professional development has fueled the mission of the Tamarack for the Arts for almost 20 years. Find out more about the TFA at our website. (And if this newsletter was forwarded to you, you can also subscribe for free at tamarackforthearts.substack.com).
---
Meet the Emerging Artists Fellows for 2020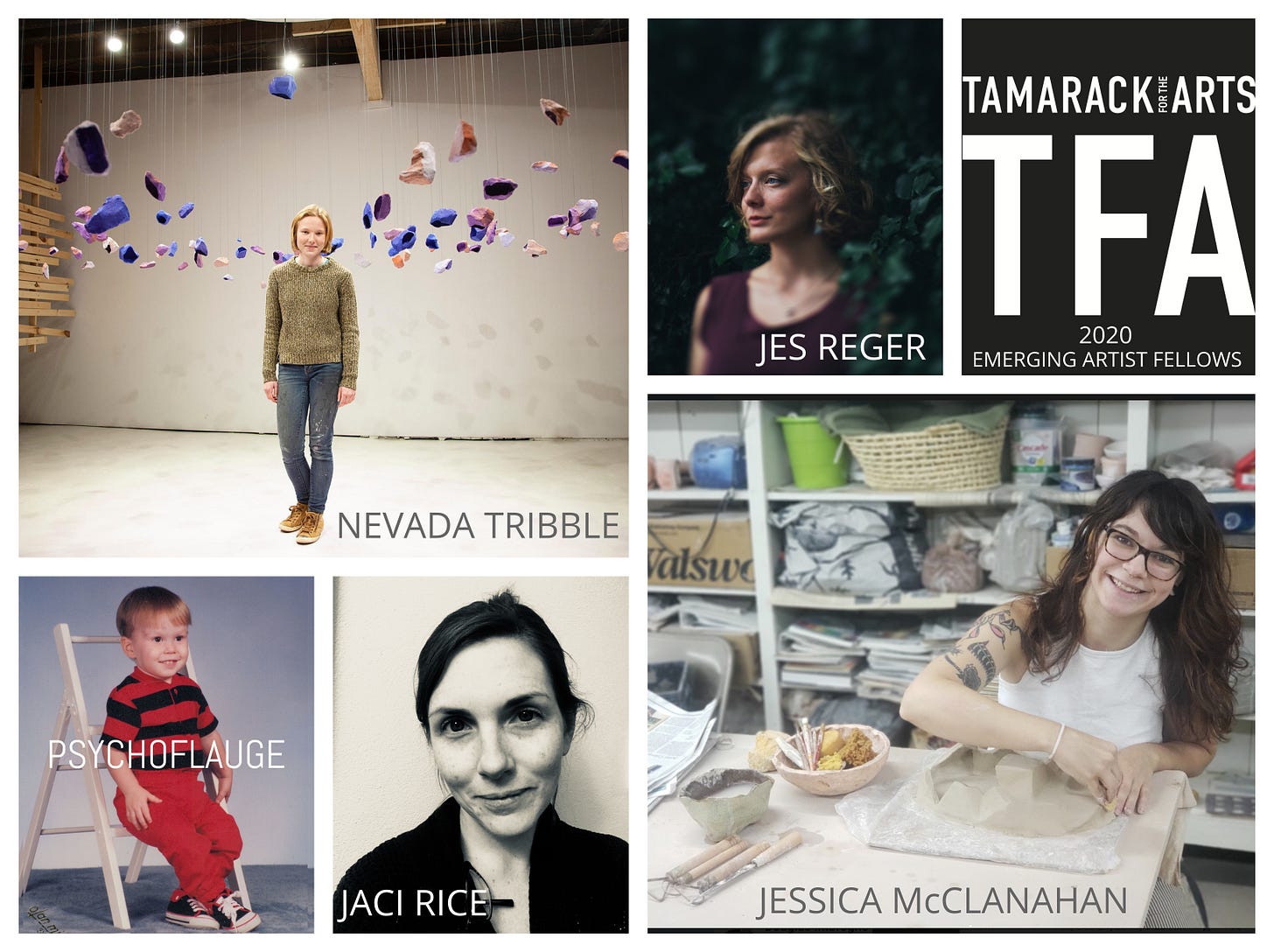 In the weeks and months ahead, we'll be focusing on one our core programs, TFA's Emerging Artist Fellowships. We'll be rolling out detailed introductions, through text, video, photography and audio interviews, to the 2020 class of Emerging Artist Fellows.
The fellowships are awarded to thriving, early-career artists across West Virginia. They demonstrate not only a level of mastery in their craft, but also the aptitude to become successful professional artists. Below are short profiles with excerpted samples of work by the 2020 fellows. (Media folk interested in doing text, video or audio interviews with the artists and needing contact numbers and full-size images of their artwork, may contact TFA design team member Douglas John Imbrogno, at douglaseye@gmail.com and 304.638.9784.)
---
JESSICA McCLANAHAN
Jessica currently travels the country pursuing an arts education specializing in ceramics, but she calls Charleston, WV, her home. She earned her bachelor's degree from West Virginia State University. She is working as a potter's assistant outside of Asheville, North Carolina, before pursuing a masters degree in ceramics. She has shown in galleries throughout West Virginia, and has worked for Arrowmont School of Arts and Crafts, Apartment Earth Art Gallery, and The Contemporary American Theater Festival. Her work is heavily influenced by her upbringing in the rolling hills of Appalachia. She finds inspiration from not only the traditions of Appalachia but from its unprecedented beauty as well.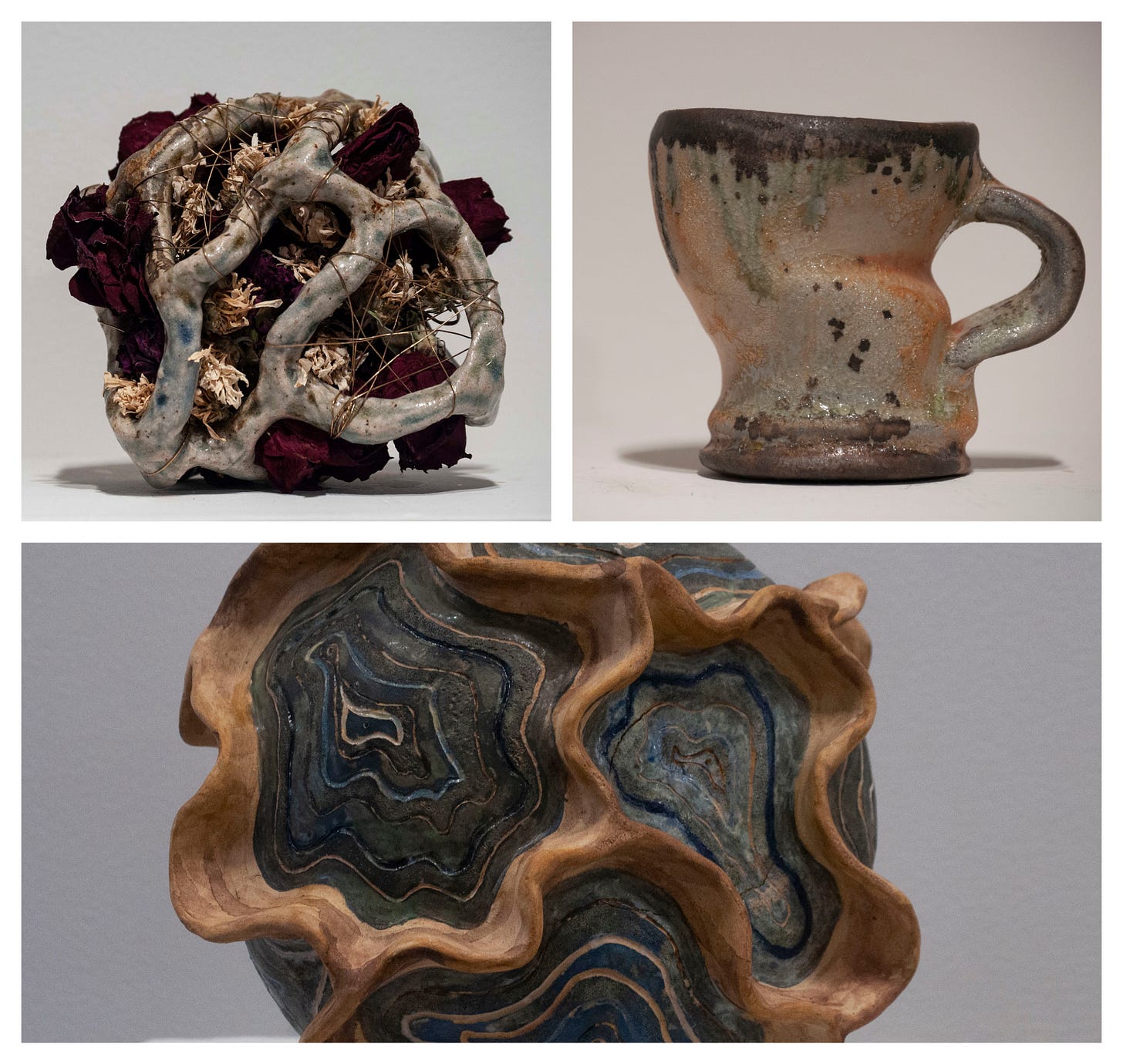 ONLINE ARTWORK:
---
JES REGER
A native of the Mountain State, Jes is a watercolorist, teaching artist, and observer—often finding inspiration in and around the hills of West Virginia. She earned her Bachelor of Science in Interdisciplinary Studies concentrated in Visual Arts and Creative Writing from West Liberty University in 2014. Since graduating, she teaches art classes to adults and children at the Stifel Fine Arts Center in Wheeling, as well as offering private watercolor and drawing lessons from her home studio, The Painter's Nest.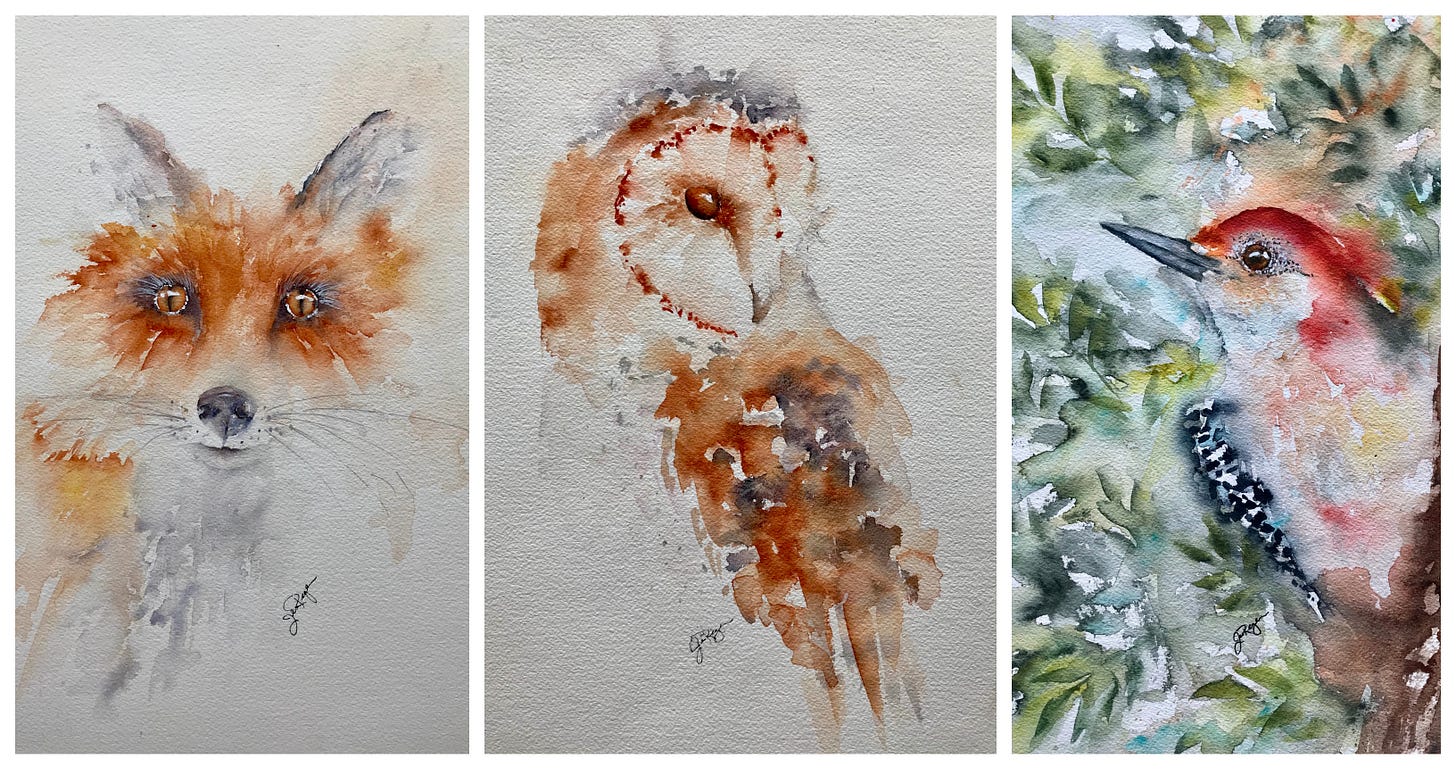 ONLINE ARTWORK:
---
JACI RICE
Jaci currently lives in the steel mill town of Weirton, W.Va. She earned a BFA in Painting/Drawing at Tyler School of Art (Temple University) in Philadelphia. Her primary artistic medium is acrylic on panel.  As a transplant to the Ohio Valley region, she feels she has been "afforded an opportunity to see the area's beauty with eyes not accustomed to it." Her artistic career's focus started out purely figurative. However, in recent years, she has been inspired by the area's dramatic sky and landscapes intermingled with ghostly and active industrial spaces. She exhibits this work under the hashtag #rustbeltbeauty.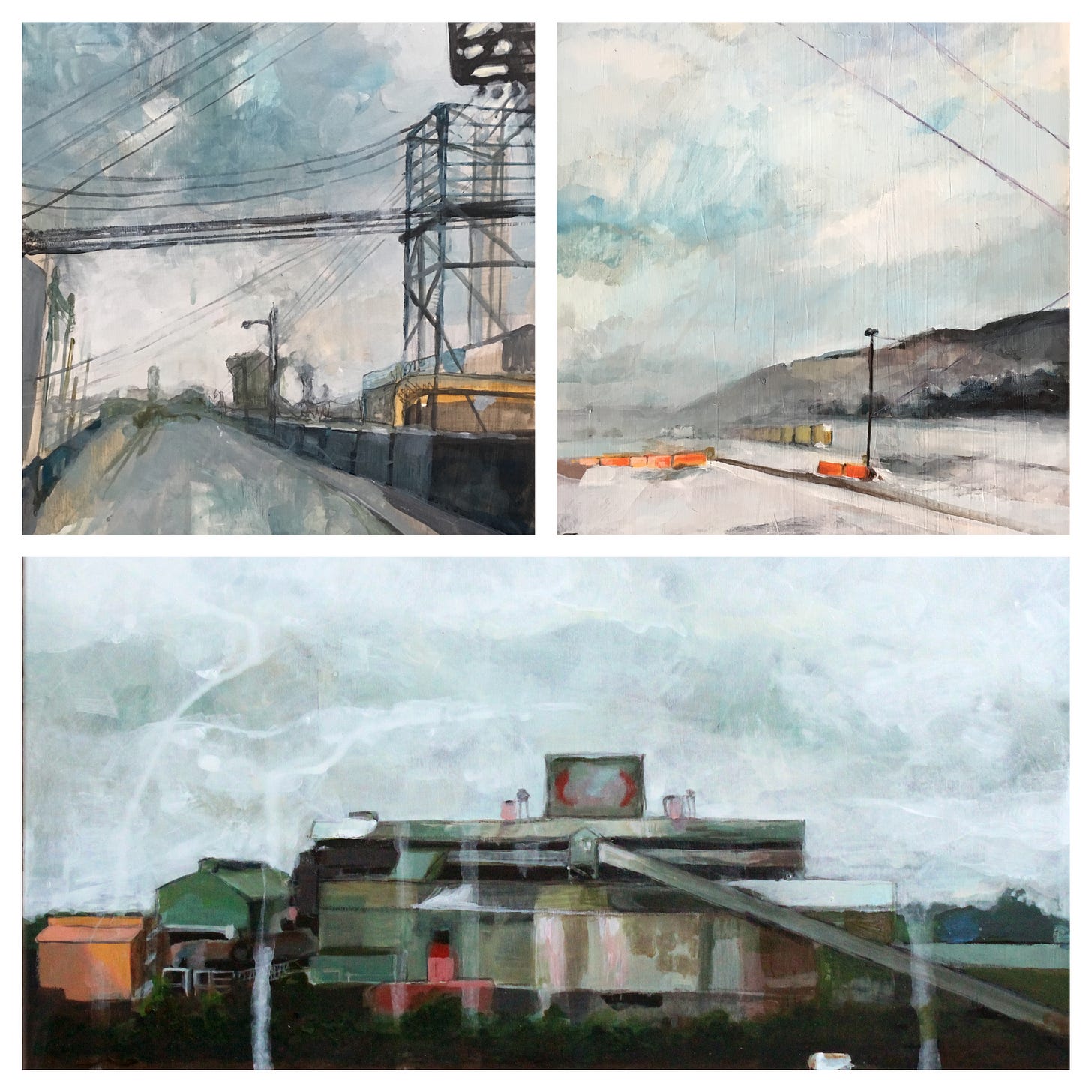 ONLINE ARTWORK:
---
PSYCHOFLAUGE
Psychoflauge lives on a farm in Webster County, WV. He creates visual symphonic metaphors by layering and juxtaposing paper.  He also explores the recursive nature of reality using VHS cassette tapes.  He applies his understanding of how the left and right brain hemispheres communicate to his application of his artistic method.  By cutting up explicit images and reassembling images he creates implicit understanding. His analog collages are applied to everything from canvas to furniture. He searches for material to use to further his obsession with cut-and-paste. He creates his own mythology and publishes his work under the pseudonym Psychoflauge.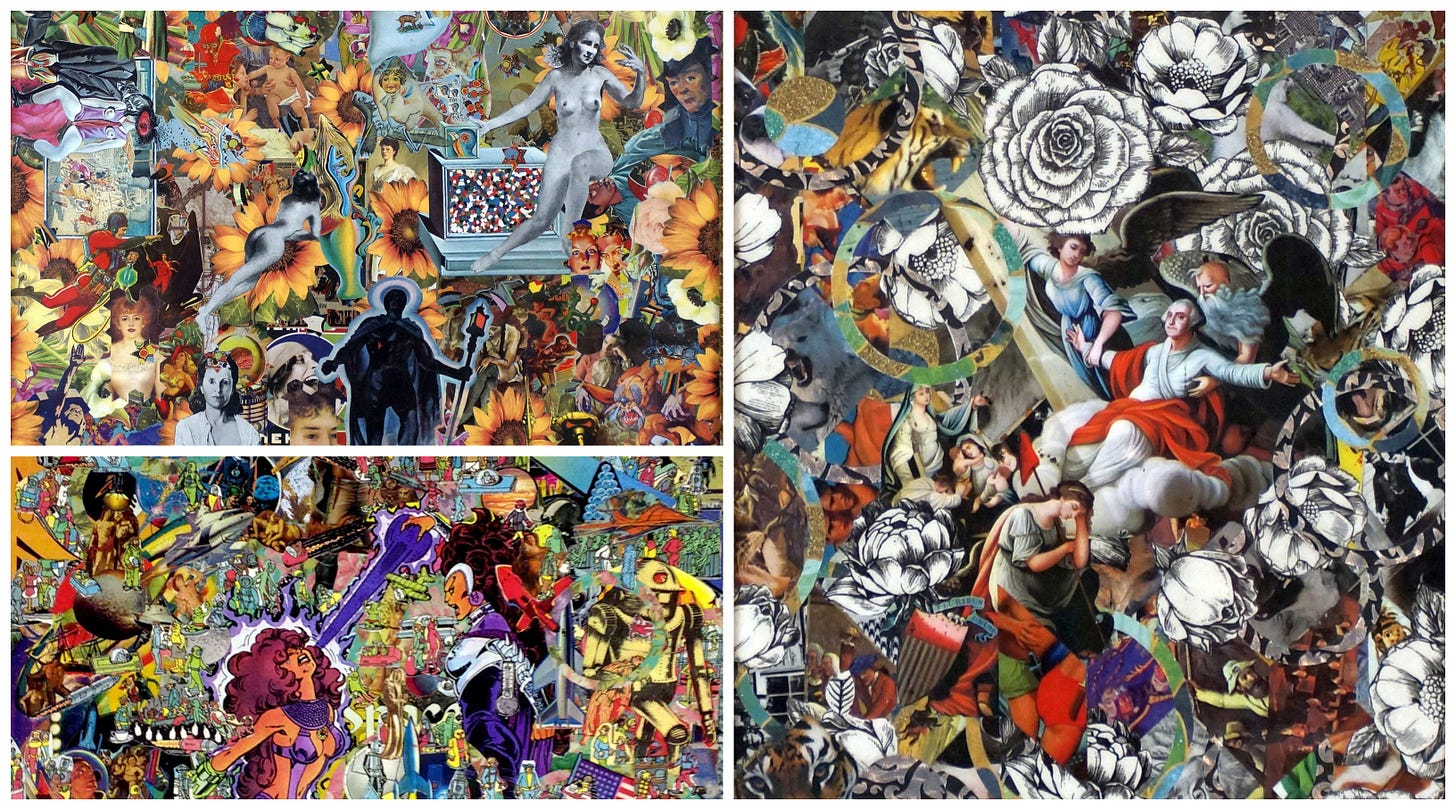 ONLINE ARTWORK:
---
NEVADA TRIBBLE
Nevada is an Elkins native in her final year at Shepherd University in Shepherdstown, WV. Nevada works with themes of landscape, place and community. "Fiber arts are my primary media, in particular handmade paper and sewing. I use handmade paper as a sculptural medium, while I use the sewing machine to draw with thread." She recently built a bicycle-powered sewing machine as a tool for drawing from life outdoors, and a way of taking her art practice out on wheels into the community.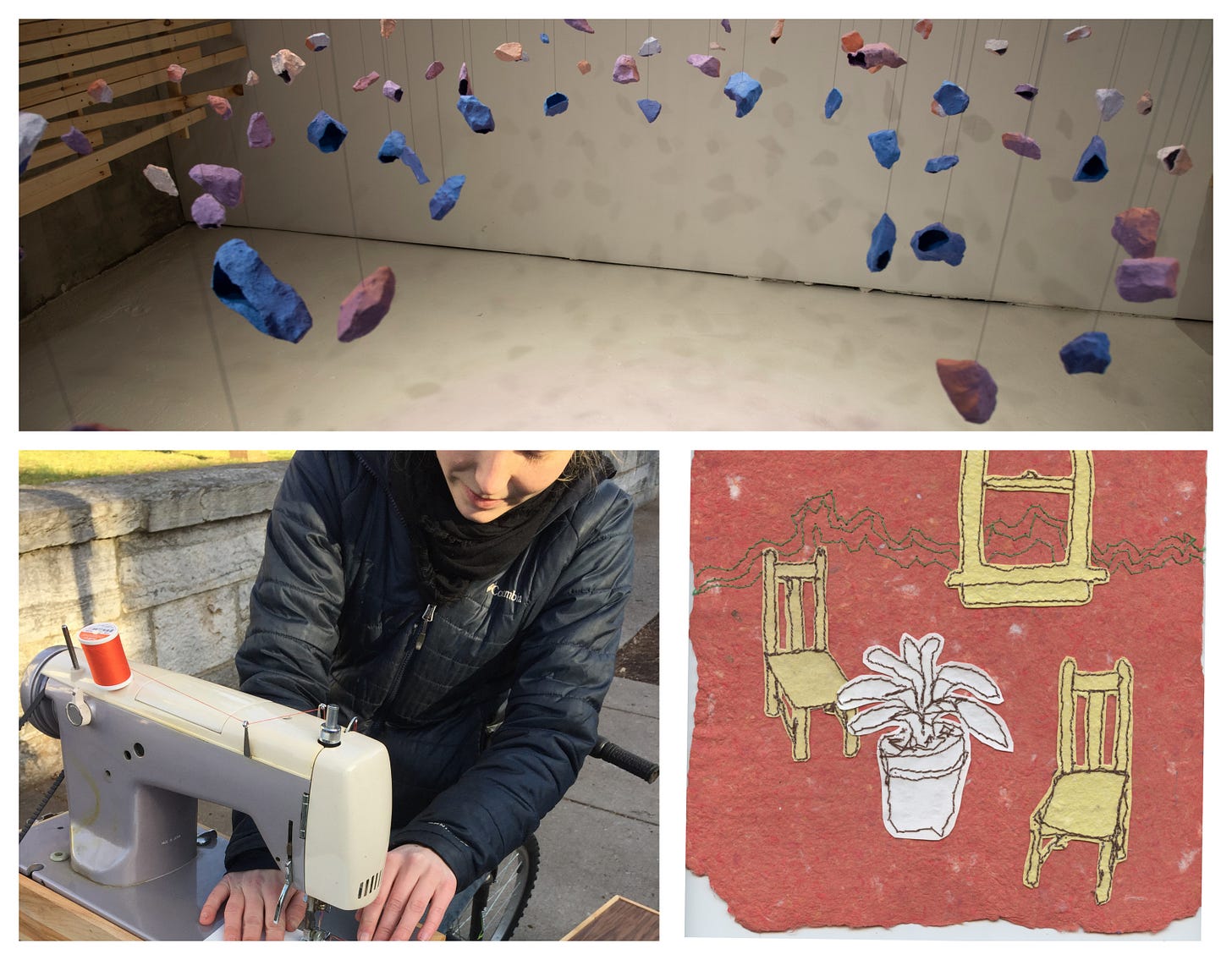 ONLINE ARTWORK:
---
Emerging Artist Fellow Wins WV Juried Exhibit Award
A piece by Nevada (shown below), "Gaudineer Knob From Memory," won a Merit Award in the 21st biennial West Virginia Juried Exhibition at the Culture Center, in the State Capitol Complex in Charleston, WV. We asked her to describe it:
"I created this piece in 2018 out of handmade cast paper. Paper casting is a process in which freshly made sheets of wet paper are molded around a form. The paper then holds the shape of that form when it dries. This was one of my earlier experiments with the medium, and it also includes fabric and found objects on the surface of the paper. The design is inspired by topographic maps of Gaudineer Knob, one of my favorite areas to hike and explore in West Virginia. In the body of work that this piece comes from, I was exploring my relationship with place, and thinking about the ways memory and personal experience can alter our perception of places."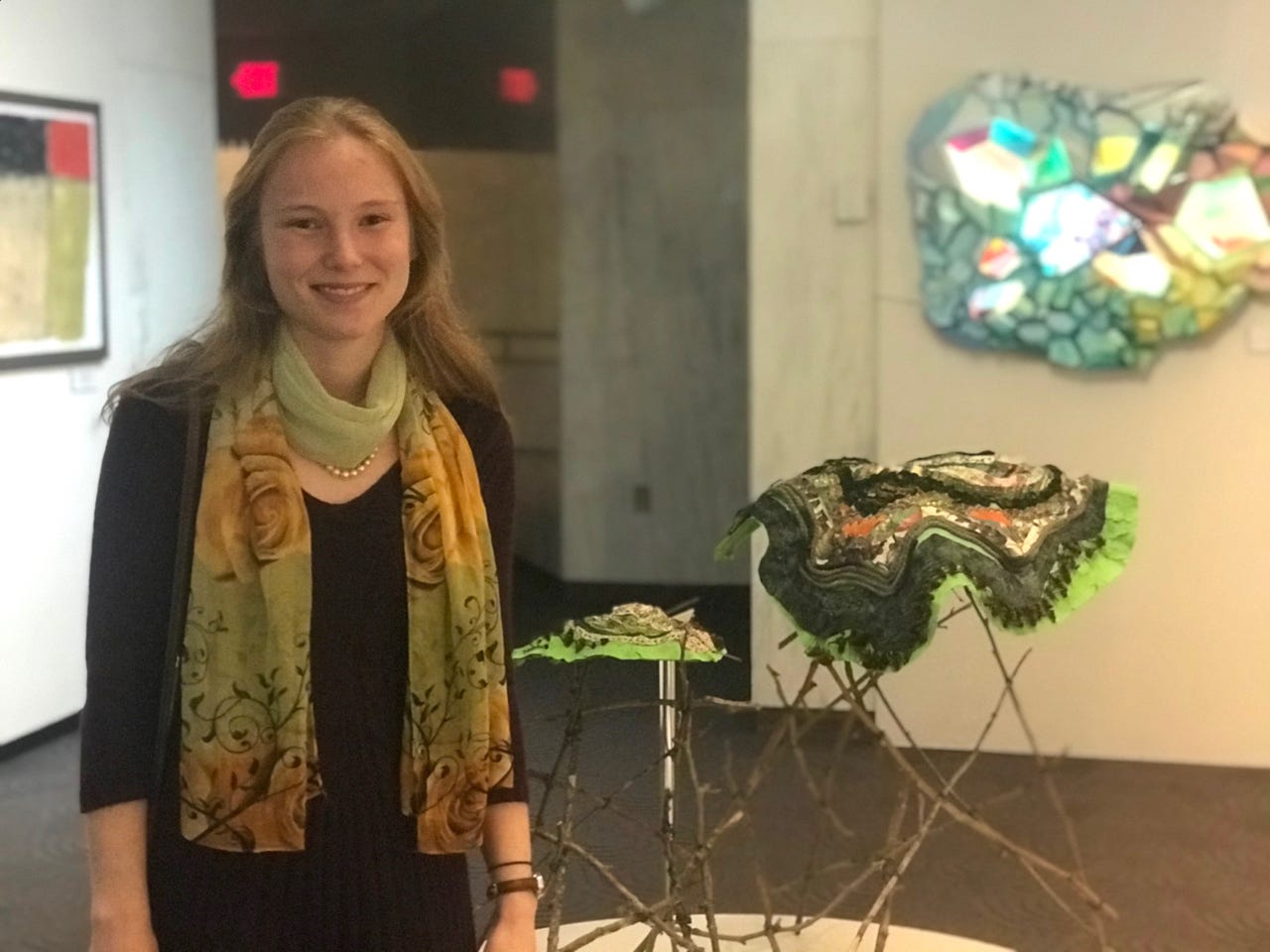 TFA Emerging Artist Fellow Nevada Tribble stands by her handmade paper piece, "Gaudineer Knob From Memory," at the 21st West Virginia Juried Exhibit in Charleston WV.

A total of 131 works by 101 West Virginia artists were picked for the exhibit, including painting, drawing, mixed media, craft, photography, digital art, sculpture, and print.  "The West Virginia Juried Exhibition continues its tradition of presenting the best of our state's well-known and emerging artists," said West Virginia Department of Arts Culture and History Curator Randall Reid-Smith. The exhibit is up through Feb. 18, 2020, at the Culture Center. Call (304) 558-0220 or see this announcement.
---
CALL FOR ARTISTS: Brickscape Artist Residency & Exhibition
ARTIST OPPORTUNITY: Brickscape Artist Residency & Exhibition
DEADLINE: Feb. 29, 2020
Brickscape is a five-week residency program that culminates in a public exhibition. Artists are selected each year to create temporary, site-specific installation art in a vacant historical space in downtown Charleston, WV, with a different location chosen each year. At the end of the residency, the space will open to the public and the completed installation art will be on display as part of a two-week, city-wide festival.
Artists who live more than an hour away are required to reside in Charleston for the entire duration of the residency. Free housing is provided by members of the community who make their guest rooms or apartments available.
Artists from the U.S., working in all mediums are encouraged to apply. Socially engaged or process-based artists are also eligible and encouraged to apply. Previous experience creating installation art is not required. The residency takes place May 9—June 13, 2020, with the exhibition open from June 14—June 28, as part of a city-wide festival. For more information and application guidelines visit: www.brickscape.org 
---
Spread the Word
That's all for this first TFA newsletter of 2020. Comment below, call us at 304.926.3770 or email me directly at renee@tamarackfoundation.org. For media inquires about stories on TFA Fellows or other topics, contact TFA team member Douglas John Imbrogno at douglaseye@gmail.com or call 304.638.9784.
We look forward to sharing an artful and art-filled year with you. And here is another reminder that if you were forwarded this newsletter, subscribe at this link: tamarackforthearts.substack.com

Renee Margocee | Executive Director | Tamarack for the Arts