Opportunities & Professional Development: An Artist's Guide
A round-up of grants, calls-to-artists, useful advice, and inspiration | aug25,2020
GREETINGS, Here is a wide-ranging collection of grants, calls-to-artists, useful advice, residencies, and inspiration for artists. Got suggestions for resources for other artists, arts educators, and anyone invested in all that a vibrant arts scene has to offer? Link them below or e-mail us at: info@tamarackfoundation.org. We also continue to highlight notable exhibits in West Virginia, so let us know about those. NOTE: If forwarded this TFA newsletter, subscribe for free at: tamarackforthearts.substack.com.
Be well. Stay safe. Make art. Renee Margocee, TFA executive director
---
1. | PROFESSIONAL DEVELOPMENT
The Money Side of Your Creativity
TFA is offering "Starting SmART," a six-week online course to jump-start improvements to the financial habits and practices of your creative career. The course is $50 (with scholarships available to West Virginia residents). It takes place online from 2:30 to 3:45 p.m., Wednesdays, from Sept.16 through October 21, 2020.
Each session addresses one common financial question faced by creative entrepreneurs through an action-oriented answer. Participants will receive materials and personalized answers to their questions. All sessions will be recorded, so you can catch up if you miss one.
At the end, participants will:
Define their value in a clear, concise statement.
List options for monetizing creativity through a portfolio career.
Plan for realistic costs.
Choose an effective record-keeping system.
List common tax deductions for creative entrepreneurs.
The workshop is led by Elaine Grogan Luttrull, of Minvera FinancialArts, based in Columbus, Ohio. A CPA, she founded the company in 2009 to offer "business basics to sustain your art at all stages of your career." She is author of the book "ARTS & NUMBERS: A Financial Guide for Artists, Writers, Performers, and Other Members of the Creative Class."
---
Crisis Budgeting
BB&T Now Truist & Tamarack Foundation for the Arts offer the online session 'Bank on Your Success,' focused on "Budgeting During a Crisis." One last session remains this year, at noon Friday, Sept. 4. While every situation is different, the aim is to offer crisis-budgeting best practices; ideas on creative income streams; and info on resources to help during these challenging days.
FRIDAY, SEP 4, 2020: Noon—1 PM EDT
REGISTER HERE
---
Web Coaching
TFA offers web coaching for artists and arts businesses across West Virginia. We're offering time slots for one-on-one digital presence coaching at the scheduling link below. Sign up for a phone or ZOOM call with Domenica Zara Queen, a long-time creative professional who specializes in graphic design and marketing.
---
Get Creative

Join the WV Creative Network for a profile page to display your work & connect with galleries, opportunities and other creatives around the state.
---
2. | OPPORTUNITIES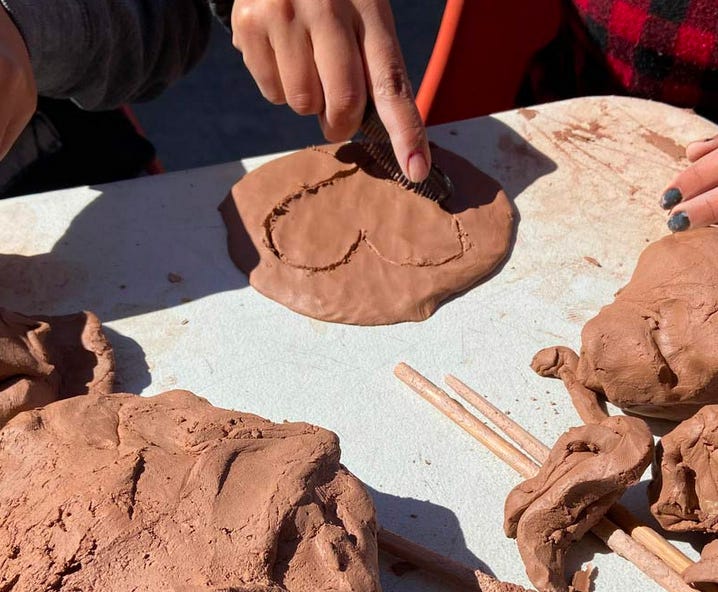 The Craft of Covid-19 Resilience
The Craft Futures Fund is offering one-time grants of up to $5,000, to teaching artists, educators, and "craft communities" across America, for efforts focused on creative responses to COVID-19. The grants will go to craft-based, collaborative, and grass-roots projects which envision and build "new futures for craft." Winning grants will "encourage resilience, foster community, and amplify their impact by targeting funding towards communities affected by COVID-19." Educators may include artists, curators, makers, writers, community organizers, activists, museum educators, scholars, teachers, professors, and others. More on the grant's philosophy here.
DEADLINE: Grants remain for September and October 2020.
APPLY:
Apply at this link.
---
The Craft of Covid-19 Resilience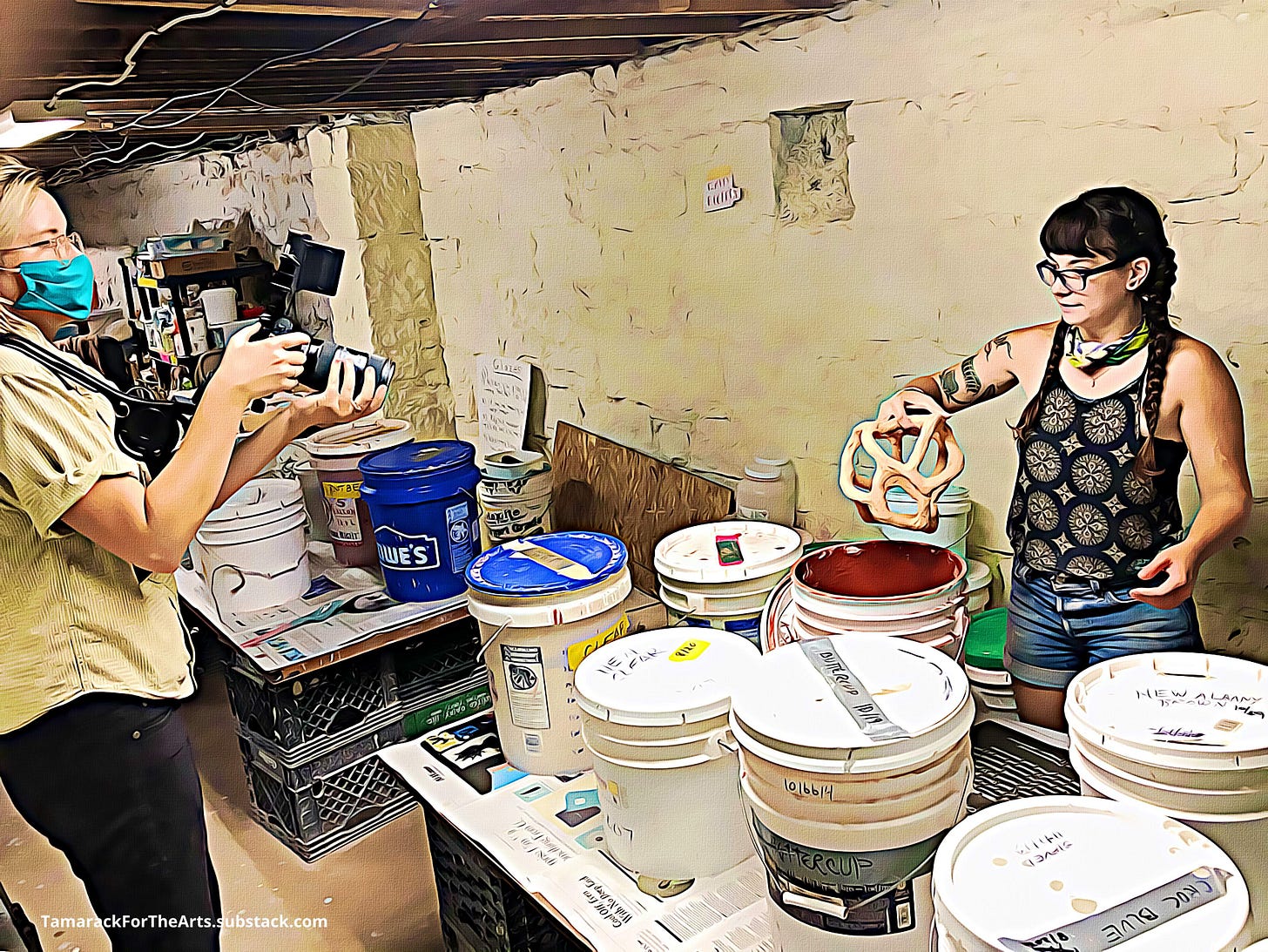 TFA Design Team member Braiden Maddox captures 2020 Emerging Artist Jessica McClanahan as she colors a creation in Taylor Books studio in Charleston WV. See Braiden's video of Jessica in this newsletter next month. | Douglas John Imbrogno colorized photo

You have one last shot at taking the perfect shot of an artist at work for the American Craft Week's final "Capture the Magic" 2020 contest. Send in your best photo of an artist creating craft. The top ten entries will be featured on the group's Facebook page during American Craft Week. One will be selected as Top Photo and earn $250. "Remember," they note, "this is a photography contest, so the quality of your image is very important!"
DEADLINE: Entrees must be received by September 20, 2020
SUBMIT:
Click on this link
---
One Color To Rule Them All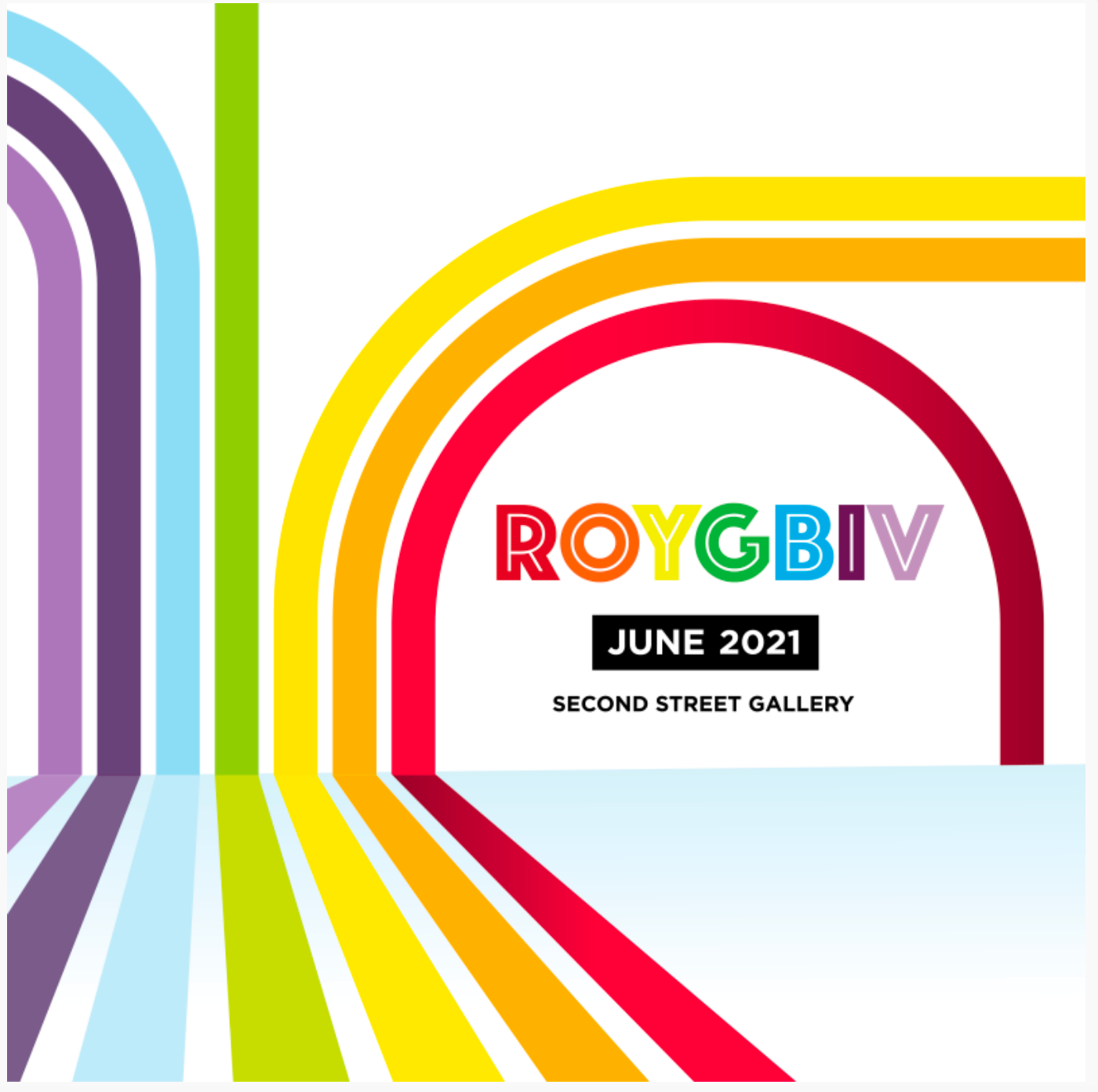 The contemporary art Second Street Gallery in Charlottesville, Virginia, is accepting submissions for its June/July 2021 exhibition 'ROYGBIV.' Last year, the gallery challenged a group of local artists to create original works using only black, white, and shades of grey. Now, a new kind of monochrome exhibit—ROYGBIV—will assign one color on the visible light spectrum to seven accepted artists. Each artist will create works of art using only shades of their assigned color, "following the rich tradition of monochromatic painting in avant-garde visual art."
EXHIBIT DATES: June 4-July 23, 2021
DEADLINE: Sept. 13, 2020
COST TO APPLY: $25 (or $15 for Second Street Gallery members)
SUBMIT:
Click here
NOTE: Submissions don't have to be new or monochromatic work, just images representative of your artistic style. See requirements at link.
PS: You may be able to tell whether you schooled as an artist or are of a certain age, if you know what 'ROYGBIV' stands for. For those who don't, Wikipwedia helps: "ROYGBIV or Roy G. Biv, is an acronym for the sequence of hues commonly described as making up a rainbow: Red, Orange, Yellow, Green, Blue, Indigo and Violet—aka ROYGBIV. The initials are sometimes referred to in reverse, as VIBGYOR.
---
Take Your Art Abroad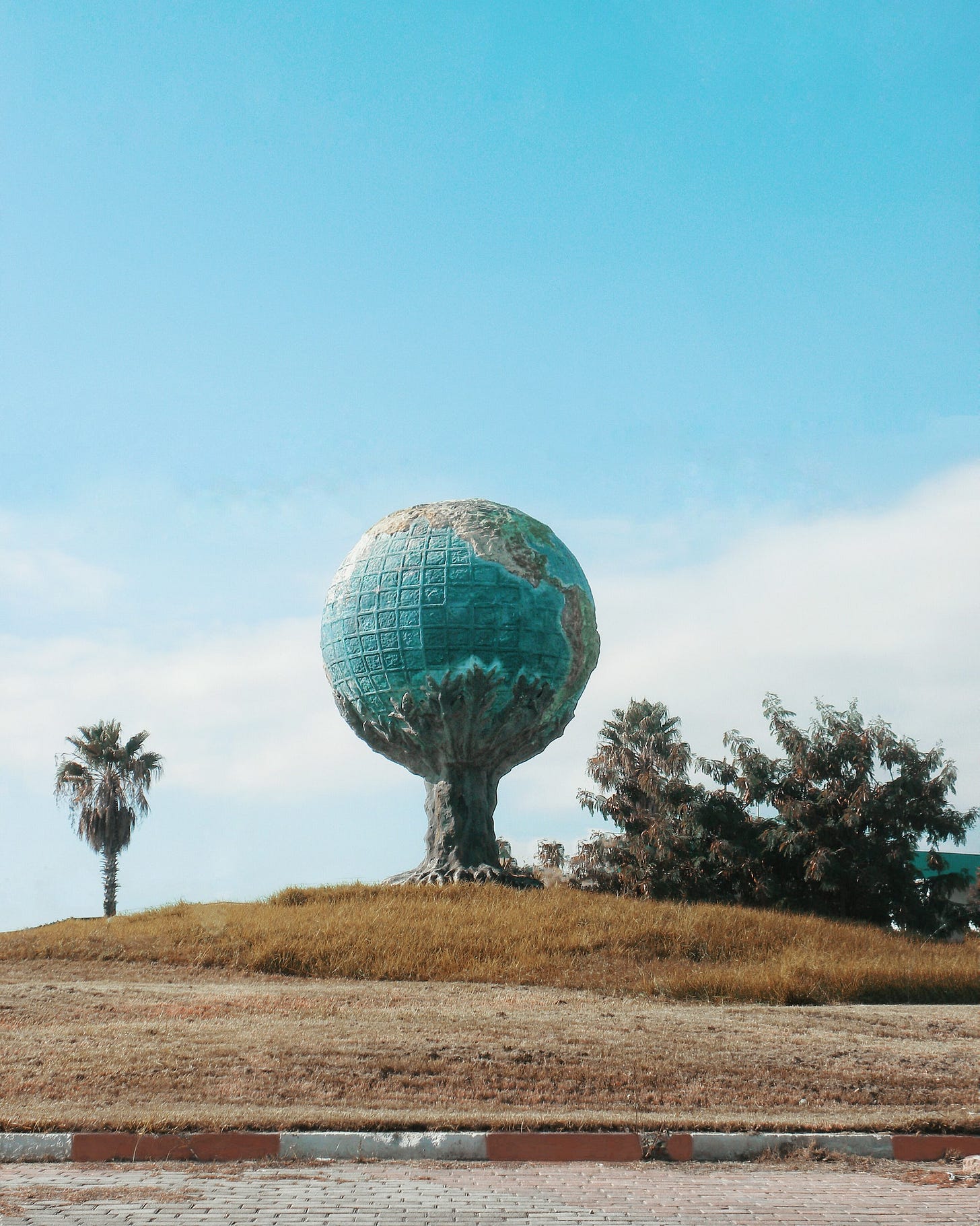 USArtists International (USAI) supports performances by American artists at international festivals and performing arts marketplaces outside the United States and its territories. The program supports exemplary solo artists and ensembles across all performing arts disciplines. These include: dance, music, theater, multidisciplinary work, and folk/traditional arts.
The program is designed to encourage the presence of U.S performing artists on international stages and in the global arts community. Its mission is to support opportunities that develop and expand both the careers and artistic goals of American performers, providing connections with presenters, curators, and fellow artists. The goal is also to promote justice in the arts community by elevating diverse voices that contribute to the vibrant array of creative expression in the United States.
USAI provides grants of up to $15,000 toward eligible expenses. USAI is a program of the Mid Atlantic Arts Foundation, with funding from the National Endowment for the Arts, the Andrew W. Mellon Foundation, the Howard Gilman Foundation, and The Trust for Mutual Understanding.
---
3. | ARTIST NEWS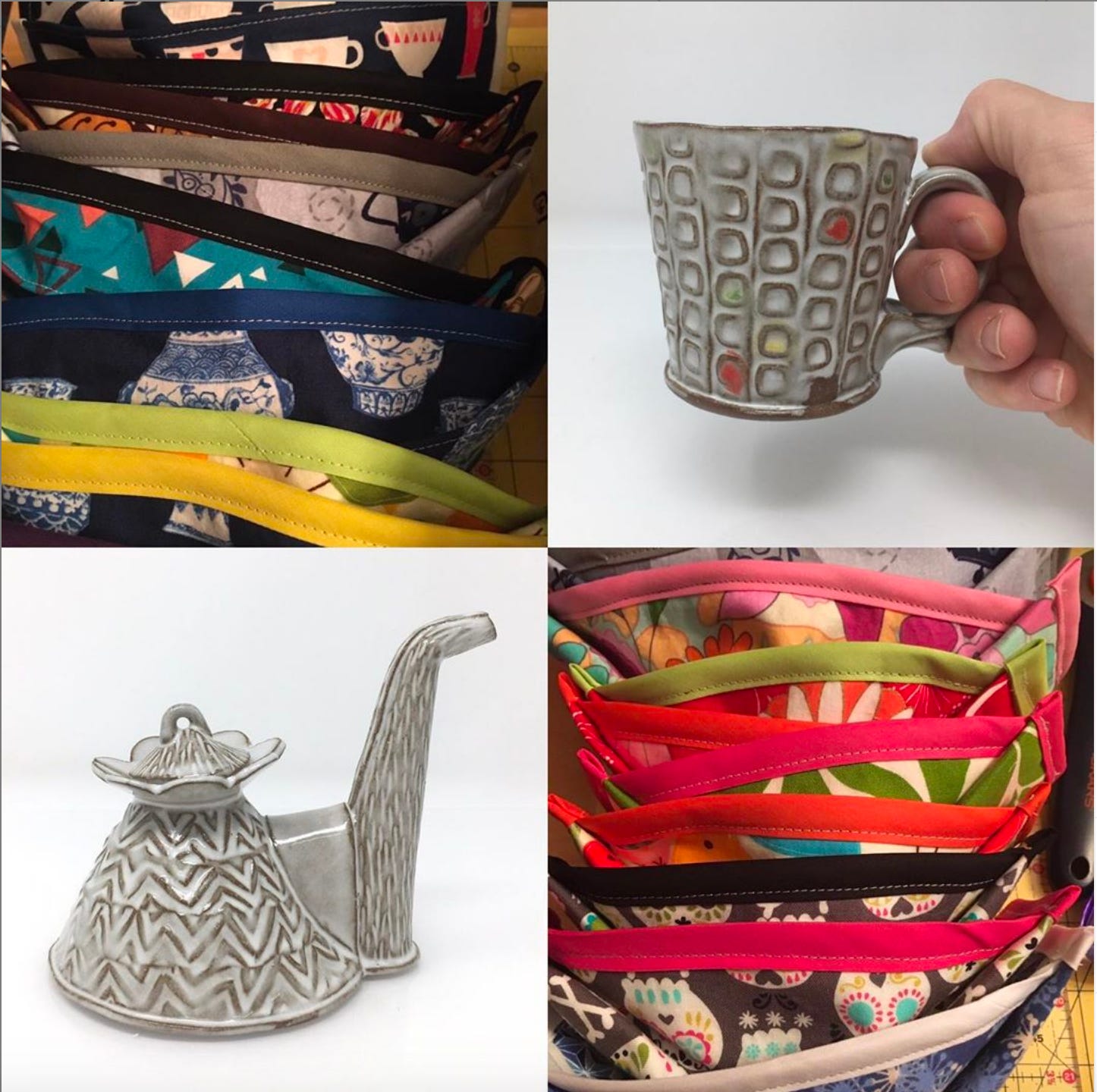 In this time of Covid-19, Morgantown WV potter Jen Allen has been making both original pottery and original masks as seen on
this recent shot from her Instagram page
.
"Above all integrity. Buildings like people must first be sincere, must be true." - Frank Lloyd Wright.
Frank Lloyd Wright believed architecture could be transformative and wanted his buildings to nourish the lives of the people in them. Morgantown WV-based potter and educator Jen Allen will see his words come to life in her career. She was chosen to be one of ten makers from western Pennsylvania and northern West Virginia, who'll spend a day at Wright's legendary Pennsylvania home, Falling Water, and come up with product designs inspired by the house and its surroundings. Allen, who teaches ceramics at West Virginia University, described it on her Instagram page as "a residency of a lifetime!"
Allen received a BFA (2002) from the University of Alaska, Anchorage, and a MFA (2006) from Indiana University, Bloomington. From 1998-2002, she worked as a production assistant at Bliss Pottery in Anchorage. In March 2008, the National Council for the Education of Ceramic Arts recognized her as an "Emerging Artist." Among other awards, she earned the 2006-2007 Taunt Fellowship at the Archie Bray Foundation in Helena, MT.  She'll be part of a fall studio tour in Morgantown, with several guest artists at her home studio. For more, visit motownstudiotour.com
---
Artistic Memes: What Toni Said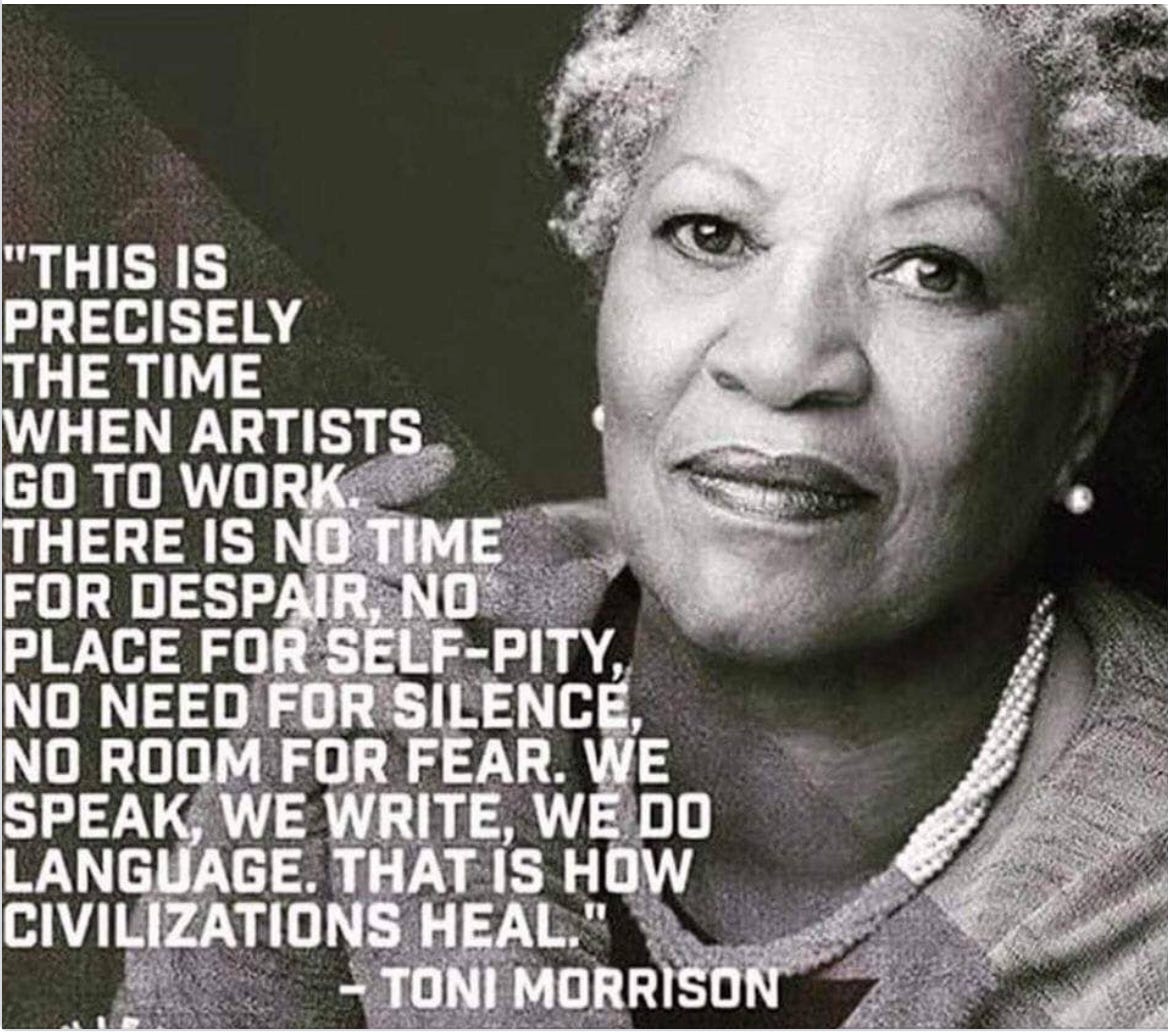 Starting with this issue, we will be sharing artful memes that speak to artists and artistic creation. Got a good one? Send it to us and it may be featured in a future newsletter. Send artful memes to:
---
P.S.
NOTE: If forwarded this TFA newsletter, subscribe for free and see past newsletter at: tamarackforthearts.substack.com.
FOR MORE: Visit our website for more resources, connections, and support for West Virginia artists: tamarackfoundation.org.