DRONING IT IN: Artists on the Loose
The 2020 Emerging Artist Fellows are busy with shows, installations, drones, and more | MARCH 2, ISSUE 3, 2020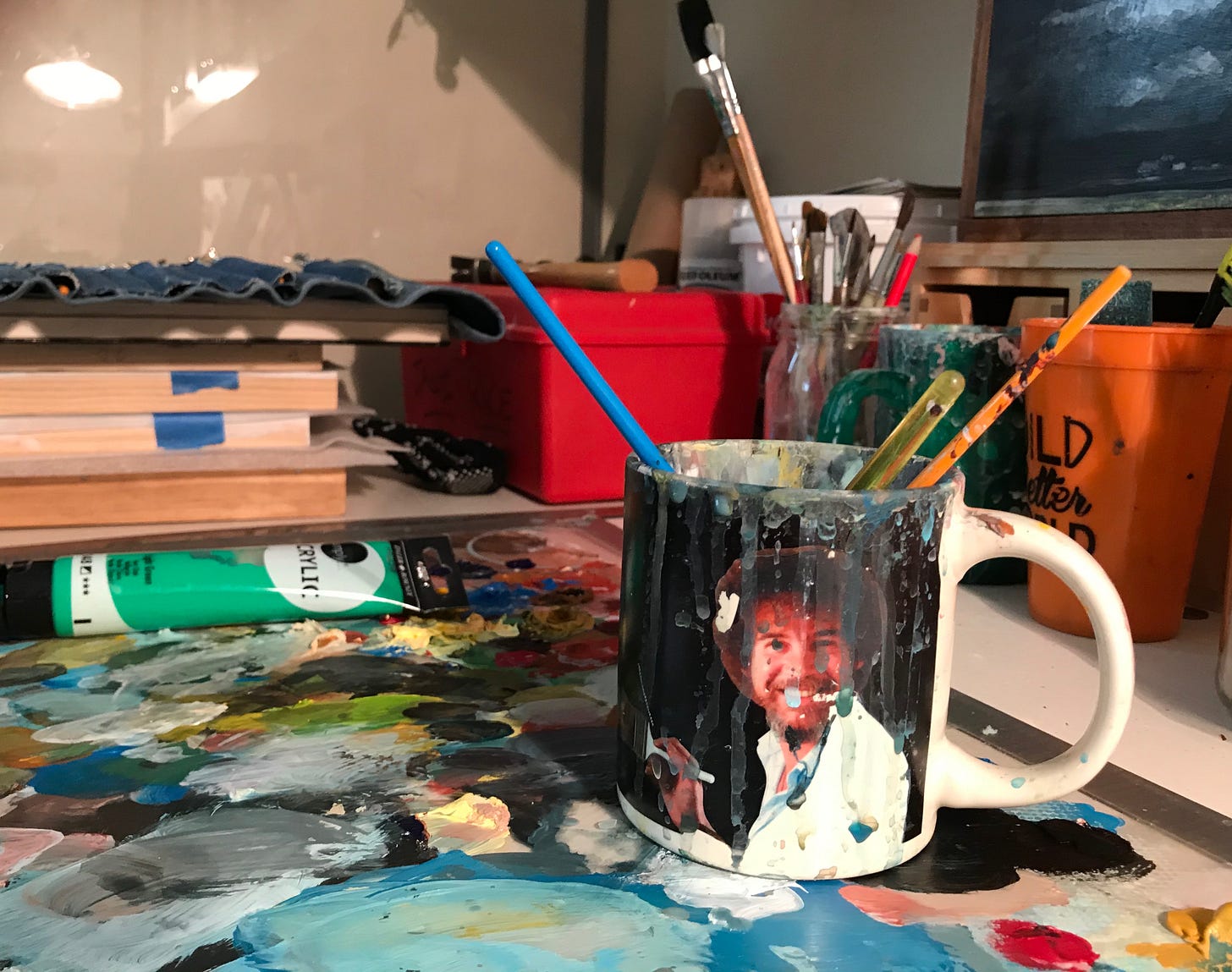 Bob Ross lives. The famed host of "The Joy of Painting" occupies a place of honor in the Weirton WV studio of TFA Emerging Artist Fellow Jaci Rice.

In our Feb. 3.2020 newsletter, we introduced the 2020 winners of the Tamarack Foundation for the Arts Emerging Artist fellowships (EA). We'll be sharing video, audio and print profiles of the five of them as we criss-cross West Virginia to profile them in their studios and communities. Below are updates on what these multi-talented folks are up to and some places their art may be found in addition to their studios.
~ Renee Margocee, Executive Director, Tamarack Foundation for the Arts.
PS: If forwarded this newsletter, subscribe for free at tamarackforthearts.substack.com. You can add comments and questions at the bottom.

'That's What I Love About Art': Jes Reger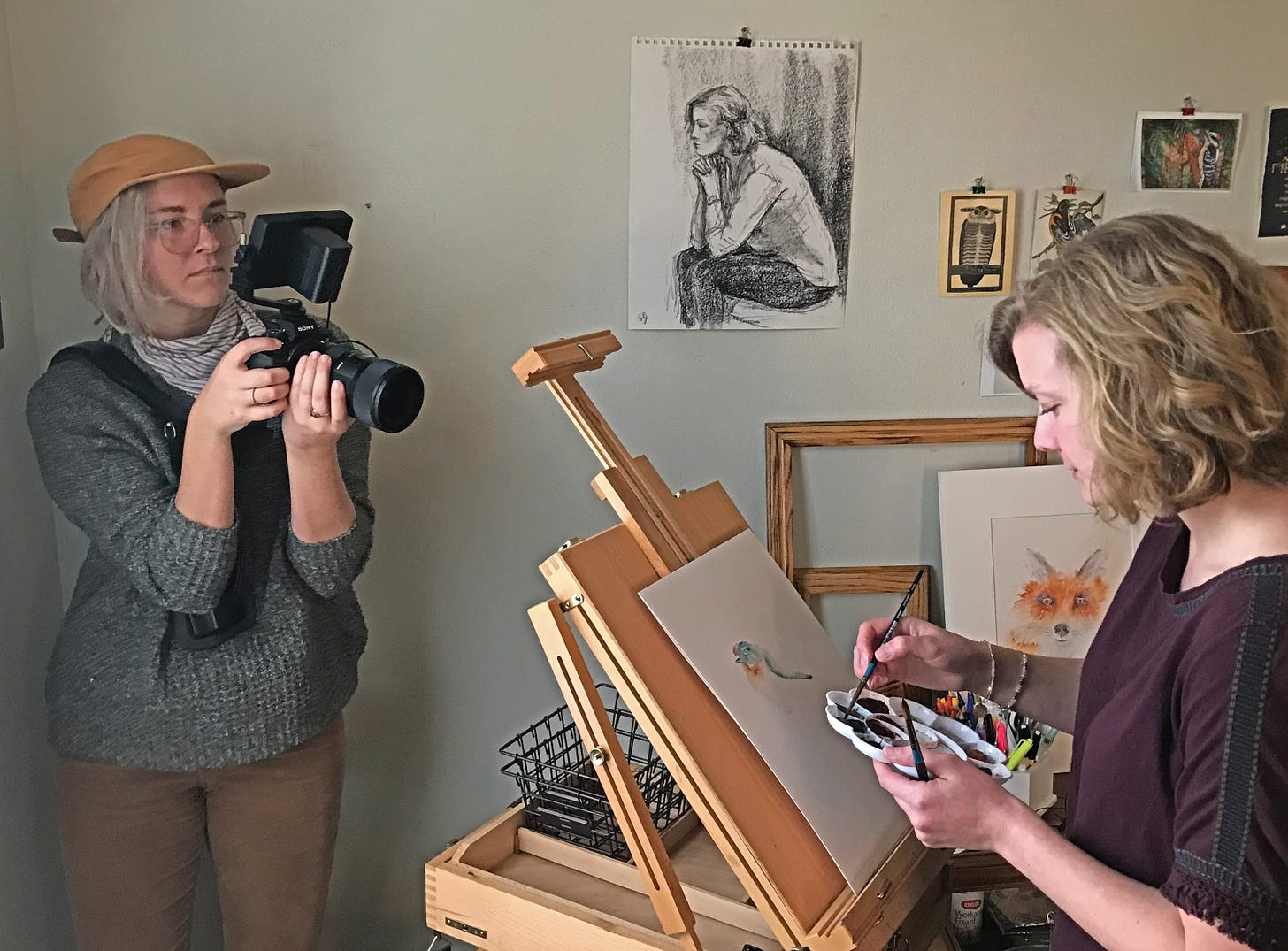 At her Wheeling WV studio she calls 'The Painter's Nest,' Jes Reger works on a watercolor of a barn swallow, whose colorful plumage attracted her eye. The portrait on the wall is of Jes from a drawing class. | TFA photo

Like several EA fellows, Jes Reger is an in-demand art teacher as well as a full-time artist. She is currently an artist-in-residence at St. Joseph the Worker School in Weirton, WV, through the Rural Arts Collaborative Grant:
"Since September, I have been working with seventh- and eighth-grade students on creating a book about birds native to the Northern Panhandle. Each student was assigned a bird to study, record facts, and then illustrate. We began with the basics of drawing and watercolor, spending weeks drawing birds and studying their anatomy. Once their artwork is finished, we will begin the process of scanning, editing, and formatting the booklet, while also taking a field trip to the Stifel Fine Arts Center to learn the process of matting and framing their artwork.

"This project is unique as it is an illustrated bird guide, but with a catch—it isn't illustrated by one artist. There are 28 students illustrating this book! This concept is great as it showcases the talent these kids have; they all learned the same techniques, but each student has his/her own distinct style. That's what I love about art. This residency has been a great experience, and I cannot wait to see the finished product." ~ Jes Reger
TFA Design Team members Braiden Maddox and Douglas John Imbrogno accompanied Jes to a favorite spot in Wheeling's Oglebay Park. Braiden, who weaves drone video into her work with Lady Mountain Films, sent the drone up into the trees to get a perspective she couldn't get from the ground. Here's what that looked like (click the video below). The end of the video contains a snippet of Braiden's profile of Jes we'll showcase in a future newsletter:
ONLINE ARTWORK:

The Art of Floating Rocks: Nevada Tribble
EA fellow Nevada Tribble has an installation titled "Ripple" on display through March 7 at the contemporary art gallery Bloom in Davis, WV. Below is her artist statement from the show: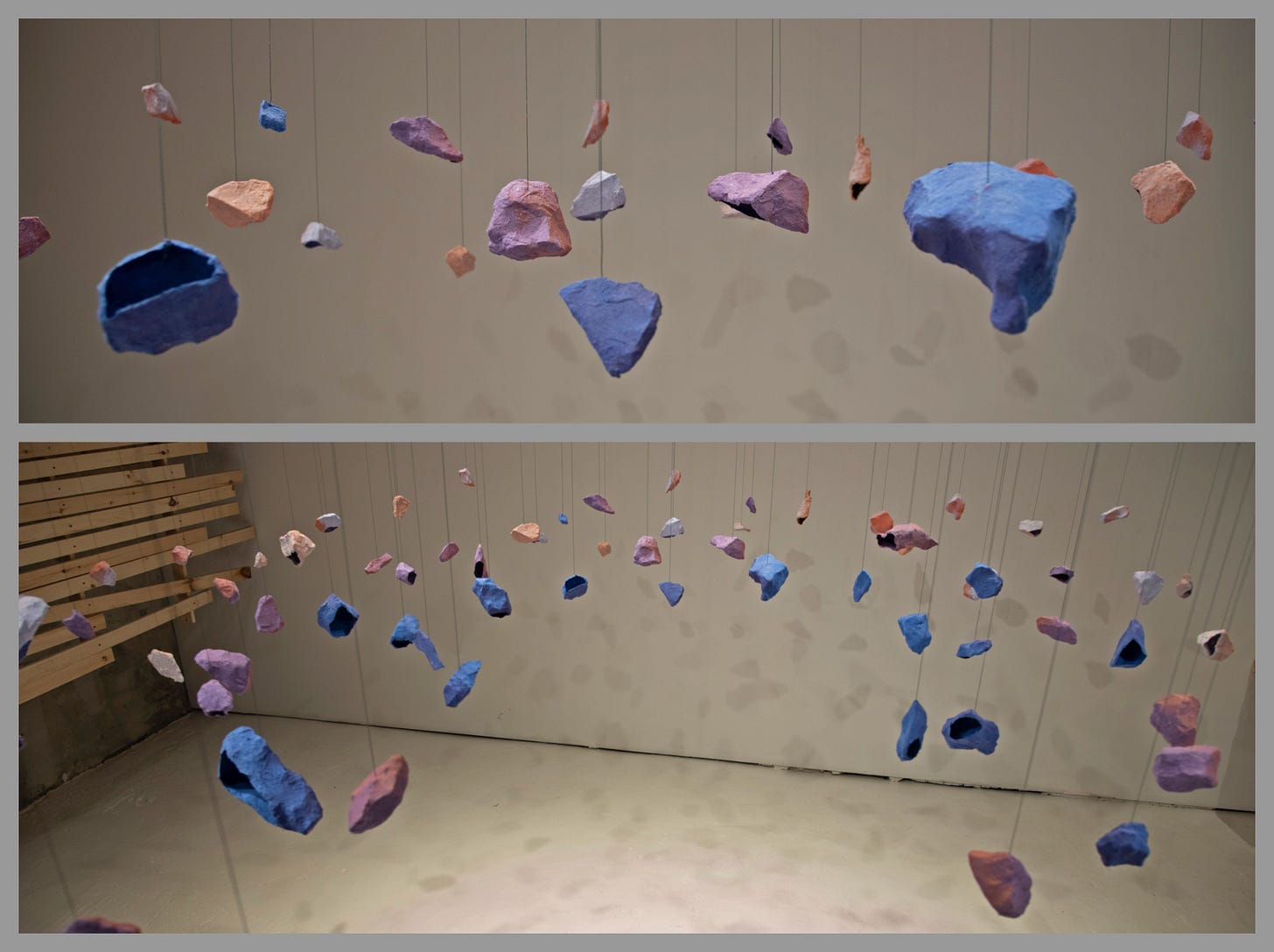 You can walk amid Nevada Tribble's installation "Ripple" at the Bloom art gallery in Davis, WV.
"In my work, I like to think about the ways people interact with landscape. This installation was inspired by the simple act of throwing pebbles into water. The title of the show, Ripple, is a reference to the large impact that small acts can make. When I am overwhelmed by the weighty problems of the world, thinking of this potential impact helps me remember how to hope and move forward.

These are paper copies of rocks made in a process called paper casting. I mold wet,  freshly-made paper around each rock. The paper holds the shape of the rock as it dries. The materiality of paper creates a contrast against the expected weight and solidness of the rocks. I hope that viewers can experience a moment of stillness in this installation, and leave feeling a little lighter." ~ Nevada Tribble
Nevada spent the last week of February in Philadelphia, joining a team to work on an art installation at the Philadelphia Flower Show:
"The installation, designed by Christian Kanienberg of Wish Unlimited with the help of florist Mark Harding, will be both sculptural and botanical and reference issues related to the refugee crisis. This will be the third year I've been part of the team for Wish at the flower show, and I'm really looking forward to it.

Building the installation is always a week of good creative energy with cool and talented people. The flower show will be open Feb. 29 to March 8 and feature a variety of floral, botanical, and landscaping installations. I have included a photo of our installation from last year, which had a Woodstock theme."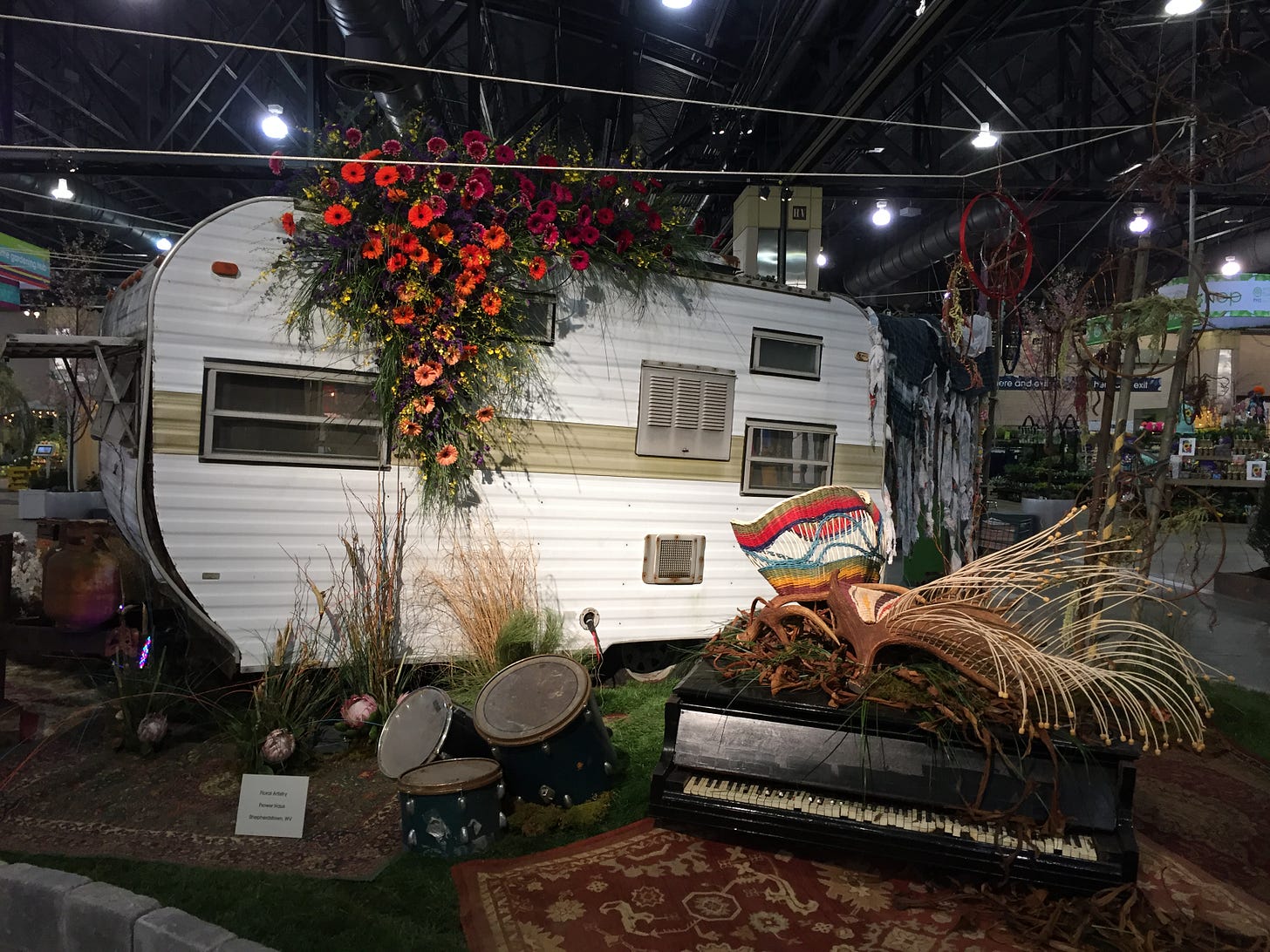 This is the Woodstock-themed installation Nevada worked on at the 2019
Philadelphia Flower Show
ONLINE ARTWORK:

Art of the Collage: Psychoflauge
EA Fellow Psychoflauge of Webster County, WV is, among other things, a collage wizard, via both cut-up physical imagery and reworked video. "Upholstery, It's Where My Baby Sits Up Close to Me" is a huge work (8-feet wide by 4-feet high) and is one of four by him now on view at "Paint The Town Red" at the Beckley Art Center, 600 Johnstown Rd., in Beckley WV.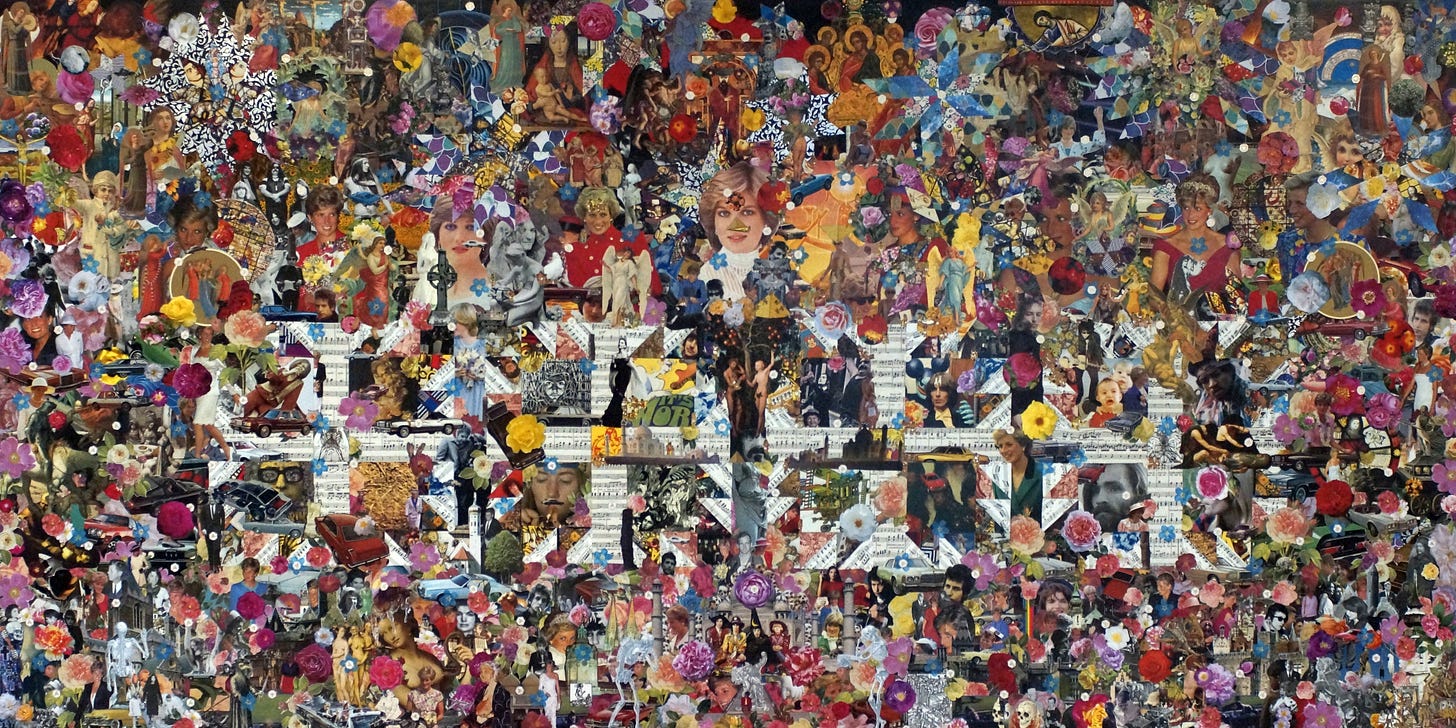 "Upholstery, It's Where My Baby Sits Up Close To Me," by Psychoflauge can be seen at

Beckley Art Center

.




We asked Psychoflauge to describe the backstory of this enormous collage:
"The collage is an official piece of The Lacunae, the science fiction and fantasy story I am telling. I use collage to help me visualize characters, story lines, thematic elements. I'd estimate there's probably around 500 hours in it. I was spending 16 to 18 hours a day on it when I was working on it. The Beckley Art Center has been extremely good to me, they do not censor my work." ~ Psychoflauge
He built the frame from rare Wormy Chestnut lumber, which has an intriguing history. It's worth knowing more about it as its use speaks to the way West Virginia artists use traditional materials to make contemporary work. As The Wood Database describes:
"Wormy Chestnut is not a distinct species of Chestnut, but rather refers to American Chestnut (Castanea dentata) trees that were killed by the chestnut blight of the early 1900s, which were subsequently damaged by insects, leaving holes and discoloration in the standing trees. The trees were then subsequently harvested and converted into lumber.
Below is an example of the video collages Psychoflauge creates. In a future issue, we'll delve deeper into the tradecraft of how he fashions these multimedia works.
ONLINE ARTWORK:

Home is Where the Studio Is: Jaci Rice
After visiting with Jes in Wheeling, Braiden and Douglas spent the following day with Jaci Rice in Weirton, WV. She paints from a sunlit room in the front of her house, putting out creative materials for her three young children to express their own creativity. Braiden shot both studio footage and drone shots of Jaci, as she walked near the hulking buildings and millyards that dominate the valley in Weirton, which are the focus of her current acrylic paintings.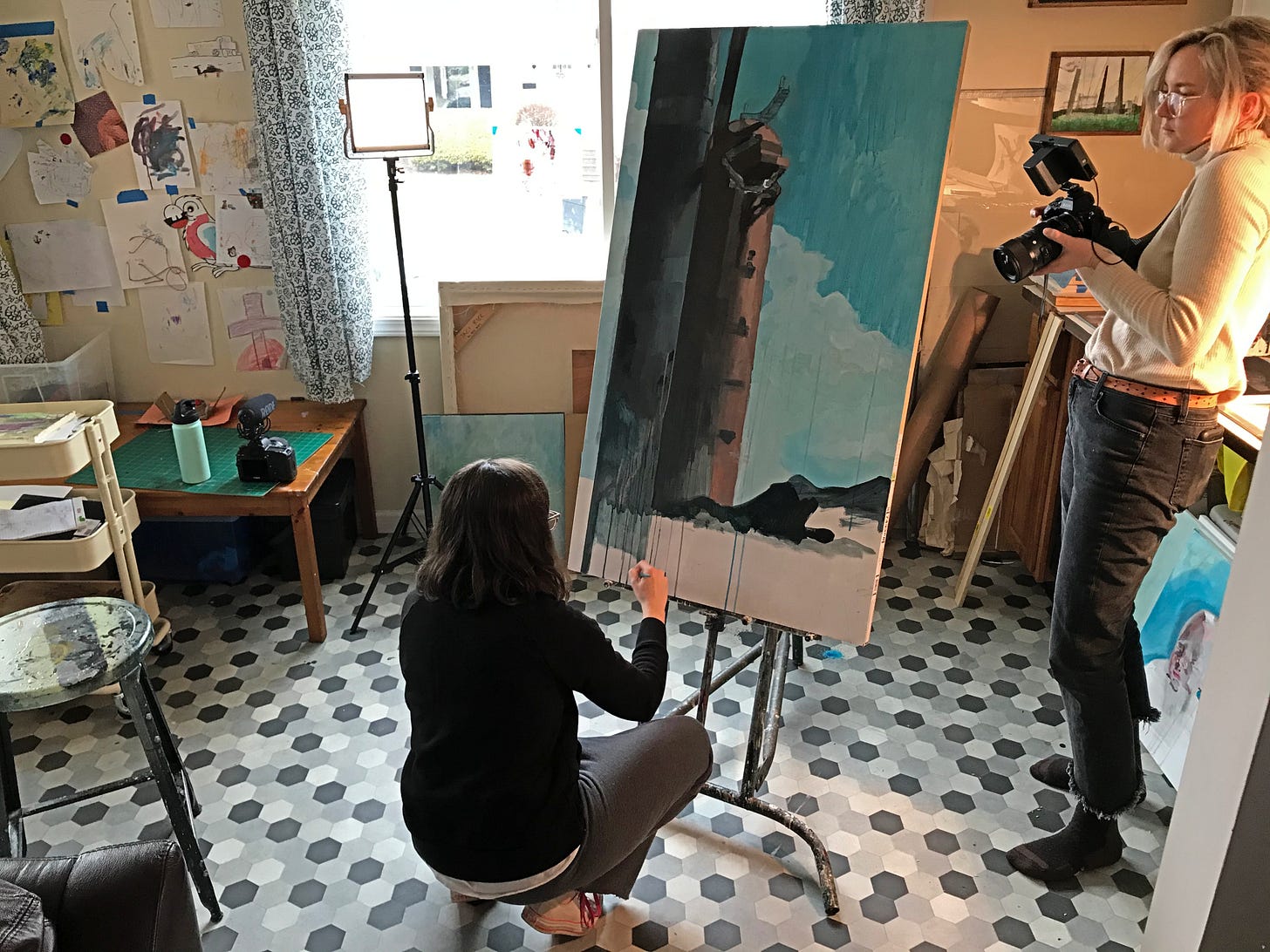 Jaci Rice documents the striking urban landscape of Weirton, WV, with its huge millworks slated for destruction. | TFA photo
We asked Jaci to describe what's on her artist's palette:
"Besides keeping up with three kids and a lovable blind dog, I am preparing for a few things.. I will be in a group show entitled "Defining Voices" at the Weirton Area Museum and Cultural Center (3149 Main Street in Weirton), opening Saturday, April 25, with a reception from 1 to 3 p.m. My work will be featured alongside work of Follansbee-based artist Dale Biesecker and Wheeling-based painter and longtime commercial illustrator Robert Dombrowski. The show runs until June 6.

Also, I am currently working on submissions for juried exhibitions and residency applications while squeezing in a few fun pieces just for myself—getting back into my figurative roots. I'll be posting some of these on my instagram: instagram/jacirice." ~ Jaci Rice
ONLINE ARTWORK:

The Art of Change: Jessica McClanahan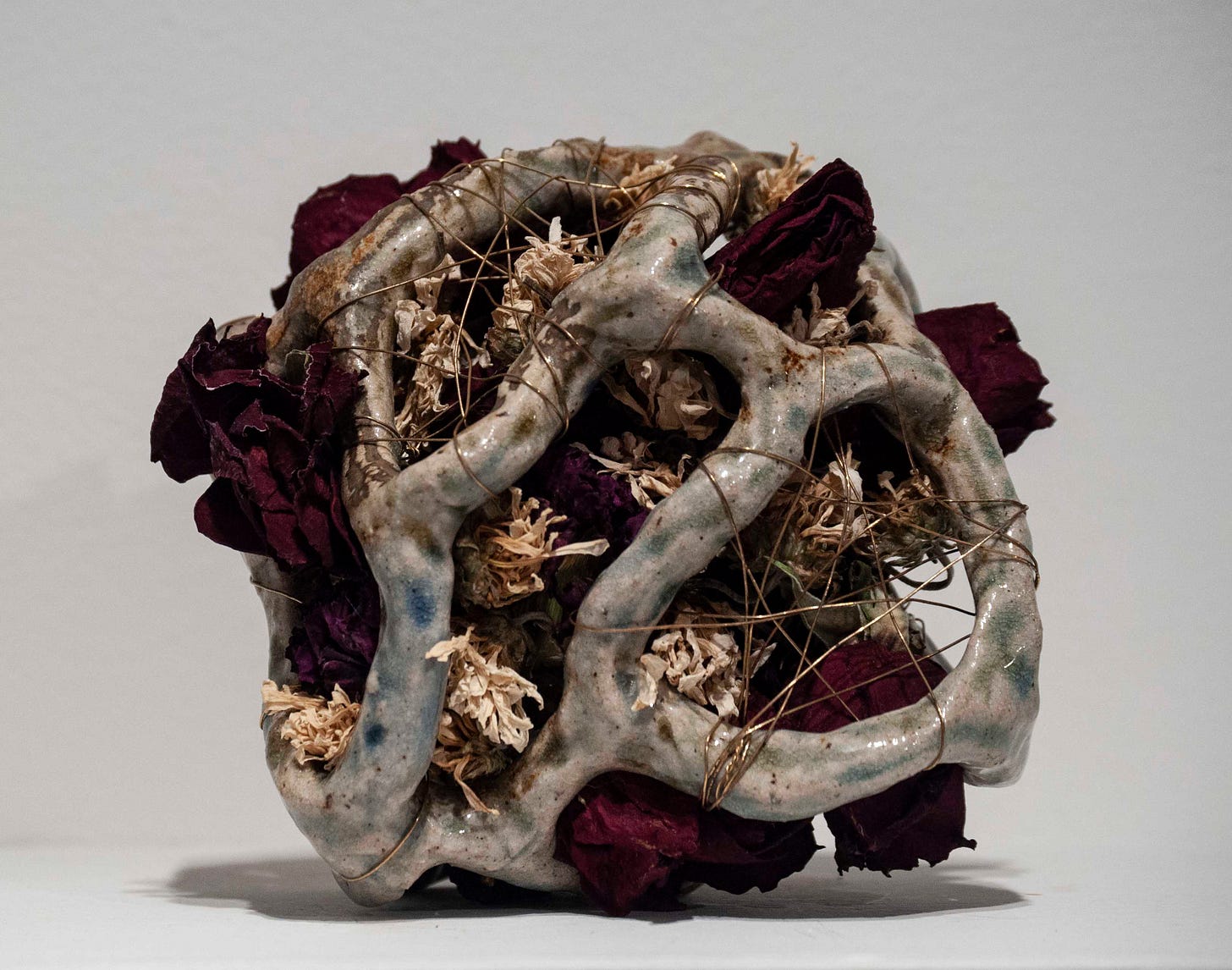 Jessica McClanahan's "Degradation" (above) is from a body of work called Reliquaries, which explores how we craft identities that inevitably change as we age.
EA fellow Jessica McClanahan is currently working as a potter's assistant outside of Asheville, North Carolina, before pursuing a masters degree in ceramics. She is taking part in a big show in South Carolina and describes her work that will be on view:
"I have the great pleasure of participating in Artfields 2020, which will be on view from April 24 to May 2. This juried exhibition lasts for nine days and takes over the town of Lake City in South Carolina. This competition is open to residents of the Southeastern United States, and there are prizes totaling up to $145,000.  I am deeply honoured and grateful to be one of nine West Virginians representing us in this year's cycle. I'm still learning exactly where my piece will be shown. The venues are spread out across the town.

"The piece that I entered with is titled 'Degradation,' from a larger body of work that is called Reliquaries. This work explores how we as people create identity, as well as how that identity changes as we age. These mixed media pieces have elements of them that will degrade at different rates and change how the pieces are viewed, thus changing their meaning. This is a metaphor for what happens when what we are begins to degrade and change into something else." ~ Jessica McClanahan
ONLINE ARTWORK:

Spread the Word
We welcome comments and feedback below. Or call us at 304.926.3770 or email me directly at renee@tamarackfoundation.org. For media inquires about stories on TFA Fellows or other topics, contact TFA team member Douglas John Imbrogno at douglaseye@gmail.com or call 304.638.9784.
And here's another reminder that if you were forwarded this newsletter, subscribe at this link: tamarackforthearts.substack.com

Renee Margocee | Executive Director | Tamarack for the Arts