An Artful, All Together Online Event
5 Questions on an ambitious W.Va. digital daylong happening Saturday, May 16, 2020
WHAT HAPPENS TO THE ARTS during a global quarantine? We've all seen part of the answer since Covid-19 sent us to our rooms. The arts head online. This Saturday, May 16, from 11 a.m. to 7 p.m. on Facebook, take part in perhaps the most ambitious online efforts so far to showcase some of West Virginia's creative community with All Together Arts, a Virtual Celebration. (Search for 'RiffRaff Arts Collective' on Facebook or click the links in this paragraph to tune in. See the full schedule at the bottom of this newsletter.)
The event was conceived by the RiffRaff Arts Collective, based in Princeton, WV. For years, the group has staged an "All Together Arts Week" in Mercer County, to bring arts community members out of their creative silos into a group celebration. Lori McKinney, her husband and partner Robert Blankenship, and other RiffRaffians decided this year to meet the strange new world of pandemic life head on. They're taking the idea online and statewide with this virtual All Together Arts happening.
The event, hosted by Lori, features pre-recorded segments of music, poetry, art-making, comedy, profiles of state artists, a tour to creative venues, plus live ZOOM interviews on the arts in West Virginia in a digital age. (Among the segments is an interview with Tamarack Foundation for the Arts executive director Renee Margocee; TFA Design Team Members Domenica Zara Queen and Douglas John Imbrogno; and illustrator Rosalie Haizlett and ceramic artist Hannah Lenhart.)
Via e-mail, we pitched 5 Questions to Lori about this Onlineapalooza (the last question we asked her was to ask herself a question and answer it).

Above is a short promo about the Saturday, May 16 All Together Arts event online.

1) SO, WHAT'S THIS ALL TOGETHER ARTS EVENT ALL ABOUT?

LORI McKINNEY: For the past 11 years, we've been celebrating All Together Arts Week, to showcase and unite the arts in Mercer County. We knew we wanted to carry on that tradition, and as we transitioned into the virtual realm, we realized we could expand the scope and feature our creative neighbors from all around West Virginia. We're interested in shining the light on the vast landscape of creativity our state is home to. We also want to show the world the vibrancy and beauty of the Mountain State, and to seed connections we all can build on when we emerge from quarantine. It's wild how people with so much in common—and living in close proximity to each other—can go years without having had the occasion to meet. So, a lot of this is about connecting the dots and helping weave worlds together.
---
2) WHAT WAS YOUR MISSION IN PICKING THE LINEUP?
LM: I say several times throughout the broadcast that we're just scratching the surface of the West Virginia arts scene. We couldn't possibly detail the entire landscape in this program. We'll need a whole series of these types of shows to do that. ; ) The whole project came together in a couple of weeks. So, a lot of it was based on established relationships, and folks whose work I was tuned into already. We did put out a call for submissions. But the vast majority of the videos and work were me just reaching out to friends, plus creative connections with people whose work I've long admired. And then asking them to contribute.
We're so excited to share new online creations people may not yet know about. "Quarantine Life" is a raucous web comedy series created by Curren Sheldon and a team of talented creatives, which we were just lucky to catch in the flow of our Facebook newsfeed. Among other things, the series pokes fun at topics like social distancing and running out of toilet paper. We were thrilled that he and fellow creator Tijah Bumgarner agreed to share a live interactive discussion about the show. Several of the conversations we explore during the day will look at all the facets of creating digital content in this new reality we're all facing.
A big focus of the day is to call all this creative energy together, to take note of where we are in this moment,. And to raise the question: How can we support each other? Part of that is talking about what we're up to. What's working? What isn't? How can we face the challenges? And what might be coming down the road?
We also wanted to include some interactive conversations and share resources for creatives. So, a pretty obvious phone call to make was to Tamarack Foundation for the Arts. We're excited to feature an informational segment about TFA programs and share that with artists in our community and beyond.
---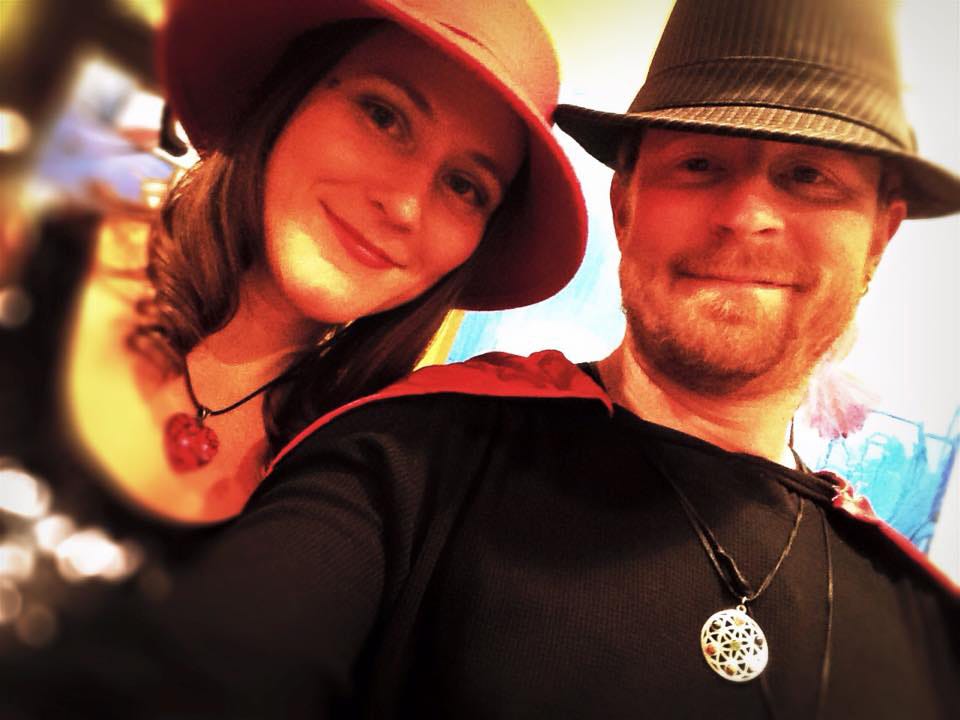 Lori McKinney and Robert Blankenship and their RiffRaff Arts Collective are taking their All Together Arts concept online and statewide this Saturday, May 16, from 11 a.m. to 7 p.m.

3) WHAT'S THE TECHNOLOGY BEHIND THE EVENT and HOW ARE YOU ABLE TO PULL OFF A DAYLONG ONLINE FESTIVAL?
LM: I feel so lucky to have the technical talents of my husband and partner, Robert, in-house. He always amazes me with his intuitive understanding of the tools of technology and how to put them to use. He has been gearing up for streaming from our live events and creating TV and audio programs from our performances for years now. So, we were uniquely positioned to pivot in this way.
We also have a wonderful team member named Billy Morgan, a talented filmmaker and videographer, who arrived to live in Princeton and work with us in December, just in time. We're taking all the content—some created by us and some contributed content—and pre-building all the segments. Those segments become playlists in a specialized software we stream on an external device as one big broadcast. Everything is also running through a video mixer, so we can cut to live Q&A on Zoom.
Robert says it's like a spiderweb of technical elements, with tons of details that make up a fluid program that ends up feeling like a television special. Between our last broadcast and this one, it was necessary to make some major Internet upgrades. On our Earth Day festival in April, we were right on the edge of our bandwidth. We were plain lucky it streamed uninterrupted! I had to do all the ZOOM calls on our hotspots and make sure no other devices were logged onto our WiFi. It was pretty stressful!
---
4) WHAT ROLE DO YOU SEE THE ARTS PLAYING IN ALL OF US COPING WITH THIS PANDEMIC?
LM: I think a lot of people are realizing in this moment how vital music, art, and creativity are to our existence. People are leaning on television programs, movies, books, and all the creative content produced by artists. I know that many people, including myself, have found that painting, coloring, listening to music or getting creative in the garden are the things that bring peace. We can all hope that this appreciation extends into our life when we re-emerge from quarantine. When the world stopped, we leaned on the arts, and we need to support creativity and innovation moving forward.
---
5) ASK YOURSELF A QUESTION—AND ANSWER IT.
LM: Are you and your husband, Robert, crazy? Yes, indeed we are. We find that we are not able to function unless we have massive projects on our desks. That intrinsic drive to create is like a voice cooing in the distance, relentless. It's only satisfied when fully engaged in 10,000 details.
Ha!
No seriously, what drives you? That is the question. I'd say there's an intrinsic drive that Robert and I share. It's written in our DNA to do this work. There's almost no pause and not much in the way of questioning whether or not we should do it. It's just like— the moment's here! Let's do this. Let's get to work.

All Together Arts Schedule | 11 a.m. to 7 p.m., Saturday, May 16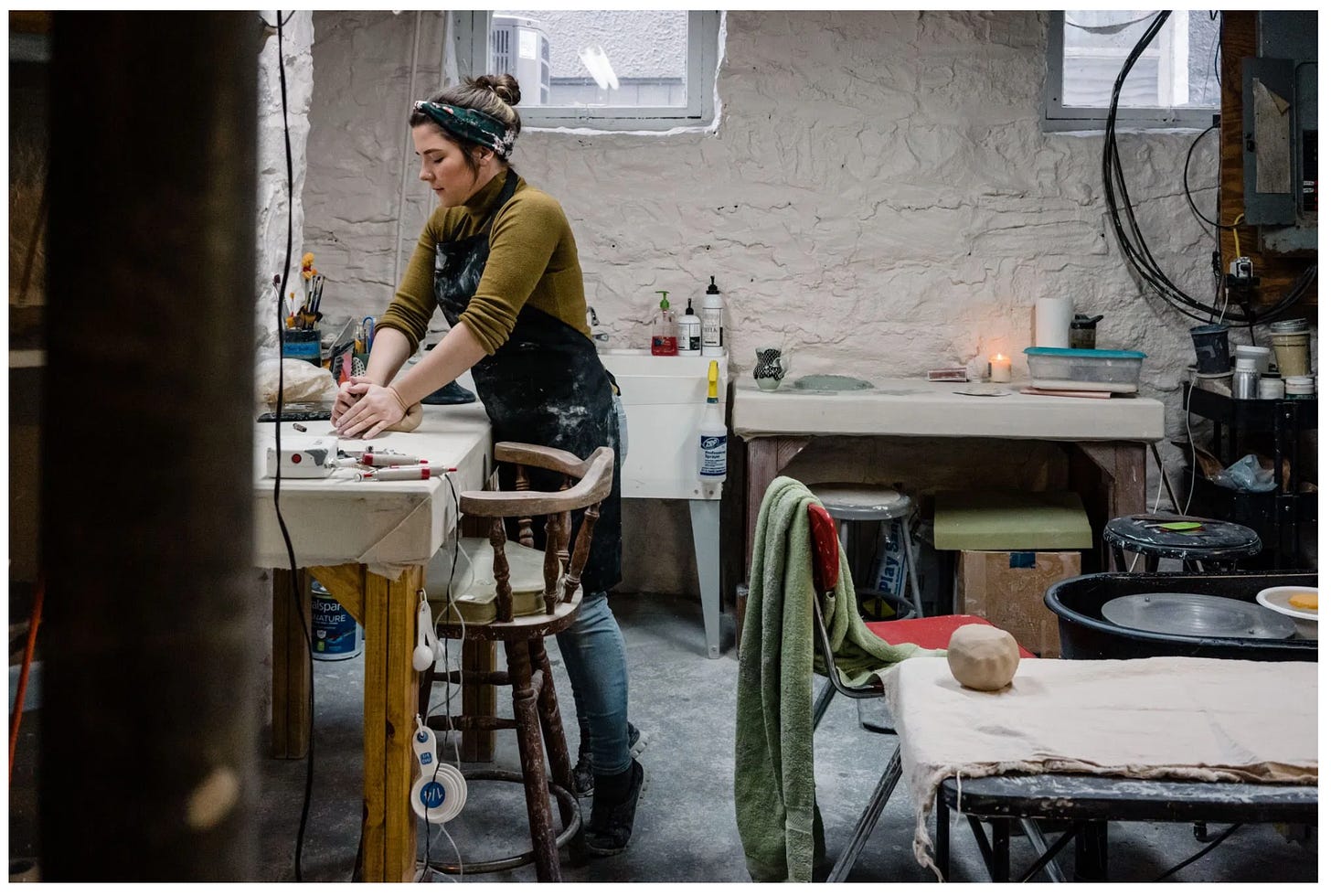 Ceramic artist Hannah Lenhart, a 2016 Tamarack Foundation for the Arts Emerging Artist Fellow, is among those featured in the All Together Arts event. | Photograph of Lenhart in her Fairmont studio, courtesy of Morgantown WV Documentary Family Photographer Lauren Webster

---
Below is the lineup and hour-by-hour schedule for Saturday's All Together Arts Event . Take this as a general guide, in case of techno-glitches or live discussions that go longer than planned. You might do well to arrive early to a time slot that interests you.
ARTIST FEATURED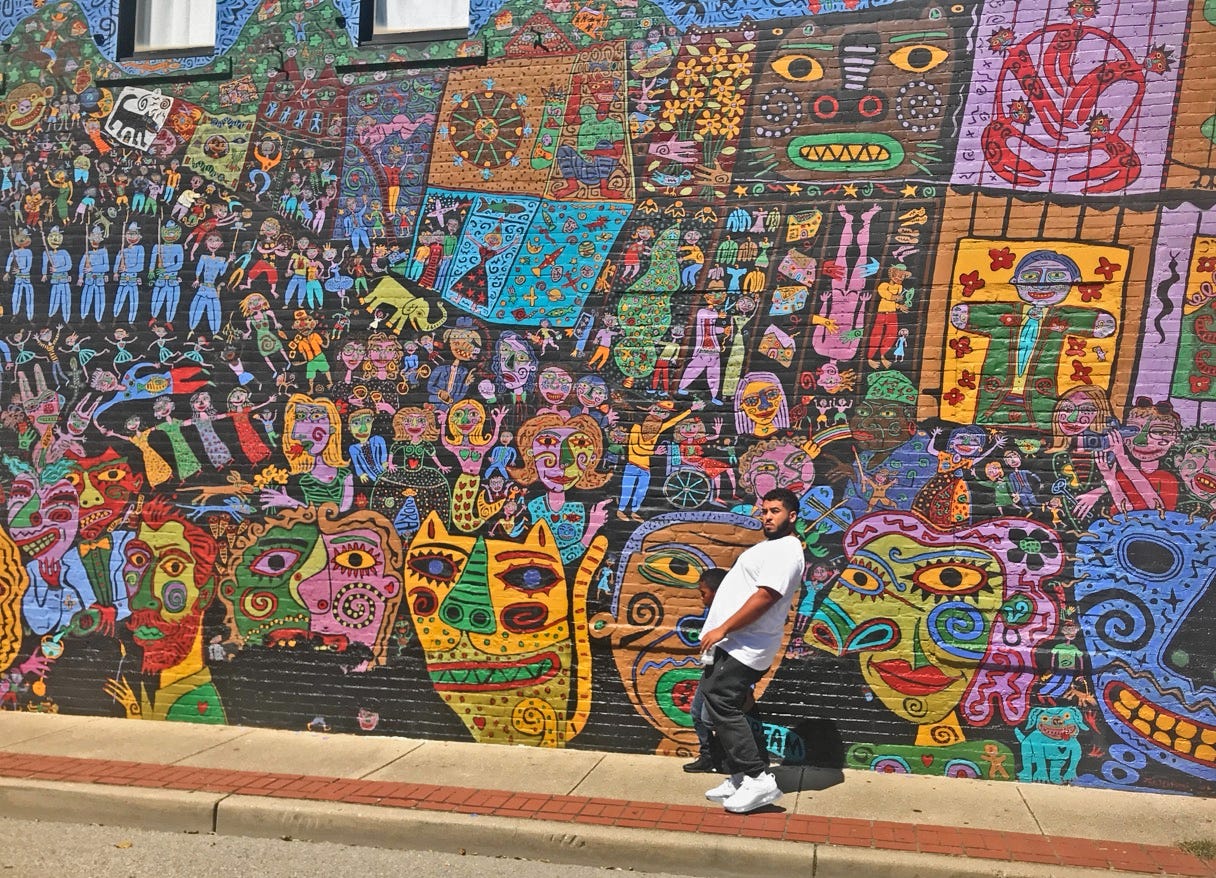 West Virginia artist Charly Hamilton, whose public work includes this mural on the West Side of Charleston, WV, is among the artists featured in the All Together Arts event. | TheStoryIsTheThing.com photo
---
MUSIC VIDEOS
---
PERFORMANCES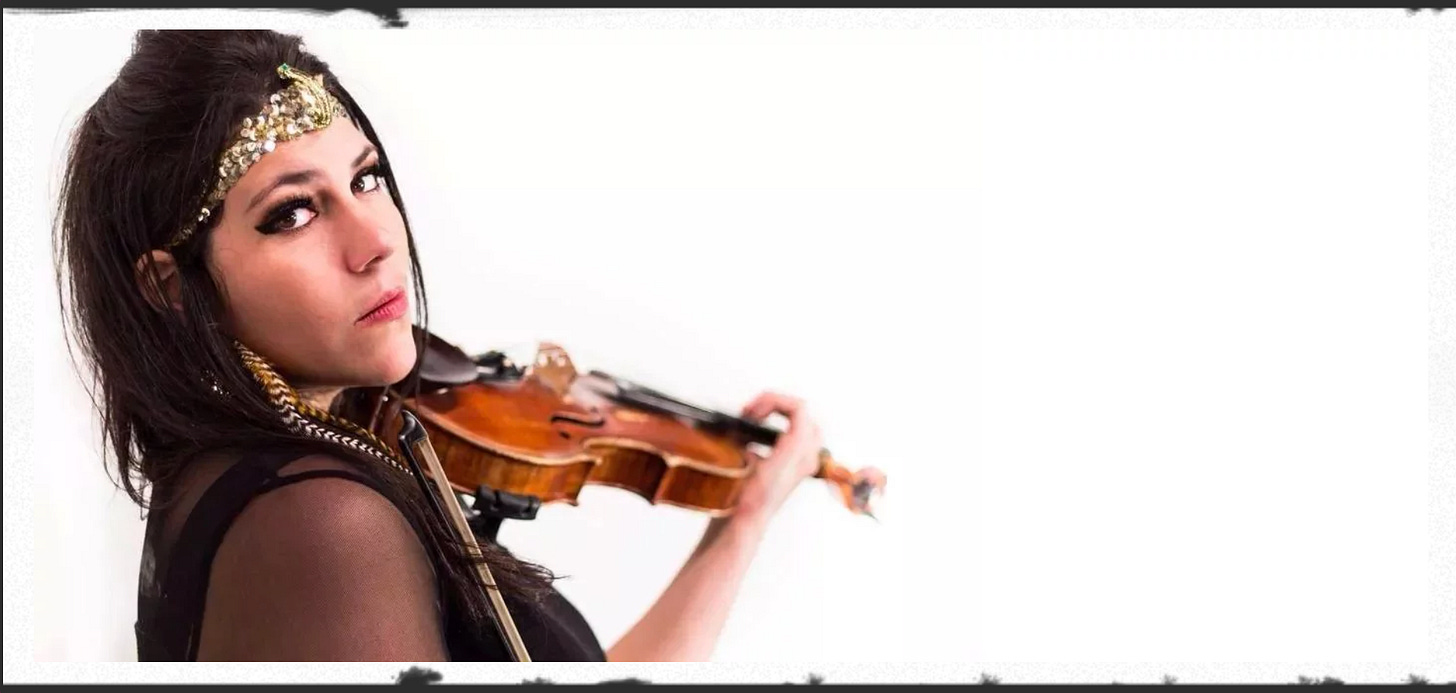 West Virginia native violinist Alasha Al-Qudwah is among the musicians featured in Saturday's event.
---
LIVE INTERVIEWS
---
LIVE DISCUSSIONS
It's not often elephants wander about West Virginia. A video featured Saturday documents an elephant at the April 2011 All Together Arts Week parade in Princeton WV. | Video courtesy of the 'Large Animal Bureau' of TheStoryIsTheThing.com | View Part 1 here.
---
SCHEDULE
Due to the nature of the broadcast, times are approximate. Make sure to tune in early if you want to catch something specific.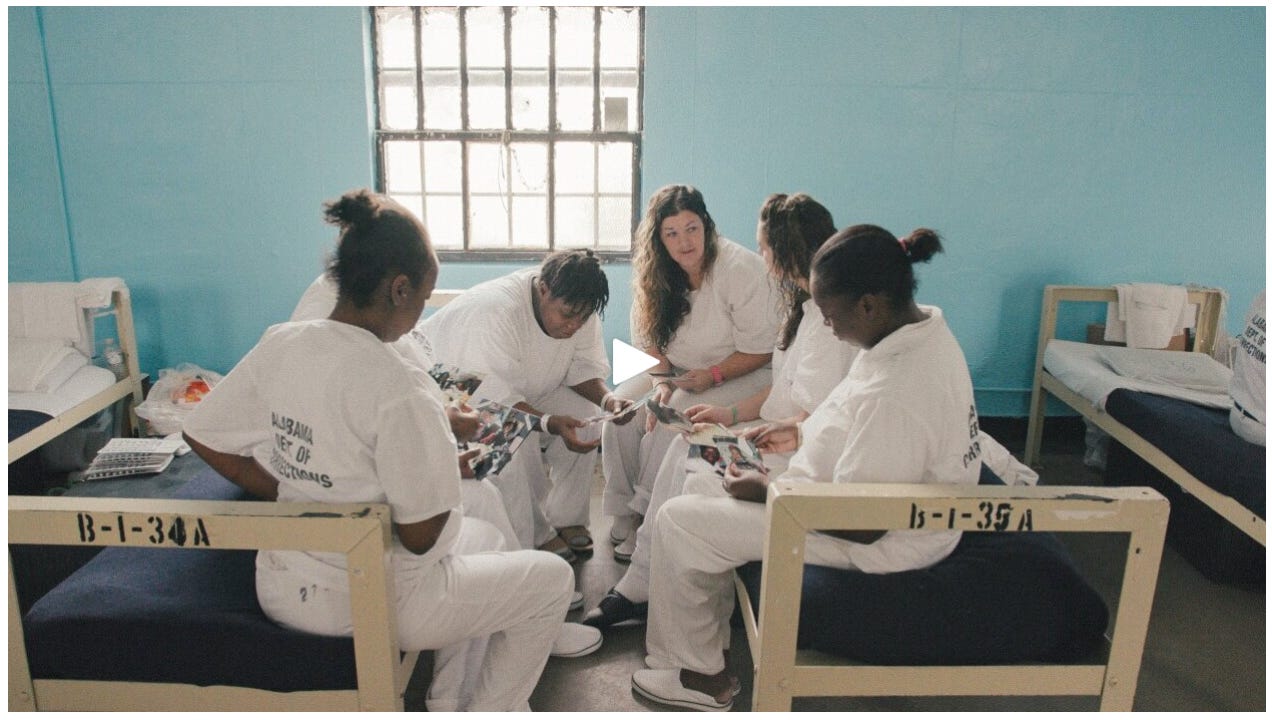 Documentary filmmaker Elaine McMillion Sheldon is featured in the fifth hour of Saturday's event. Above is an image from her new documentary "Tutwiler." It's a portrait of women who give birth at one of America's most notorious prisons and their struggle to stay connected with their children on the outside.
---
HOUR 1: 11 am to Noon
Creative Tour of Mercer County Arts

HOUR 2: Noon to 1 pm
Creative Tour around West Virginia

HOUR 3: 1 to 2 pm
~ Discussion: Arts & creative community in the new landscape
~ Public Art Tours
~ Discussion: Public Art in WV

HOUR 4: 2 to 3 pm
Discussion: Tamarack Foundation for the Arts

HOUR 5: 3 to 4 pm
~ Interview with Elaine Sheldon-McMillion, a documentary filmmaker and non-fiction storyteller based in Appalachia.
~ Writer's Gathering

HOUR 6: 4 to 5 pm
~ Plein Air Painting Workshop
~ Art Show
~ Open Stage

HOUR 7: 6 to 7 pm
~ Live Q&A with Quarantine Life
~ Grand Finale Parade & Day of Merriment

PEPPERED THROUGHOUT:
Artist Features, Music Videos, Special Content & more.

Spread the Word
Forward this newsletter to spread the word about the All Together Arts event. If this free TFA newsletter was forwarded to you, subscribe at: tamarackforthearts.substack.com to receive future issues. (We generally publish 2 issues monthly, plus special themed issues such as this one.)
Share comments below, call us at 304.926.3770 or e-mail me directly at renee@tamarackfoundation.org. For media inquires about stories on TFA Fellows or other topics, contact TFA team member Douglas John Imbrogno at douglaseye@gmail.com or call 304.638.9784.
Be well. Stay Safe. Wear masks. Make art.
Renee Margocee | Executive Director | Tamarack for the Arts