A Roundup of Key Artistic Resources
From Crisis Grants to the Business of Art, a Useful TFA List | Aug. 11, 2020
Greetings
This issue of Tamarack Foundation for the Arts (TFA) newsletter includes resources for artists—to help you survive in the time of Covid, encourage your creativity and be better business people. Got other resources? Link them in comments below or e-mail info@tamarackfoundation.org. We also continue to highlight notable exhibits in West Virginia, including new shows in Weirton and Beckley. NOTE: If forwarded this TFA newsletter, subscribe for free: tamarackforthearts.substack.com. |  Renee Margocee, TFA executive director
---
Artists in Dire Need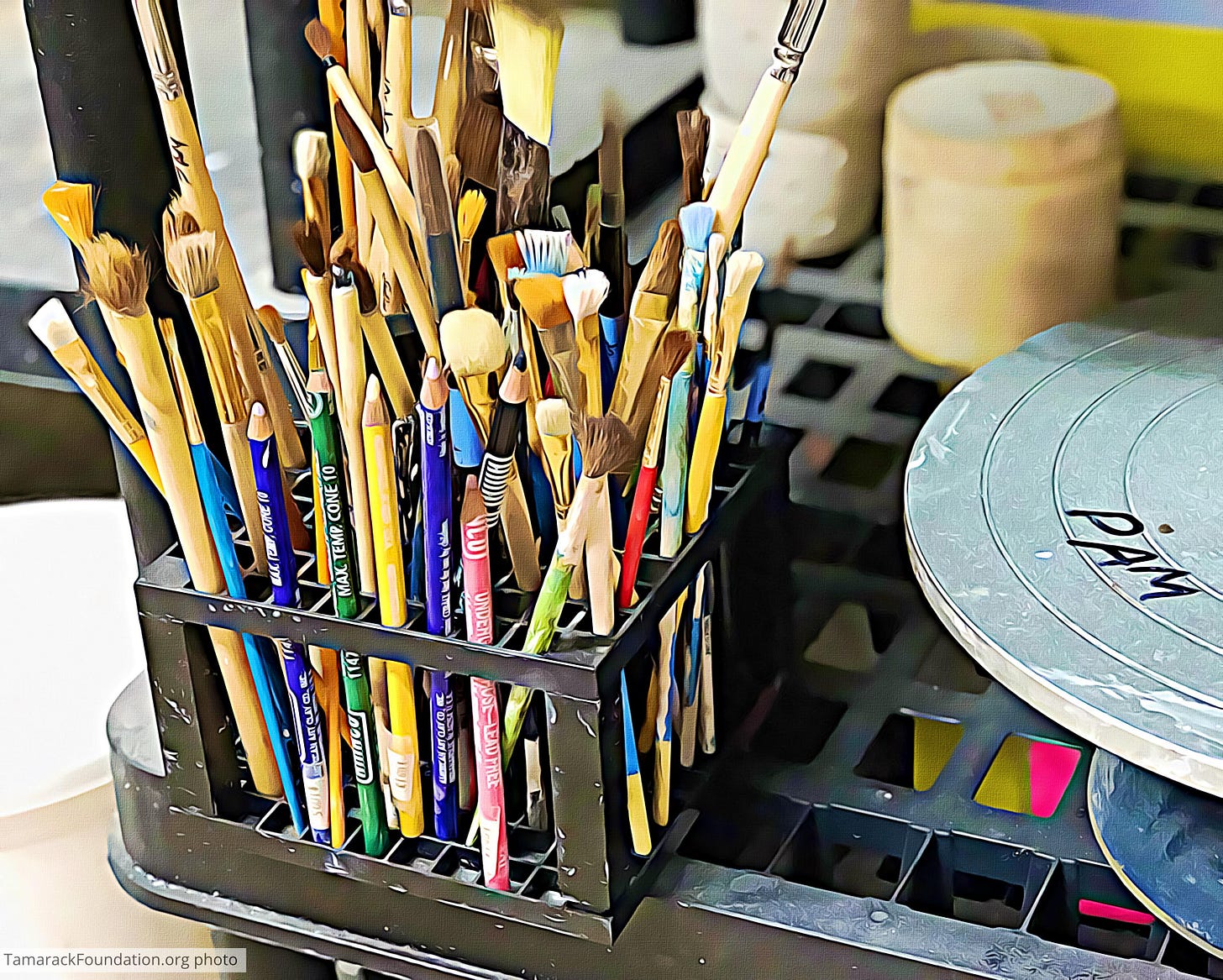 TamarackFoundation.org photo
---
Several organizations have joined forces with their communities to form Artist Relief. The national initiative offers immediate individual grants of $5,000, plus resources to alleviate effects of the pandemic. All artists are encouraged to apply. Learn more at ArtistRelief.org and follow on Twitter at @artistrelief.
Artist Relief will distribute $5,000 grants to artists facing dire financial emergencies due to COVID-19; serve as an ongoing resource; and co-launch the COVID-19 Impact Survey for Artists and Creative Workers, designed by Americans for the Arts,to identify and address the needs of artists.
To be eligible, you must be able to answer "Yes" to the prompts below. The Artist Relief coalition partners will make the final eligibility determinations:
I am a practicing artist able to demonstrate a sustained commitment to my work, career, and a public audience;

I am experiencing dire financial emergencies due to the COVID-19 pandemic;

I am 18 years of age or older;

I can provide a Social Security Number (SSN) or Individual Taxpayer Identification Number (ITIN) after I've been notified of my selection;

I have been living and working in the U.S. for the last two years;

I am not a full-time employee, board member, director, officer, or immediate family member of any of the coalition partners;

I have not previously been awarded a relief grant from this fund
Learn more by reviewing this FAQ. To apply, click here. 
---
Retreat!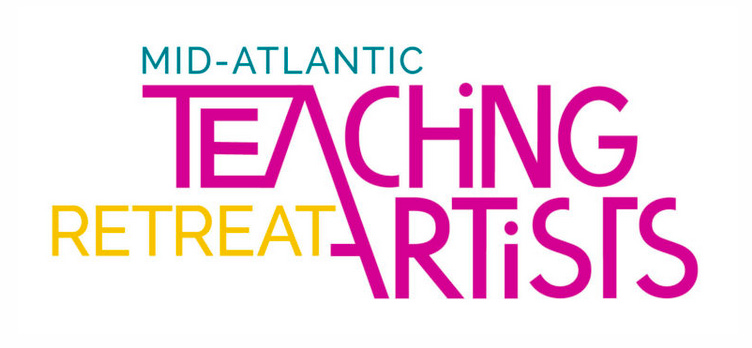 Spots remain for free video conferences of the 2020 Mid-Atlantic Teaching Artists Virtual Retreat. The sessions bring together arts education pros from across the Mid-Atlantic to strengthen the region's network of teaching artists. The event runs through September 2, but you must register a week in advance of remaining sessions. You'll learn financial tools, creative techniques, teaching skills, and self-care practices to help you keep yourself afloat as an entrepreneur and artist.
There are remaining sessions on: Tuesday, Aug. 25; Wednesday, Aug. 26; Tuesday, Sept. 1; and Wed., Sept. 2. CLICK HERE TO REGISTER:
---
What's We're Reading
Here's a link to "The 9 Books Every Artist Should Have on Their Shelf, by ArtWorkArchive.com. Below are two titles on the list.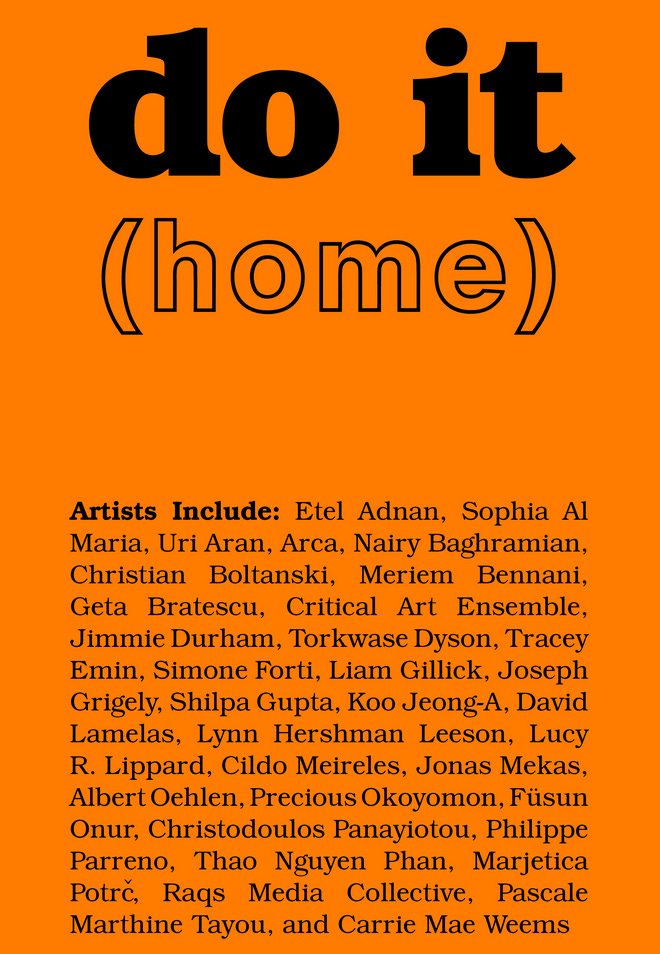 As part of an ongoing 20-year-project, curator Hans Ulrich Obrist recruited more than 60 renowned artists to offer instructions for creating and exhibiting artwork. (NOTE: Download the suggestions for free). These wacky, fun, and off-the-wall essays give you do-it-yourself directions for creating contemporary art. It's also cool to read the writings and connect with such prominent artists as Ai Weiwei, Marina Abramovic, Jon Baldessari, Matthew Barney, Christian Boltanski, and Louise Bourgeois, to name a few.
---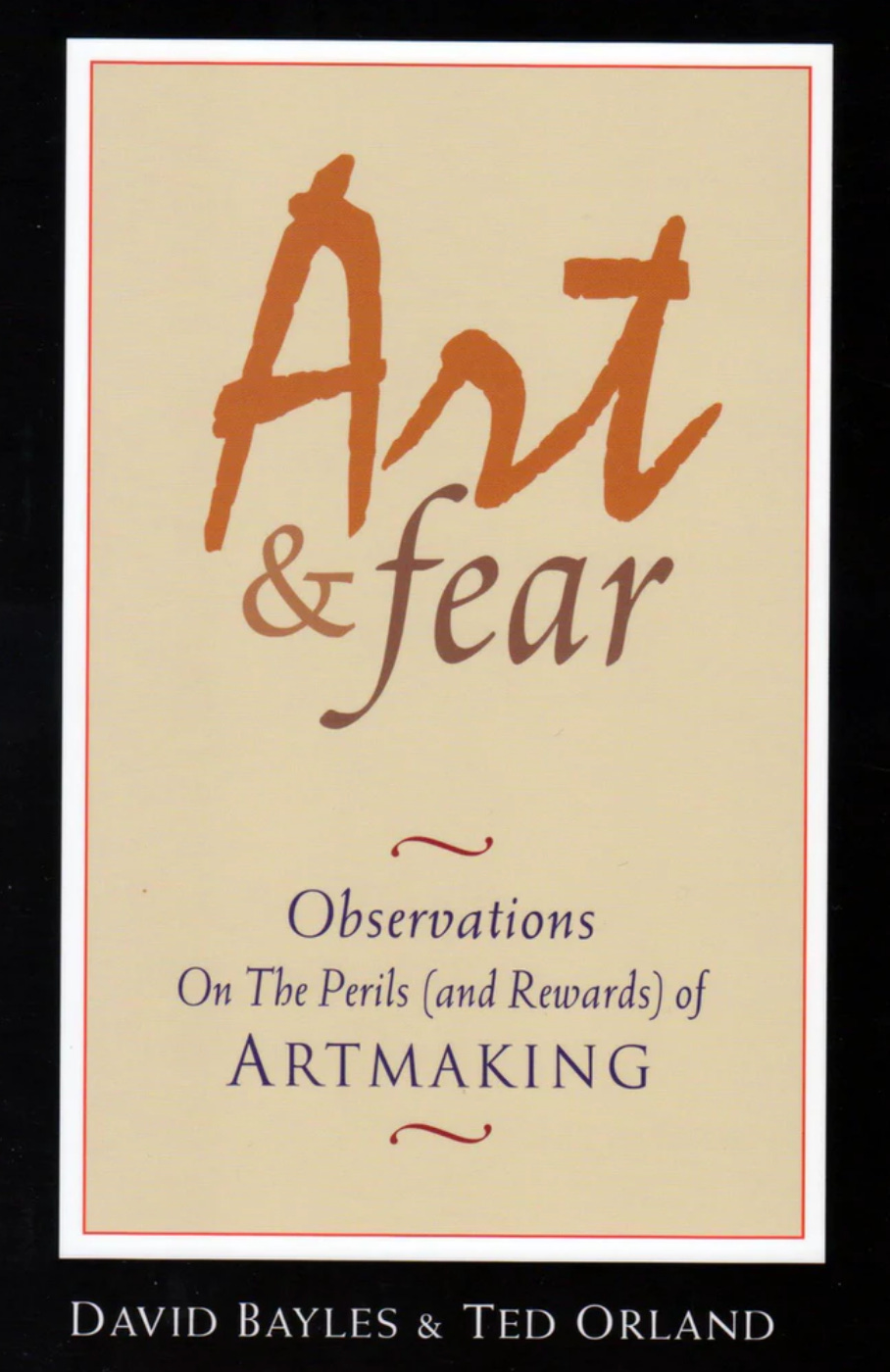 "Art and Fear" by David Bayles and Ted Orland is one of those books you highlight, crease, and bookmark with dozens of sticky notes. The book tackles insecurities all artists face when finishing projects or putting your work out to be critiqued. It's concise, compelling and worth coming back to. For anyone who has felt internal or external pressures that have kept them from creating (and who hasn't?), this book deserves a place in your bookshelf.
---
Bank On It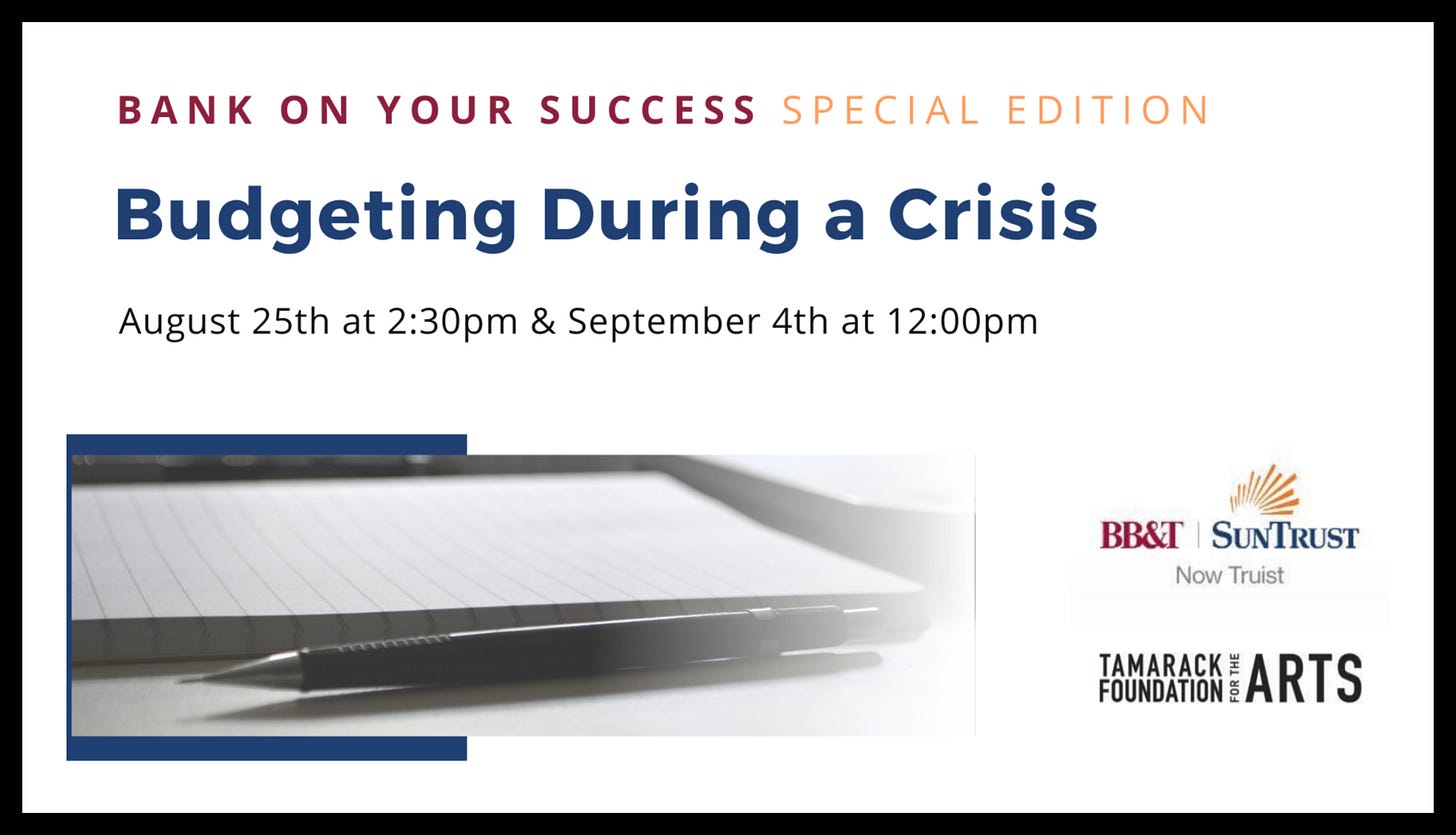 BB&T Now Truist & Tamarack Foundation for the Arts offer the online session 'Bank on Your Success,' focused on "Budgeting During a Crisis." While every situation is different, the aim is to offer crisis-budgeting best practices; ideas on creative income streams; and info on resources to help during these challenging days. There are sessions open:
TUESDAY, AUG. 25, 2020: 2:30 PM—3:30 PM EDT
REGISTER HERE

FRIDAY, SEP 4, 2020: Noon—1 PM EDT
REGISTER HERE
NOTE: This event will be presented in an online format using WebEx, which is also available as a free mobile app from Apple Store or Google Play.
---
Art on View Around West Virginia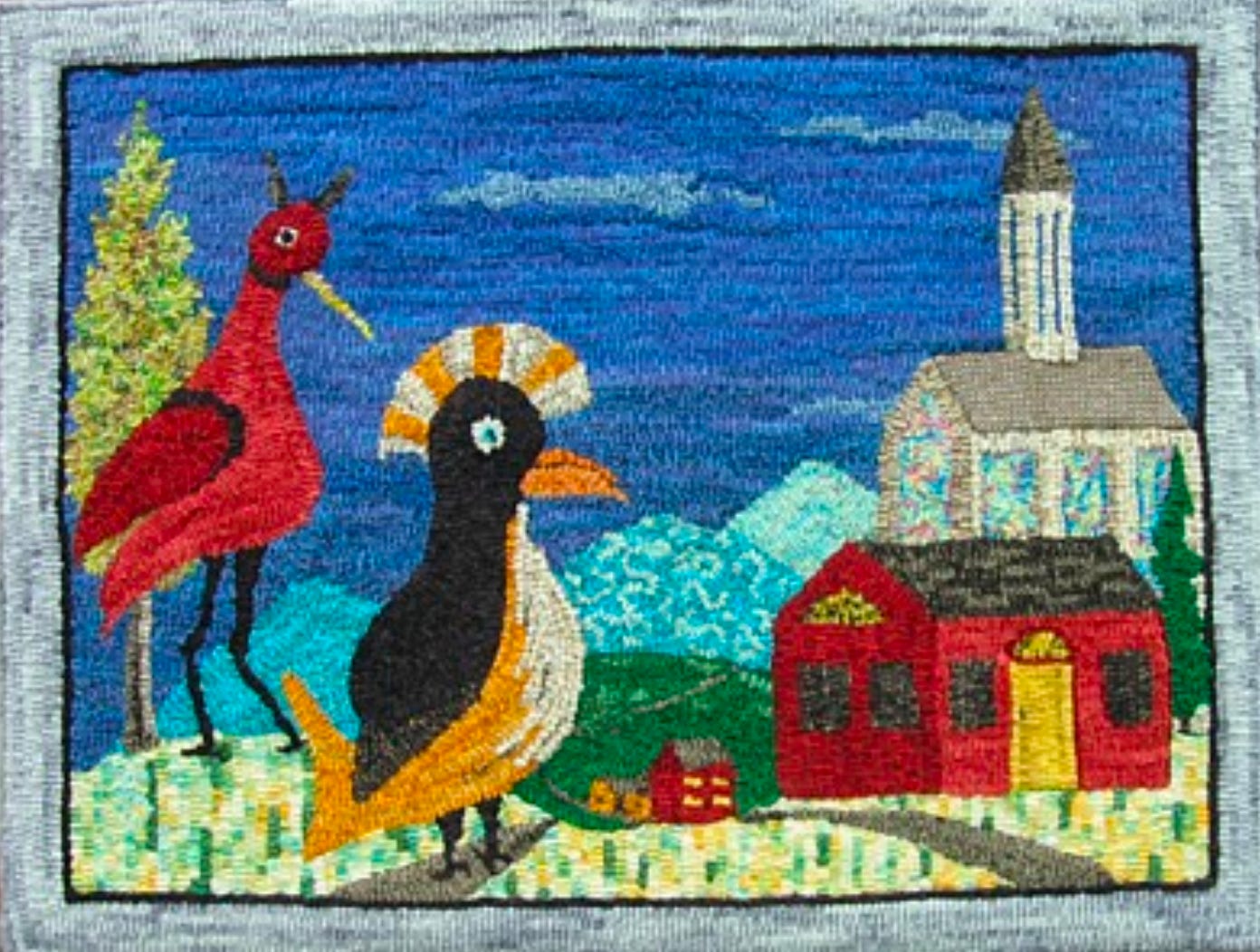 "Coming Into Town," by Susan L Feller, at
Beckley Arts Center's
"Journeys" show.
---
BECKLEY ARTS CENTER, Beckley WV: "Journeys," featuring Susan L. Feller | Through Oct. 17, 2020
Susan L. Feller's work is featured in "Journeys," a fiber arts exhibition at Beckley Arts Center, in Beckley, WV, up through Oct. 17. Feller, a board member of Tamarack Foundation for the Arts, explores traditional textile techniques in the 21st Century. Below is an excerpt from her artist's statement:
There is a tactile joy that settles me, working with fibers and textiles and using simple hand tools, slowly (very slowly) stitching and pulling loops, painting visual stories of my surroundings. The prep work often includes a hot dye pot and glorious colors soaked into the various neutral wools, creating a palette for the line drawing on linen stretched on my frame to come to life. With hook in hand, each pulled loop added to the others creates a picture. Needle and thread anchors other materials and paint may even cover the canvas adding another dimension to the 2-D works. I am at a point in this journey where my work reflects important issues for me and the future as I see it. Speaking out at protests is not easy for me. Environmental issues and human rights are the focus of my art. Since a picture is worth a thousand words, I hope my work communicates the beauty and fragility of my subjects.
For more on Feller's work, visit artwools.com. For more on the venue, visit beckleyartcenter.com
---
WEIRTON AREA MUSEUM AND CULTURAL CENTER, Weirton WV: "Celebrating the Centennial of the 19th Amendment." | Now through Aug. 28, 2020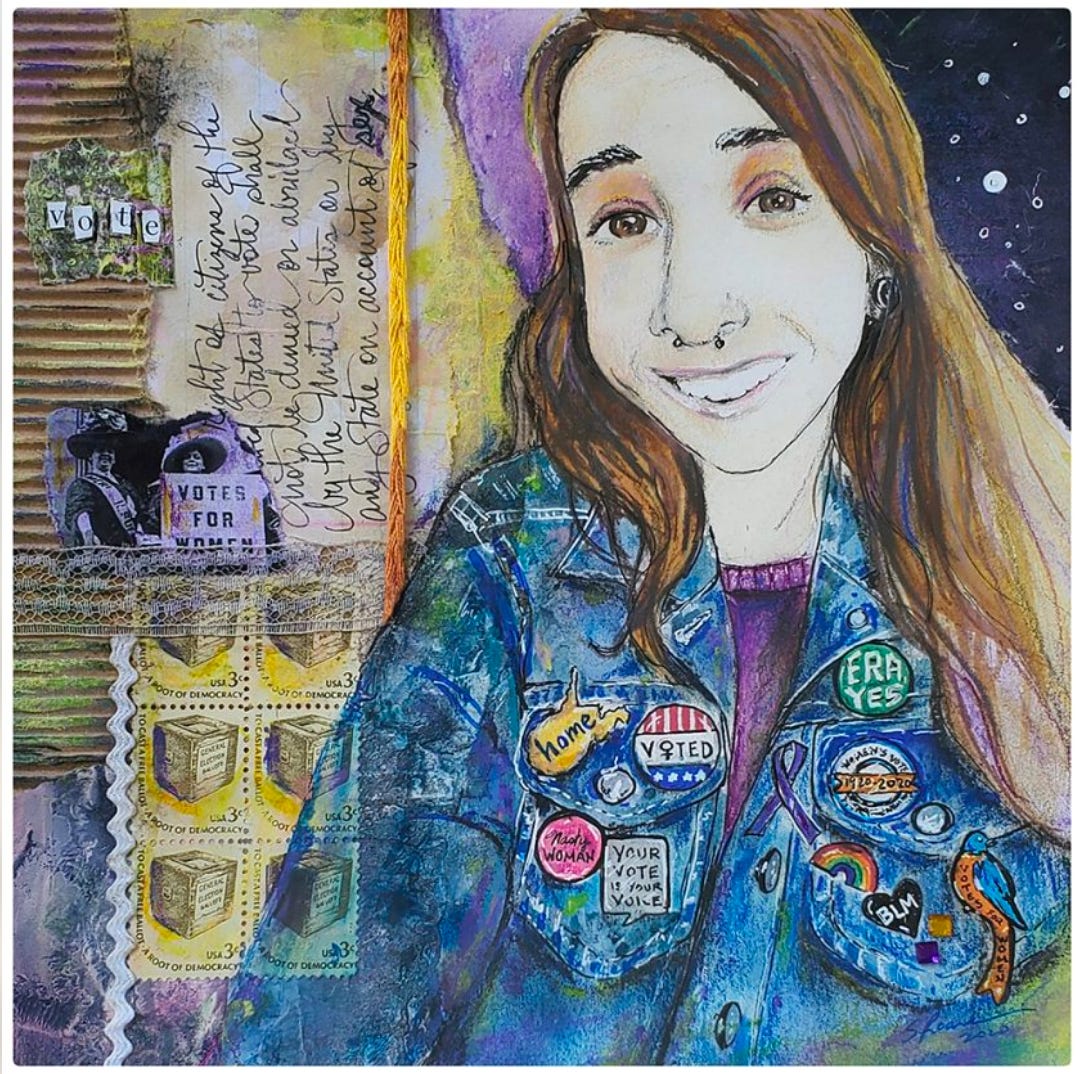 Artwork by Sara Roark, featured in "Celebrating the Centennial of the 19th Amendment" at Weirton Area Museum & Cultural Center
---
The Weirton Area Museum and Cultural Center marks the 100th anniversary of women's suffrage with "Celebrating the Centennial of the 19th Amendment," through Aug. 28. The show features women-themed artwork by Amy Franey-Cunningham, Elissa Greathouse, Laura Johnston, Kimberly Lawless, Judi Noble, Sara Roark, Savannah Schroll Guz, and Liz Walsh.
The timing is intended to honor the 172nd anniversary of the first women's rights convention, held in Seneca Falls, N.Y., between July 19 and 20, 1848. The Weirton Area Museum is at 3149 Main Street in Weirton and is open Mondays through Saturdays 10 am to 2 pm. Visit weirtonareamuseum.com.
---
Spread the Word
Forward this free newsletter to artists and those who appreciate the arts. If the newsletter was forwarded to you, subscribe at: tamarackforthearts.substack.com. We generally publish 2 issues monthly, plus special themed issues. Share comments below, call us at 304.926.3770, or e-mail info@tamarackfoundation.org.
Be well. Stay Safe. Wear masks. Make art.
Renee Margocee | Executive Director | Tamarack for the Arts