A CALENDAR of OPPORTUNITIES
Get creative with workshops, conferences & art possibilities | FEB17, ISSUE 2, 2020
Greetings. This is Renee Margocee, executive director of Tamarack Foundation for the Arts (TFA). Most everyday, I have the pleasure of learning about diverse artistic opportunities. But so often, the stories don't make it to a larger audience. So, TFA is using this fact as a guidestar as we expand our re-energized newsletter. We'll lift up and showcase cool things taking place across the state and region to encourage you to get out there and get creative. Our goal is to craft a space where artists can share opportunities, connect, and learn more about the incredibly inspiring art being made by other creatives across West Virginia.
Help us highlight your community's activities and aid us in our mission of showcasing artistry of every kind. Keep us in the loop about what's going on in your town by e-mailing potential calendar listings to renee@tamarackfoundation.org. In return, we'll shout it from the mountaintops! PS: If you were forwarded this newsletter, we encourage you to subscribe to receive future editions, at: tamarackforthearts.substack.com
CONFERENCE: Charleston, WV: WHEN: Feb. 25-26, 2020
The Arts in Our Communities Conference began as a single-day advocacy event as a lead-in to Arts Day at the Legislature. Now in its fourth year, advocacy remains a focus. But the free event now covers two days, full of training and information-sharing for arts groups and individual artists from across West Virginia. The 2020 conference runs 9 a.m., Tuesday, Feb. 25, through 4 p.m., Wednesday, Feb. 26, 2020, at the WV Culture Center, in the state Capitol Complex in Charleston, WV. The conference includes:
Arts education projects from 2019.

Workshops for artists in photographing artwork; writing proposals; and business planning.

Workshops for organizations in advocacy, fundraising, accessibility, and writing RFPs.

Several workshops for both artists and organizations, such as a STEAM project workshop; Folklife panel discussion; and grant workshops.
School groups perform each day. The conference ends with roundtable discussions, as each table hosts a separate topic encouraged by arts leaders. A table for artists and organizations to share flyers, postcards, brochures, and business cards will be available. And a photographer will offer professional headshots, free of charge.
KEYNOTE SPEAKERS: Tom Simplot, Senior Deputy Chairman of the National Endowment for the Arts; and Pam Breaux, President and CEO of the National Assembly of State Arts Agencies.
DETAILS: Free registration at Arts in Our Communities Conference
GRANTS: Charleston, WV. DEADLINE: March 1, 2020
The West Virginia Department of Arts, Culture and History (above) awards various grants to artists and arts groups. (See a list here.) The deadline for four of those grants is March 1, 2020. They are:
1: The Arts in Education: School Based & Out-of-School Time: This grant supports arts education for WV youth in two categories: a) School Based Projects; and b) Out-of-School Time Projects.
a) School Based Projects provides funding for curriculum-based, hands-on projects with a group of K-12 students and teachers, which integrates the arts and artists into daily instruction. Projects must provide teachers with tools that help them to continue to utilize the arts after the residency/project is completed.

b) Out-of-School Time Projects provides funding for new and ongoing projects that establish, expand or advance both K-12 curriculum and/or arts education programming outside of regular school hours. Download the application packet here. Email Jim Wolfe with questions.
2: The Arts in Education: Arts Exposure grant program supports professional arts experiences through performing, literary, and visual art touring experiences for PK-12 students. These should be centered on a performance or demonstration with limited artist/student contact time outside of the performance or demonstration. Brief workshops may precede or follow. Applicants seeking support for extended projects with deeper engagement should complete the Arts in Education: School-Based & Out-of-School Time Project application. Download the application packet here. Email Jim Wolfe with questions.
3: The Community Arts Project Support grant program provides funds for programming that offers arts experiences to the public in West Virginia. Contact Jack O'Hearn, or download the application packet.
4: The Community Arts Project Support Organizational Development grant offers support for long-range planning, re-granting programs, staffing support, and community cultural assessments in West Virginia communities. Contact Jack O'Hearn, or download the application packet.
CONFERENCE: E is for Entrepreneurship. DATE: April 1, 2020

For an artist to make a living from art, or even a partial income, you must be an entrepreneur, however much artists may wrestle with the business end of things. The W.Va. Entrepreneurship Ecosystem Builders Conference on Wednesday, April 1, 2020, can offer guidance. The event runs 9 a.m. to 5 p.m. at the Charleston Coliseum and Convention Center in Charleston, WV. Here is how organizers describe the event:
"Our partners are entrepreneurship-supporting organizations—from local Economic Development Authorities, to universities, government agencies and private firms supporting the entrepreneurs who are helping build a diversified economy in West Virginia. By gathering under one roof, everyone can share their experiences and ideas.

"We will focus on innovative and recent trends in promoting and supporting entrepreneurship. National speakers will help us understand these emerging trends and help us tailor them to our unique experiences here in West Virginia.
DETAILS: Register at this link
~ Single admission: $20 plus $2.85 fee
~ For a Display Table and (5) Admissions: $100 plus $7.72 fee
ART OPPORTUNITY: West Liberty, WV. DEADLINE: April 20, 2020
The Nutting Art Gallery on the campus of West Liberty University in West Liberty, WV, is accepting solo and group exhibition proposals in any medium for the Fall 2020-2023 academic years. Artists must be West Virginia residents or live within a 200-mile radius of Wheeling, WV. Artists will be responsible for the delivery, installation, and removal of their work. A stipend is offered for successful applicants.

DETAILS: The online application must be received by Tuesday, April 10, 2020.
WORKSHOPS: Pennsylvania's Touchstone. DEADLINE: Ongoing
Some of the summer workshops at Pennsylvania's Touchstone Center for Crafts.

The state of Pennsylvania's premiere craft school, the Touchstone Center for Crafts, is a three-seasons craft school in Farmington, Penn., about 60 miles southeast of Pittsburgh, in the Laurel Highlands near Frank Lloyd Wright's Fallingwater. Founded in 1972, its original mission was to foster interest in traditional crafts. The focus has grown to include contemporary and experimental techniques in disciplines such as blacksmithing, ceramics, metals and jewelry, glass, drawing, painting and beyond. Touchstone offers beginning and seasoned artists one- to five-day workshops taught by some of North America's finest artisans.
DETAILS: Registration is first-come/first serve. Cost is $75 to $650, with discounts for members. Click here for a listing. Deadline for scholarships and summer internships and residencies is March 15, 2020.
CALL: 724-329-1370. E-MAIL: info@touchstonecrafts.org
WORKSHOPS: Arrowmont in Tennessee. DEADLINE: Ongoing

The historic Arrowmont School for Arts and Crafts in Gatlinburg, Tenn., offers a host of arts and craft workshops in the Great Smoky Mountains. For more than 100 years, the facility has offered summer and fall courses with more than 130 classes in contemporary art and crafts. Workshops include: baskets, clay, drawing, enamels, fibers, glass, jewelry, metals, painting, paper and book-making, photography, printmaking, textiles, weaving, and wood.
More from Arrowmont's website:
… Arrowmont offers an opportunity for people of all skill levels to spend a weekend, a week or two weeks immersed in art-making—experimenting, learning new techniques, exploring a variety of media and forms of expression—or simply taking time to be fully focused and present in a creative manner without the distractions of daily life.

For some, it is the opportunity to study with leading, nationally-recognized artists who travel to the campus to teach specific workshops and serve as the School's foundation in ensuring the highest quality of innovative instruction. For others, it is the exceptional, well-equipped studios where students can work safely and confidently in a professional-level environment
DETAILS: Fees range from $400 to $700, with financial aid, scholarships and 6- and 8-week work-study available.
CALL: 865-436-5860. E-MAIL: info@arrowmont.org
WORKSHOPS: Haystack Mountain School of Crafts. DEADLINE: Ongoing
A partial glance at some of the Summer 2020 workshops at Haystack in Maine.

Want to work on your work in the middle of the Atlantic? The Haystack Mountain School of Crafts is located on Deer Isle off the Maine coast. Founded in 1950 as a research and studio program in the arts, Haystack offers one- and two-week studio workshops for all skill levels. Haystack's summer workshops include one- and two-week sessions in blacksmithing, ceramics, fiber, glass, graphics, metals, and wood. Workshops are open to adults 18 years or older of all skill levels, from beginners to advanced professionals.
The school supports visiting artists and scholars from various fields including science, literature, music, and the visual arts, who are invited to spend two weeks on their work. Haystack also functions as a ʻthink-tank' in looking at craft—publishing monographs and organizing conferences and symposia to examine craft in broader contexts. These have included collaborations with the MIT Center for Bits and Atoms and the Cooper-Hewitt National Design Museum. The school's campus was designed by noted American architect, Edward Larrabee Barnes, and opened in 1961 when the school relocated to Deer Isle. As the Haystack website notes:
"People come to Haystack to develop and discover skills, to nurture their creativity, to ask questions, to reassess their work, and to push into the unknown. The combination of a stunning natural setting, a unique campus, and the focused energy of the school community, provides an environment that supports a serious exploration of craft, ideas, and imagination."
DETAILS: Click here. DEADLINES TO APPLY:
March 1, 2020: Open Studio Residency, Scholarship Sessions 1-6
April 1, 2020: General Application, Sessions 1-9
CALL: (207) 348-2306. EMAIL: @haystack-mtn.org
WORKSHOPS and CLASSES: Folk School in N.C. DEADLINE: Ongoing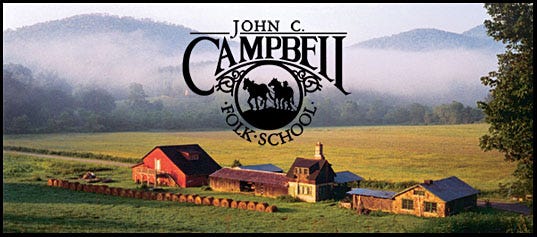 The John C. Campbell Folk School in Brasstown, North Carolina, has nurtured creativity and community for 95 years. The school offers weeklong and weekend classes year-round for adults. The schedule includes: basketry, beads, blacksmithing, book arts, broommaking, leather, marbling, metalwork, thread art, woodturning, storytelling, printmaking, dyeing, clay, felt making and more. Students are encouraged to become part of the community via all-school activities such as concerts, dances and meals.
DETAILS: Search/register for classes and workshops here.
CALL: 1.800.FOLK.SCH (365.5724). EMAIL: Click here
Pass It Forward
Comment below, call us at 304.926.3770 or email TFA Executive Director Renee Margocee at renee@tamarackfoundation.org. For media inquires about stories on Emerging Artist Fellows or other topics, contact Design Team member Douglas John Imbrogno: douglaseye@gmail.com or call 304.638.9784.
If you were forwarded this newsletter, we encourage you to subscribe to receive future editions, at: tamarackforthearts.substack.com